British club athletics entered a new era with the creation of the National Athletics League, for both men and women athletes, in 2020 - but everything was cancelled due to Covid-19...
Pat Calnan's report for NAL:
National Athletics League, Premier London South, Eton 28/8/21
Thames Valley Harriers completed a clean sweep of victories in the Division with another fine team performance that also guaranteed they would be overall League champions. Strong in all events, they have been the dominant squad all season, though there have been plenty of other good performances from members of the other clubs most notably at Eton from Windsor Slough Eton & Hounslow's Jessie Knight who broke the League record in the 400 Hurdles.
Knight's time of 54.81 took over a second off the record set by TVH's Nicole Kendall just three weeks earlier. Again conditions were not ideal with a strong breeze causing difficulties for athletes all afternoon, so she was pleased with her performance. "My body feels like it's the end of the season and they were not the best conditions, so I've got to be pleased with a time which would have been a pb last season," She has improved by over a second this year, and has one race remaining this Summer in Poland.
Previous record holder and runner up Kendall was philosophical in defeat, after all she was beaten by an Olympian, and having never run under 57 at the start of the year, she has now done so eleven times. A win would have meant she had won all four League A string races this year but she made up for it by winning the A string 200 metres later in the afternoon.
The one constant in the winners of the A string 400 hurdles both men and women this year has been Marina Armstrong. There have been five different victors but each has come from her coaching stable. First over the line in the mens race was Birchfield's Efe Okoro who, running as a non scorer, set a seasons best of 49.79. Match winner though was Tyri Donovan (WESH), who won by over a second in 50.79, less than two tenths off his best of 50.64, which sees him ranked fifth fastest in the country this year. "I'm so grateful to be in the training group I am in" said the 22 year old who was pleased with his performance, though his enjoyment was tempered by the five goals his beloved Arsenal had conceded at Man City.
One who would crave this type of training environment would be Amelia Strickler (TVH) who has to conduct most of her training without coach Zane Duquemin in attendance. She won the shot with a put of 17.58 and had a no throw just below the 18 metre mark which she exceeded at the second fixture with 18.11. That performance was achieved after three sessions with Duquemin, who is based in Doha, and her aim this Winter will be to try to see more of him. She was happy with her performance in her last competition of the season and in helping "win the cup for the Valley". It has been a good, but emotional season, as she was not selected for the Olympics despite a World Athletics rankings invitation.
Her nearest challenger at Eton was clubmate Pippa Wingate who won the B string with a new best of 13.01. She had started the afternoon with a new pb in her main the event, the hammer, with a distance of 64.06. "I didn't think it was that far and almost stepped out the circle," she said with relief. She will have two more attempts this season at achieving a 65 metre plus throw, which would be an England Commonwealth Games qualifying standard.
Her Club actually won all four strings of the hammer with Jack Paget taking the mens contest with 62.73 nearly ten metres clear of his nearest challenger, his third victory of the season. It also ended up three wins for the year in the javelin for team mate Gavin Johnson Assoon. Unbeaten prior to this match, the 38 year old master suffered a surprise defeat to Windsor's under 20 thrower Michael Allison who went over 60 metres for the first time with a distance of 61.65. His team mate Hannah Johnson won the womens event.
There was a new best also in the shot from Southampton AC's Joshua Douglas as he won with a distance of 14.55, while in the discus there were wins again from Dele Aladese (Blackheath & Bromley) and Amy Holder (WSEH).
The jumps saw wins from athletes of both youth and experience. Angela Barrett (TVH), an over 35, took both the womens long and triple jump contests with distances of 5.65 and 12.53 and she remains ranked second and first respectively in these events in the W35 age group. Over in the mens pole vault new England Under 20 International Barnaby Corry (B&B) won with a height of 4.10 with Sophie Dowson, also B&B, first in the womens contest. NAL debutant Toby Dronfield (B&B), another under 20, took the triple jump; while in the high jump Great Britain junior number two Lionel Owona (WSEH) had to settle for 2.05 on this occasion, but is committed to going higher than the 2.14 best he set earlier this Summer. To do so he will be taking a little better care of himself. "I have been competing most weekends recently and not been going to the physio." He is now preparing to head to Nottingham University to study International Law, a high flier in every sense.
Winner of the womens high jump was Pippa Rogan (TVH) with a seasons best of 1.83. She is the only athlete to have won all four A strings of an event in the division this Summer. Long jumper Ben Fisher (WSEH) has a 100% record in the matches in which he has competed, but he missed the third fixture. "The League have done well in getting these matches on," said the 23 year old, though he has found the smaller fields have given him less time to recover between jumps. Today he reached out to 7.14 but he is still looking to go over 7.50 by the end of the season.
Busiest athlete of the season must have been Jess Tappin of TVH, who has won the B string 400 hurdles at all four matches. She won the A string 400 as well at Eton with a time of 55.07 and has been in action in relays and other events as well. Mens winner was Chris McAlister (TVH) who took an afternoon off from the hurdles to run a flat 400 recording a new best 46.30. Elsewhere in the sprints Daniel Offiah (Soton) notched his third 100 metre win of the season timing 10.64 ahead of Alex Haydock Wilson (WSEH) with positions were reversed in the 200, while under 20 Sileena Farrell (TVH) won the womens 100 as well as the B 200.
Samuel Clarke (TVH) again won the mens 110 hurdles and in the 100 hurdles Great Britain under 23 International Annie Davies (B&B) timed 13.55 despite running into a -1.2 metre per second. "It's nice to run a decent time in those conditions" she commented. Her clubmates also enjoyed a good afternoon in the middle distance with under 20 Sam Reardon winning the mens 800 and Angus Harrington returning from injury to not only run a new best of 3.58.91 in the 1500, but remarkably throw 51.38 in the javelin. Womens Team manager Niamh Bridson Hubbard won both the 800 and 1500 as well as taking second in the A 3000 and anchoring the 4x400 quartet. Morgan Squibb "enjoyed" a gun to tape victory in the 2000 chase. "Horrible" was how she described having to front run in the blustery conditions but her 7.01.14 was a new best for the 18 year old and second fastest by an under 20 this year, and, for those aware she is returning from having a tumour removed from her shin and being told she might not be able to run again, it was one of the highlights of the day.
Michael Cameron (TVH) had a similar race in the mens 3000 chase coming home in 9.10.51, his second best ever time. Likewise Dani Chattenton in the womens 3000 metres flat. She took over seven seconds off her best to win in 9.18.64, a new TVH club record. Luke Dinsmore (WSEH) was just outside his best in winning the 5000.
It's always good to finish the afternoon with a rousing relay and on this occasion there were four crackers. B&B prevailed in the 4x100s but were run down by Windsor's Jessie Knight and Alex Haydock Wilson in the 4x400s, the mens race being one of the tightest finishes of the day with just half a second covering three teams.
All that remained was for TVH to pick up the winners trophy which they totally deserved. Their squad has not only got some great quality but there is depth there as well. For example, at this match they won 13 A strings but dominated the B contests with 24 out of 34 victories. The other club's have had their moments but not as many. Southampton were particularly hampered at this match as the Hampshire County Championships were held this weekend, and assistant team manager Derek Warn can't do everything, particularly when he is carrying an injury.
This year has been good despite the challenges of the pandemic but all clubs are looking forward to next season when it is hoped matches will be conducted in the intended format.

---
National Athletics League, Premier, London South, Eton. 7/8/21
Thames Valley Harriers made it three wins out of three as they were too strong for the opposition at the Premier London South match at Eton. They finished over a hundred points clear of hosts Windsor Slough Eton & Hounslow and, on an afternoon of mixed weather, provided a League record in the 400 hurdles during the worst conditions of the day, courtesy of Nicole Kendall.
This is the second time that Kendall has broken the record this season, having timed a best of 56.32 at the opening fixture at Norman Park. She had run quicker three times since but her chances of doing so again seemed unlikely as just seconds before her race there was a torrential downpour. "I wasn't sure when I was in the blocks whether the starter would hold the race" said the 25 year old. He didn't, and this uncertainty may have contributed to her going into the first hurdle on her right rather than left leg. Nevertheless, she kept her composure to break 56 seconds for the first time with 55.93, over five seconds clear of the field. Not only was it a personal best, it was also inside the England Athletics qualifying standard for next years Commonwealth Games in Birmingham.
Going into the season her best was 57.46 and her aim was to run under 57 consistently. She's done that and some. "It's only my second proper season of 400 hurdling" she said, 2020 having been a write off because of injury. Prior to 2019 she competed in a whole range of events including pole vault. The biggest difference this season has been in her mental approach. "If I was competing on a Saturday I would spend the previous three days worrying about the race and getting on the start line mentally tired. I had to tell myself that I don't get stressed on a Friday when I'm doing a tough session on the Monday so why do it for races?" The results have brought added confidence. "I don't have an elite exemption to compete abroad but I love competing in the NAL." To prove it, she then set a new best of 53.49 in winning the B string 400.
It was a good day for the Marina Armstrong coaching group as in the mens A string race Chris McAlister (TVH) ran his fastest ever 400 hurdles in the National League as he won in 49.70, from Tyri Donovan (WSEH), whose 50.83 was just 6 hundredths off his best. McAlister's previous League best of 50.63 was also set at Eton in 2019. The UK number one and England Champion commented "I'm pleased with that. I'm in the best form of my life. I won't be finishing my season yet and will race into September. I'll be doing the last match. I like the new mixed format". The League record of 49.40 is under threat.
Another whose season is set to continue is pole vaulter Molly Caudery (TVH), her silver medal at the European Under 23 Championships in Talinn and her personal best of 4.51 set at the Diamond League in Gateshead, opening doors to more competitions. At Eton she cleared 4.25 but was pleased with her performance. "Things have been a bit hectic recently and are just settling down. I competed off a shorter run up and shorter pole today and was close to clearing 4.35", which would have been a League Record. "I enjoy competing for TVH". For the second match in a row she cleared higher than the mens contest. Come on lads!
Team mate in Talinn and club mate at Eton, Joel Khan had a good afternoon He soared over 2.20 to win the mens high jump, just one centimetre off his outdoor best. Lionel Owona (WSEH), who recently cleared 2.14 to go second in this years under 20 rankings, went over 2.10 for second. TVH also supplied the womens winner in Pippa Rogan 1.75, and, actually won 14 out of 16 of the A and B string jumps. These included a useful pairing of Jude Bright Davies and Sam Trigg Petrovic in the mens triple jump with distances of 15.55 and 15.07 respectively; and a win in the womens event from Montana Jackson with 12.46, despite originally only being down to compete as a guest.
Rogan's victory means she remains unbeaten in the League this season, as is Kendall. Also with 100% records are clubmates Rachel Miller in the 100, who secured victory in 11.91, and javelin thrower Gavin Johnson Assoon. The 38 year old, who has thrown furthest in the League this season, won with a distance of 63.74 and will probably only compete once more this year, at the NAL, of course. He has been troubled by achilles tendonitis in recent weeks. "I am managing it but I haven't been able to train properly. I'm winding down the season." Looking to next season he feels the Commonwealth Games qualifying of 77.00 is a possibility.
For hammer thrower Bailey Campbell the season is now over. Watched by his brothers Ainsley and Taylor, who was just back from Tokyo. he won with a distance of 62.08. He now heads back to the States where he began his season in March. "I'm pleased with the distance as I'm winding down." He and Taylor are both looking forward to next season. "The target for the season was to get to the Olympics" said Taylor "It was an interesting experience in Tokyo and I think I have learned from it."
Elsewhere in the throws, Southern champion Amy Holder (WSEH) won the womens discus with 50.92; Southampton A.C. won the womens hammer with under 20 Anna Merrit's 50.84 and club mate Chris Scott was a class apart in the discus winning by over six metres with 53.27.
The South coast club also enjoyed track success with Daniel Offiah taking the mens 100 metres in a very useful 10.55, albeit with a 2.7 metre per second tailwind. Alex Haydock Wilson (WSEH) took advantage of a favourable, but legal, wind to go under 21 seconds for the first time with 20.89, and Jess Tappin won the womens race in 24.45 to add to her earlier excellent 57.69 in the B 400 Hurdles. The in-form Megan Marrs (WSEH) took the womens short hurdles in 13.51 and Samuel Clarke (TVH) made an improvement of over a tenth of a second in winning the mens 110s in 14.69.
There was a new best also for Sam Reardon (Blackheath & Bromley) who continued his outstanding season with a win in the 400 metres in 47.03. The European Junior 4x400 gold medallist then ran his fastest ever relay split with a 45.9 on leg two. "I am aiming to go under 47 and today showed that I am not far from it". Clubmate Dan Putnam won the B string in a seasons best of 47.58. He also took the B 100 and 200 races in 10.69 and 21.64.
For the second match in a row, B&B won an A string in the National League with an under 17 athlete. English Schools Intermediate Girls 800 metre champion Amarisa Sibley ran away from the field to finish in 2.10.90. "I'm not a natural front runner so I'm pleased with that" said the 16 year old whose weekly trips to Brighton to link up with coach Jon Bigg are paying dividends.
Her team manager Niamh Bridson Hubbard made it a middle distance double for the Club as she enjoyed a "nice sit and kick race" to take the 1500. This was in contrast to the 3000 she ran earlier where TVH's Dani Chattenton pulled away to win in 9.27.94, her first track race in two years. Pick of the mens middle distance was the 3000 where Myles Edwards (TVH) prevailed in a last lap burn up with clubmate Antonio Silva to win in 8.32.65
The relays provided more entertainment with B&B just pipping TVH in the womens 4x100 before a rousing finale in the mens 4x400 as Luke Lennon Ford held off Alex Haydock Wilson to give TVH victory over WSEH 3.09.63 to 3.09.75, impressive times.
It was fitting that the meeting finish with a victory for the Valley. They were strong throughout the afternoon and had athletes in every event. If there is to be a challenge to their ascendency, a starting point would be a teamsheet without blanks. The other three clubs had 41 gaps between them. You have to be in it to win it. This is not to decry their efforts as these are unusual times. There is no telling when an athlete can be "pinged"; a motorway junction is closed and athletes delayed; a wedding rescheduled, etc… we all know the score. All clubs played their part in what was another good meeting, not just because of the athletes' performances but also because, despite the vagaries of the weather and some frustration with the results programme, it ran smoothly and to time, thanks to a wealth of unpaid volunteers.
So all look forward to the final meeting at the same venue on the 28th of August, not just for some top class athletics, but also for connoisseurs of trackside cuisine, the delights at the trackside canteen. Some more League records would be the icing on the cake.

---
3 July 2021 - NAL - Wormwood Scrubs
National Athletics League, London South, Wormwood Scrubs 3/7/21 by Pat Calnan

Thames Valley Harriers took full advantage of a home fixture to dominate the match at Wormwood Scrubs. They won half of the A string events, even more B strings, and won both strings in 16 of the 34 individual events.

The highlight was the performance of Amelia Strickler in the shot as she threw over 18 metres for the first time. Her put of 18.11 added 14 centimetres to her previous best set indoors in 2020. "I can FINALLY say I'm an 18m shot putter," she said on Twitter.

Her distance is the 6th furthest on the all-time list. Sophie McKinna (5th) and Divine Oladipo (10th) also compete in this division of the League. Sadly Amelia will not be heading to the Olympics despite a World Athletics rankings invite.

One who will be heading for Tokyo is Zoey Clark who is selected for the 4x400m. As with the first fixture, she won the 200 by nearly a second in 24.08 and had earlier sharpened up with a win in B 100.

Tade Ojora is another who performed well ahead of a major championship. The Windsor Slough Eton & Hounslow athlete, who won the British Championships, put the finishing touches to his preparations for the European Under-23 Championships in Tallinn in Estonia with a comfortable victory in the 110m Hurdles. His time of 13.82 into a -2.3 headwind saw him over a second and a half clear of the field. It is the fastest in the League this season.

Also topping her event is sister Temi who will be in Tallinn next week for the European Under-20 Championships to compete in the triple jump. She leapt further than ever before with a wind assisted 13.65. Ranked second in the country this year, she is also third on the under-20 all time list, needing a further 14 centimetres to go top.

Molly Caudery (TVH) won silver at the European Under-23 Championships and she was a class apart in the pole vault winning the women's event with a clearance of 4.20. Her performance also shone a torch on the standard of the mens event as she would have won that as well.

This contest was won with 3.90 by Blackheath & Bromley's 15 year old Ben Platt who may be the first under-17 male to win an event in the top division of the National League. Someone, somewhere will know. "It's actually pretty cool if I am the only U17 to win an event in the top division of the NAL, it's good to be part of the club," he added that he "didn't even break a sweat."

His younger brother Charlie heads the national under-13 rankings with 2.80 which would have won the B string by 30 centimetres. With elder sister Holly and dad Roger both vaulters, it's a good job mum Alice is a keen supporter or she might find mealtimes a bit of a yawn.

If Caudery can add another 11 centimetres to her best at a NAL fixture she will join team mate Nicole Kendall as a League Record holder. After her record-breaking exploits in the first fixture, Kendall again won the 400m hurdles in convincing fashion with 56.92 and Jess Tappin's 58.37 victory in the B race would also have won the A string. Tappin followed with victory in the 400.

There was only one double-A string winner on the day. This honour went to Southampton AC's Alex Teuten, who finished over half a minute clear of the field in the 3000m steeplechase in 9.21.39 and then took the 5000 in 14.33.45. It was a good day in the middle distance for the South Coast club as Sam Costly won the 1500 after placing third in 800; and Lily Hawkins took the 800m before winning the B 400.

Daniel Offiah continues his impressive progress in the sprints, winning the 100 in 10.74 and they also enjoying victories in the field with wins for Mary Elcock in the long jump and heptathlete Amaya Scott-Rule in the javelin.

The men's spear winner was again TVH's Gavin Johnson Assoon, whose distance at the first match remains the furthest in the League this season. He was one of a number of participants who won their events for the second match in a row.

In addition to the aforementioned Zoey Clark (200), Nicole Kendall (400H) and Amelia Strickler (SP), the Valley also had Rachel Miller (100), Jack Paget (Hammer), Pippa Rogan (high jump), and Pippa Wingate (hammer) scoring maximum A string points for the season.

Likewise, WSEH had Jacob Paul and Ben Fisher scoring A string victories again. Paul won the 400 Hurdles by over a second and a half in 51.24, and remains quickest in the League this season, with Tyri Donovan again first in the B string in 52.51. Fisher improved to 7.31 to win the long jump again.

There were other good wins for WSEH with Amy Holder throwing 51.37 in the discus, veteran Kerry O'Flaherty timing 6.40.51 in the 2000 steeplechase, and Blake Moore snatching victory by four hundredths in the 800 ahead of match one winner Sam Reardon (B&B), the closest of any track race on the day.

There were slim pickings for B&B in terms of wins. Aside from the vault, Kelechi Aguocha (high jump), Dele Aladese (discus) and the womens 4×100 gained victories but overall they had a quiet day and had women's team manager Niamh Bridson Hubbard out of proceedings after contact from NHS Test and Trace.

The afternoon belonged to TVH and with new blood in 200 winner Muhammad Kounta and shot victor Fraser Wright; plus regulars under-20 Charlotte Buckley (winner of the 1500 as well as the B 800) – Luke Lennon Ford (400), Sam Trigg-Petrovic (Triple jump), Angelita Broadbelt-Blake (100H) and Kosana Weir 3000 – they are looking like being the favourites to win the League.

So, it was a match with real quality in some events. A few were weaker than would be hoped, but given the disruption of the last year and half, and ongoing Covid issues, it is just good to see the fixtures taking place. From the smattering of under-17s at the start of their careers, to veteran International marathon runners Tracy Barlow (TVH) and Scott Overall (B&B), it was one enjoyed by all.


---
6 June 2021 - NAL - Norman Park
Lewis Harknett receiving the Presidents Steeplechase Goblet from PP John Baldwin after his fine run in the National League at Norman Park on 6 June 2021
We finished 2nd of four teams. TVH won.
Chris Haines
---
National Athletics League Premier London South, Norman Park 6/6/21 – by Pat Calnan

Thames Valley Harriers proved to be the strongest club at the National Athletics League opening fixture of the Premier London South division at Norman Park, Bromley. From Pippa Wingate's win in the opening event, the women's hammer, through to an outstanding 3:35.12 in the women's 4x400m in the penultimate discipline, they showed not just the quality, but also the spirit which defines a great team.

Zoey Clark was part of that 4x400m squad and she showed that she is coming into form with an impressive 51.99 in the 400m, which saw her finish over four seconds clear of the field. She followed shortly afterwards with victory in the 200m by nearly a second in 23.63, a tough double. She sad: "I'm used to doing both events, although there is less space in this new timetable. Everything is early this year, but I'm happy with my form." She aims for one more race before the Olympic trials at the end of the month.

Clubmate Amelia Strickler was equally dominant in the shot as she won by over two metres with a put of 17.31m, though down on what she had been hoping. Tweaks in her technique, which she has been working on in training, have not yet translated to competition, but she looks forward to competing in the Czech Republic next week. Runner-up was Blackheath & Bromley's Nana Gyedu, who broke the 15 metre barrier for the first time with a put of 15.03m, nearly half a metre further than she threw at the same venue last weekend. She heads the UK under-20 rankings by more than a metre.

In fact, the performances of under 20 athletes were among the features of this meeting, not least in the men's events where the 100m, 200m, 400m and 800m were all won by junior athletes. Not that this was due to them being of poor standard, but because of their sheer quality.

Toby Makoyawo's 10.37 in the 100m equalled the best time run in the British Athletics League in the whole of 2019 and the Windsor, Slough, Eton & Hounslow athlete followed with a second personal best in the 200m which he won in 21.05. Held back by injuries in the past, a solid block of training has given him the base to produce such performances and he is looking forward to the England Athletics Under-20 Championships at Bedford in two weeks' time.

Joining him there will be Blackheath & Bromley's Sam Reardon, who set a new personal best of 1:50.87 to win the 800m, before timing his finish to perfection to snatch victory in the 400m. Fourth as the field entered the home straight, he stayed strong and held his form to dip across the line in 47.62. "It's one of the best days of my life," said the 17 year old, who will concentrate on the 400m at the England Athletics Under-20s.

He was not the only B&B double winner as Niamh Bridson-Hubbard showed that taking on the role of women's team manager has not affected her athletics by claiming victory in the 800m and 3000m. She proved the selector wrong in the former as, having named herself as B-string, she promptly won the combined A and B-string race, taking nearly two seconds off her best with 2:08.77.

It was in the middle distances also that Southampton AC enjoyed some of their best moments with Zak Mahamed claiming victory in the men's 3000m and Natalie Griffiths winning a competitive women's 1500m. Their remaining A-string win came in the men's discus courtesy of Joshua Douglas.

Success in the throws, however, remained largely the preserve of the athletes of TVH, who won all four strings of the hammer. Wingate was pleased to go over 60 metres for the first time this year. "It's been a slow start to the season, but things are coming together, and I expect to be throwing further later in the year," she said. Team-mate Jack Paget was equally dominant in the men's event, as was Gavin Johnson Assoon in the javelin, the 38 year old launching the spear out to 68.43m. In the women's event, B&B's Lauren Farley, who is half his age, threw over 50 metres for the first time, improving over two metres to record 50.20m.

Before the meeting commenced, a minute's silence was held in memory of Bryan Goodman, a great servant of the National Athletics League and previously the BAL, who had been recognised with the award of life membership of the League. It was fitting, therefore, that Ben Fisher should win the long jump wearing the vest which Bryan had given him during his time as WSEH team manager. He was happy with his distance of 7.25m and, once his exams are over at Loughborough, will be looking to go over 7.50m.

The jumps proved fruitful for both for him and his WSEH club as they matched TVH 4-4 in A-string victories. Alice Hopkins won the women's long jump; promising under-20 Lionel Owona took the men's high jump with 2.10m; while Paulius Svarauskas took the triple jump with a leap of 15.28m. The Valley won both pole vaults, courtesy of Clare Maurer and under-20 George Hopkins, with further victories for Pippa Rogan in the high jump and Angela Barrett in the triple.

"I love racing at Norman Park," exclaimed B&B's Annie Davies as she set a new best of 13.38 to win an exciting 100m hurdles. Her comment would be endorsed by other athletes from the John Blackie coaching stable who racked up at least eight personal bests during the day, and, no doubt, by the TVH 400m hurdlers Nicole Kendall and Jessica Tappin.

Nicole won the A race in a best of 56.32 and will look to improve further at the Southerns and Olympic trials. Jessica was equally dominant in the B race and dipped under 57 seconds for the first time with 56.93. WSEH's Jacob Paul had kicked off the track programme with and impressive season's best of 50.66.
With Linnea Killander having won the B string 400, the TVH women had a clean sweep of the one-lap races, and were red hot favourites for the 4x400m. There was no complacency here, though, and the quartet of Kendall, Clark, Killander and Tappin provided a fitting finale to the women's track events with their 3.35.12. Will the 3:34.56 League record survive the season?

There were one or two events which could have been stronger, and in the warm weather the absence of the traditional B&B beer tent was a cruel reminder that the Covid virus is still out there, but the overwhelming feeling among athletes and the hard-working officials was that it was just so refreshing to be able to get back to club competition.

It was certainly appreciated by the spectators, many of whom were national league athletes themselves. For example, John and Margaret Baldwin, both past presidents of B&B, competed in the inaugural rounds of matches in the British Athletics League and the UK Women's League, John at Twickenham in 1969 and Margaret at Hornchurch in 1975.

It was a good day.


John and Margaret Baldwin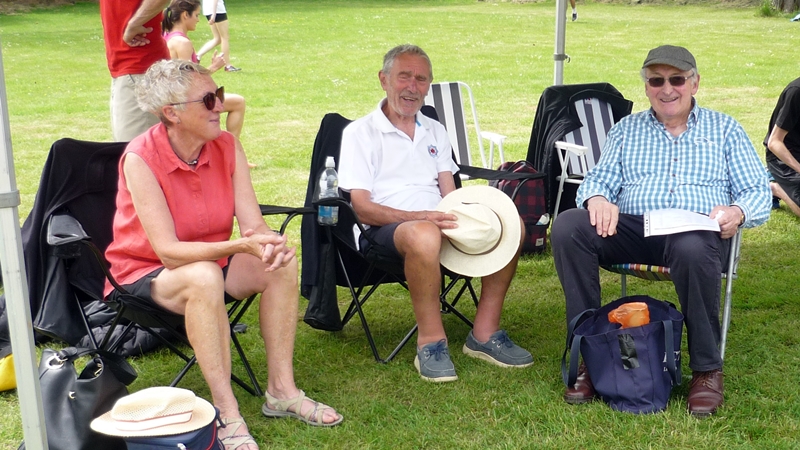 Report and photos from Pat Calnan