A few more from Chris Woodcock's locker...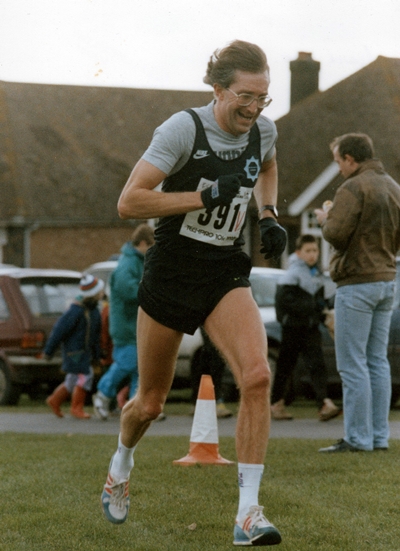 BMAF Cross Country 1992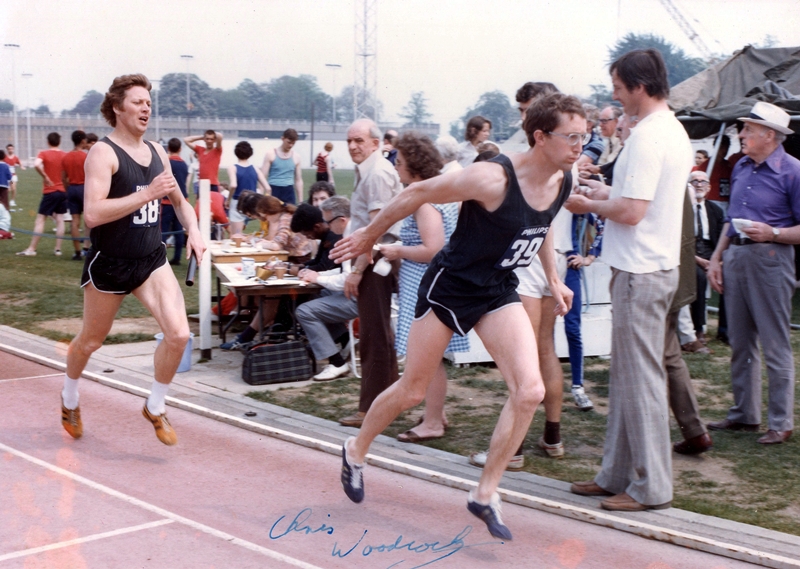 Handover from Peel to Woodcock - 100 x 1 mile relay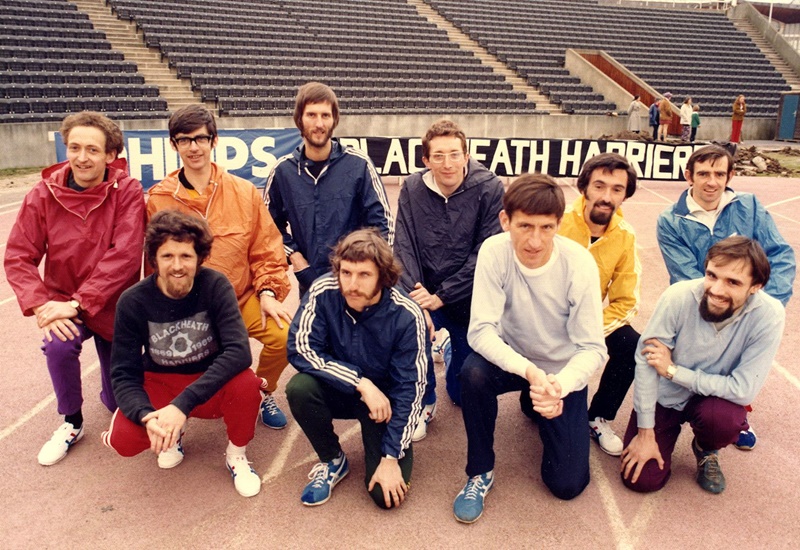 Before the start of the 24hr Relay 1973
Haines, Horwood. Botley, Woodcock, Baldwin. Richardson
Wilson, Hawtin, Clare, Bailey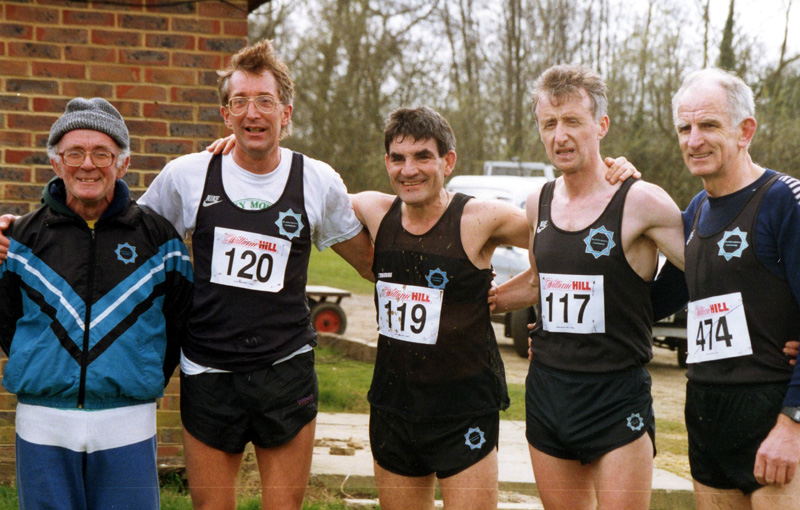 The BMAF National X/C at Tonbridge - circa 1994 and we were 2nd team in M50
Tony Weeks-Pearson, Chris Woodcock, Dave White, Mike Cronin & Barry O'Gorman - DW was a little light-weight then!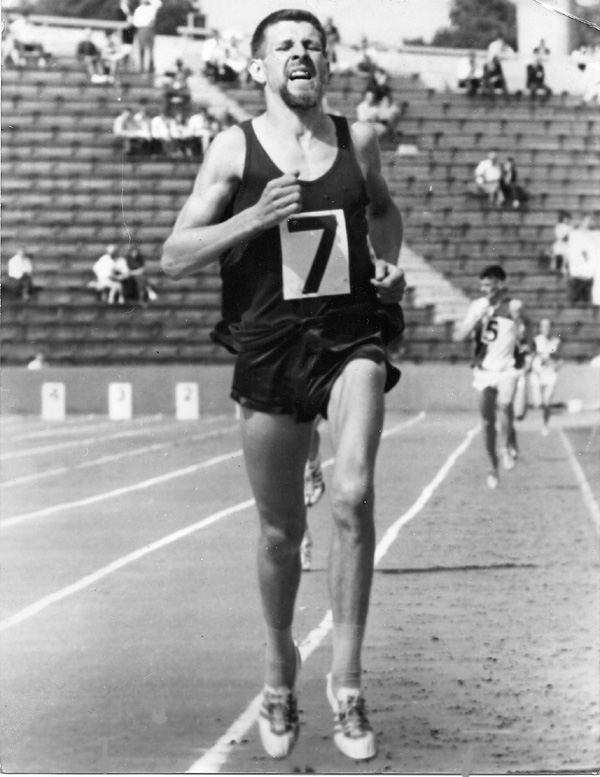 Kipper again by Ed Lacey 1 August 1964
England v Ireland at Crystal Palace 13m 58.6s and off to Tokyo he went!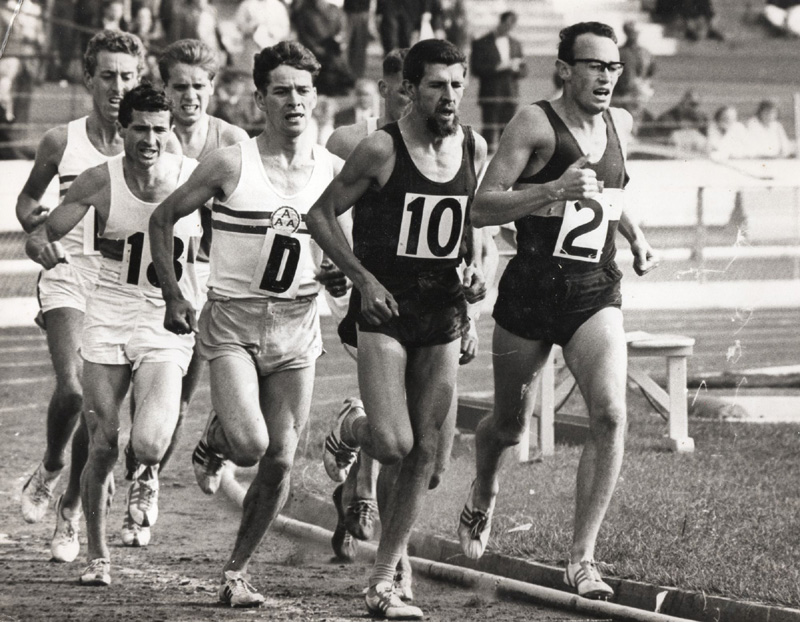 Fire Brigade 2mile invitation. 9 August 1964 by Ed Lacey
Thresher, Kipper, Simpson, John Cooke who won!!, Whetton, Herriott - a pre Tokyo warmup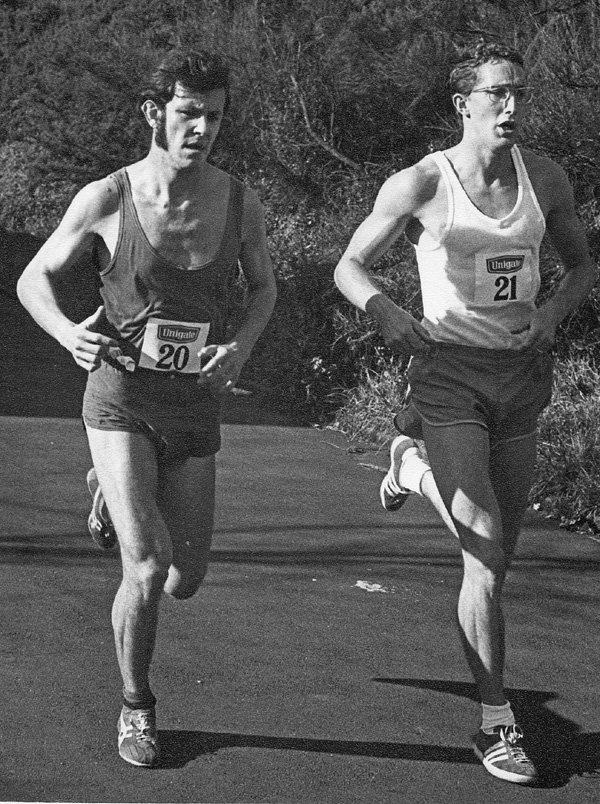 Harlow Marathon 1970 Mike Hampton and Chris Woodcock - early on - Chris's first marathon ~ 2h 43m
---
From VP Bob Richardson
Bill Adcocks is guest of honour at the Club Dinner on 15 November 2013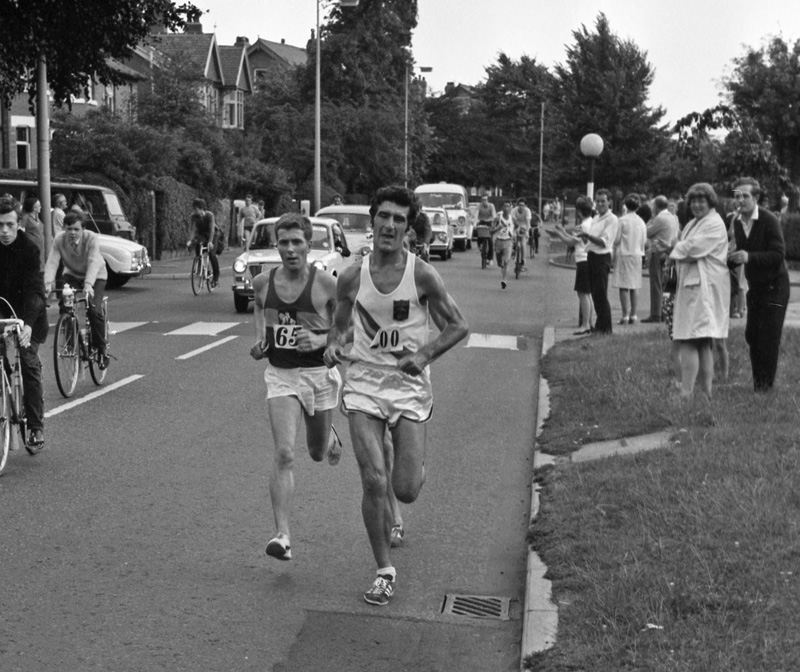 Above from Chris Woodcock - the first Maxol marathon just before Ron Hill took off - he's hidden, you can just see his leg...
Derek Clayton the Aussie star leads; this was the BIG clash of the year and Ron stormed it - with a little help from his friends.
Alan Domleo ran that year - I took the pix and coached. This was the first BIG sponsored marathon in this country and Maxol were very generous. Chris
---
Four photos from Ian Wilson's attic...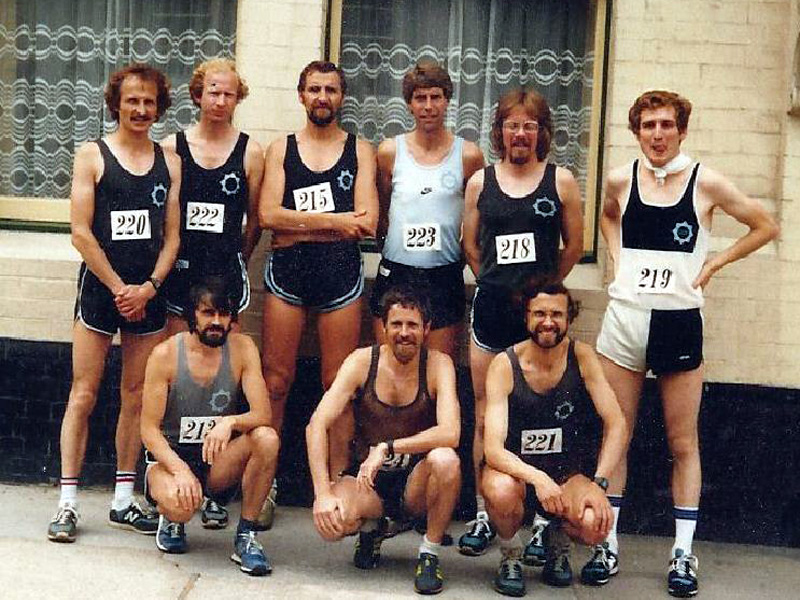 20 June 1982? Blackheath Team for the Offas Dyke 15
Brian Swift, Chris Ware?, Peter Hannell. Keith Whicheloe, Ken Pike, Tim Soutar (in those shorts again!)
Alan Davis, Ian Wilson and Bill Wade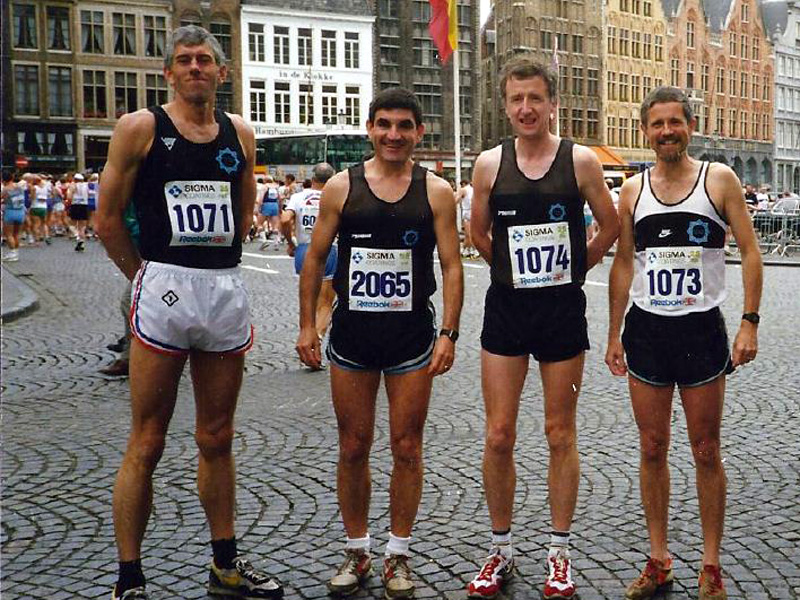 1988 Blackheath Bruges Vets 25k Team
Peter Hamilton, Dave White, Mike Cronin and Ian Wilson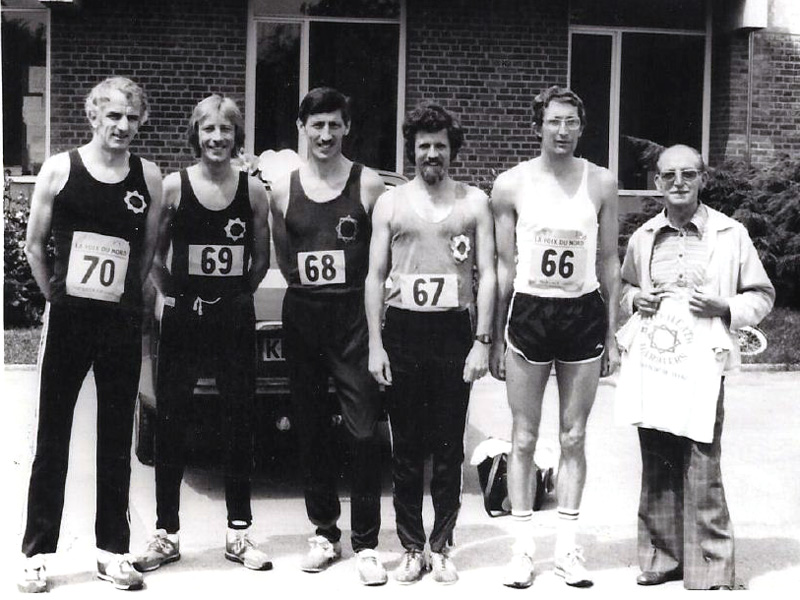 1980 Part of the Blackheath Le Quesnay Marathon Team
Barry O'Gorman, Les Roberts, Joe Clare, Ian Wilson, Chris Woodcock and Team Manager Joe's Dad Frank Clare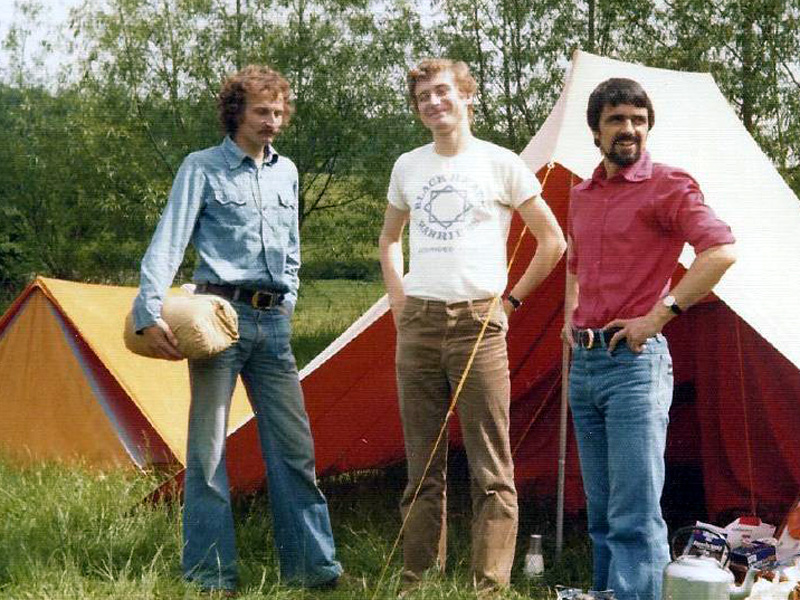 1982? Offas Dyke 15 Team accommodation before Nick Gasson took over!
Brian Swift, Tim Soutar and Alan Davis
---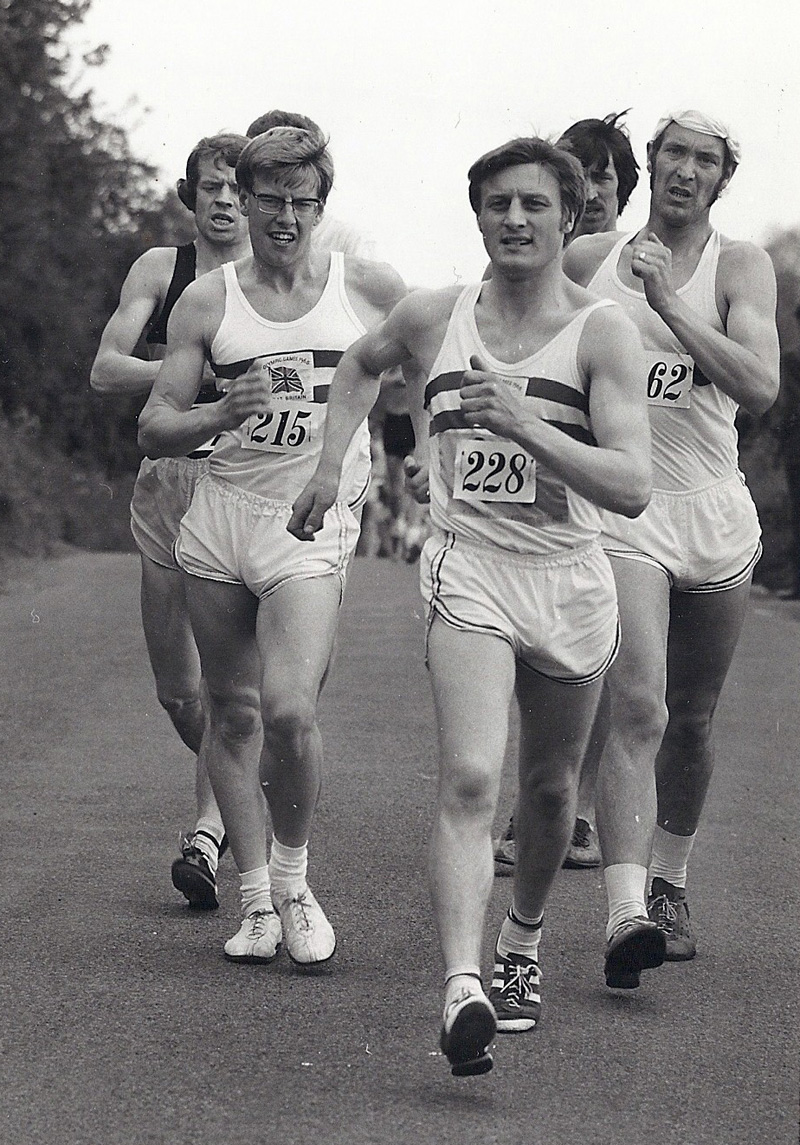 Shaun Lightman in the National 20k Walk at Crystal Palace 1970
Shaun (275) came 4th and was the third Britain home.
---
Steve Cluney found a couple of photos from the 1977 Jubilee run to Buckingham Palace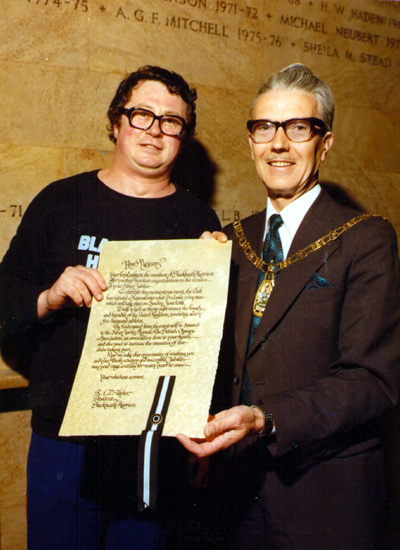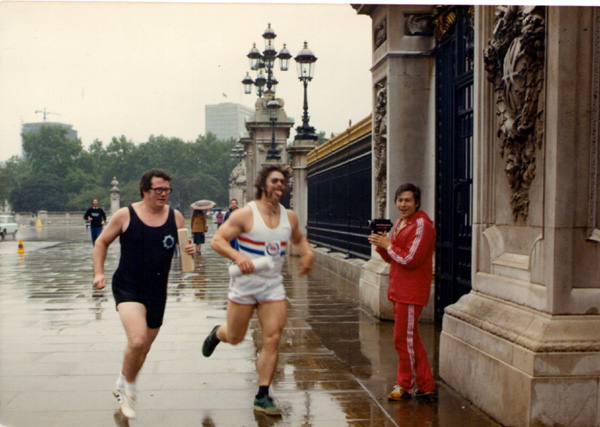 ---
Ian Macmillan of Invicta fame sent this in...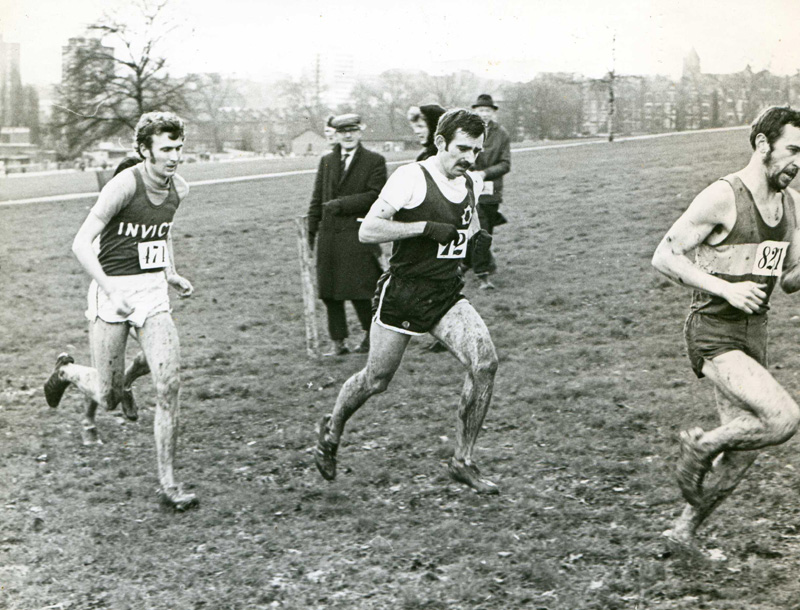 Came across this picture of Bob Richardson leading me in the Southern in 1970 I think. Bob Ellis of TVH is ahead of us both.
---
Jim Phelan has been in his attic....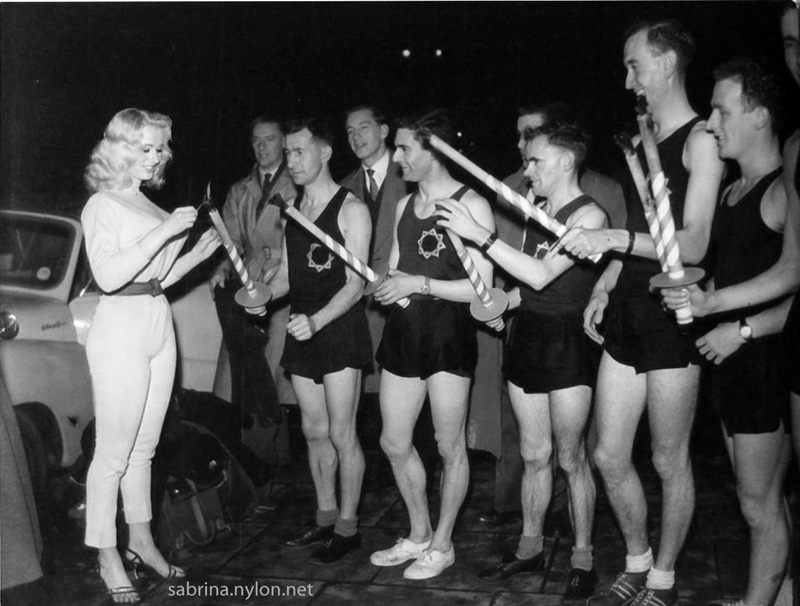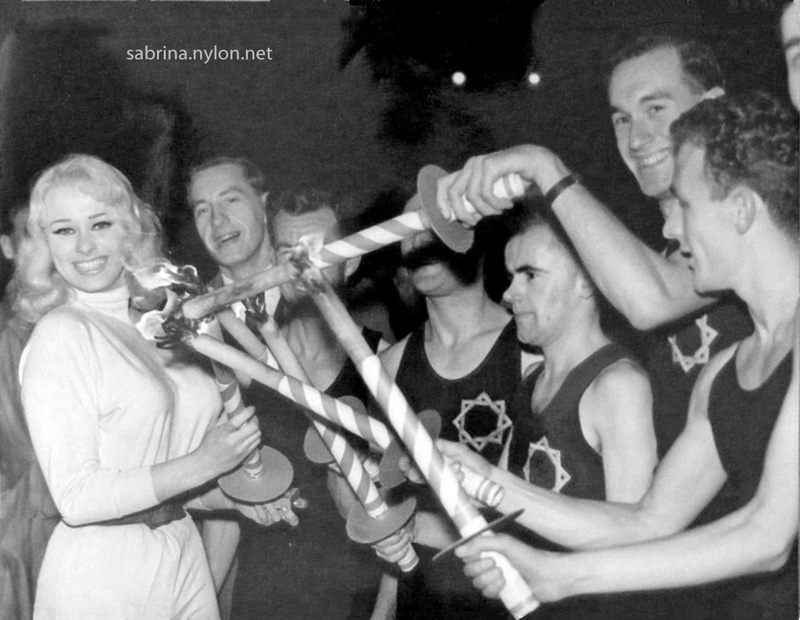 Who remembers Sabrina and the torch relay?
Alan Brent on the left, Johnny Withers is third from the left & Terry Sullivan on the right - November 1957
---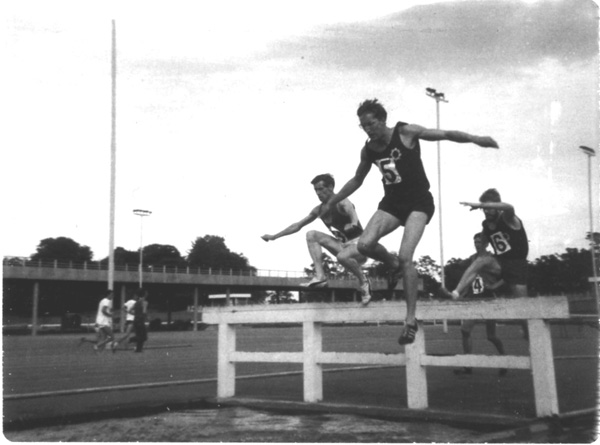 Chris Woodcock is number 5, and number 6 is former member Alan Domleo & 4 is Ian Macmillan
Next to Woodcock is Johnny Oliver representing Kent AC
Chris Woodcock and I have been discussing where I took it. I'm pretty sure it was at the Club's Centenary
Track Meet at Crystal Palace in 1969. Tom Philips 30-03-12
---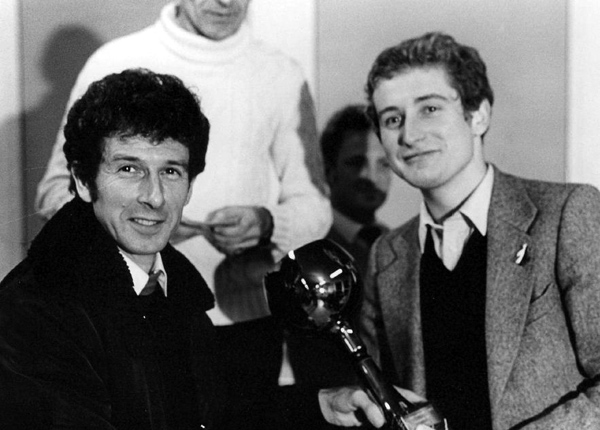 Can anyone guess the names of these two?
And the first all correct answer was from Margaret Baldwin - a young Tim Soutar and Emil Putteman.
---
A few from Tim Soutar - having been prompted by Chris's offering's...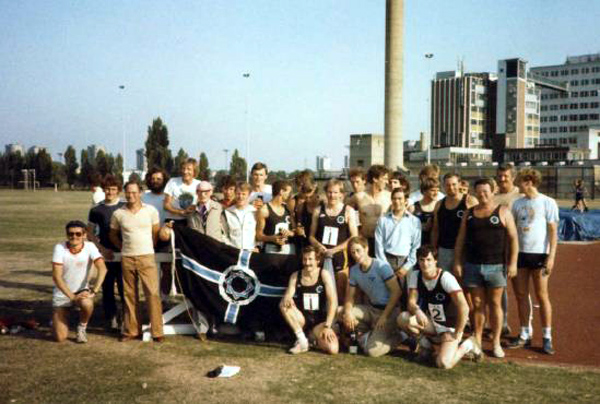 'Trash & Field' British League team of the early 80's, so ably led by Bob Taylor, larger one is 1982, I think, and the smaller, 1983 – both celebrating Division success and promotion.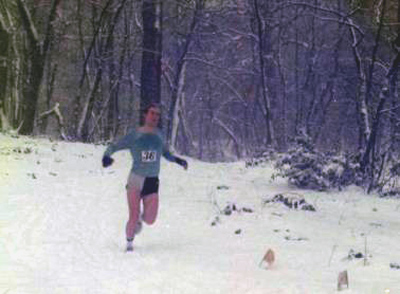 1982 Club 10 (not quite snowed off, but run round Sparrow's Den – the only time I broke 50 mins for 10!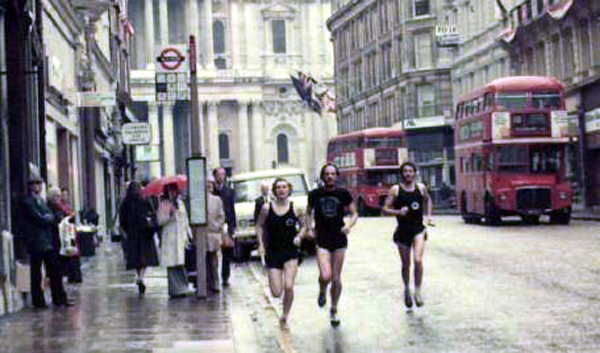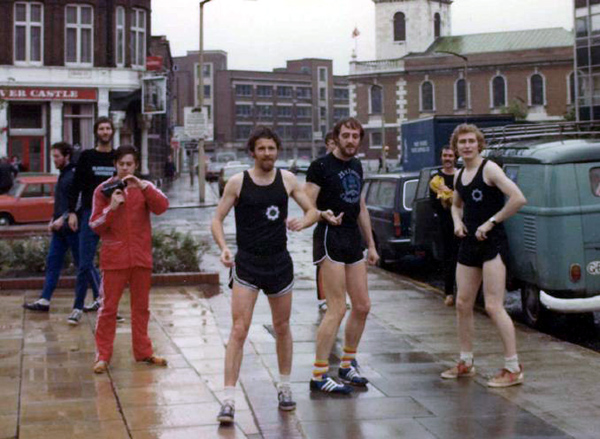 A couple more from the Silver Jubilee
---
Three from Chris Haines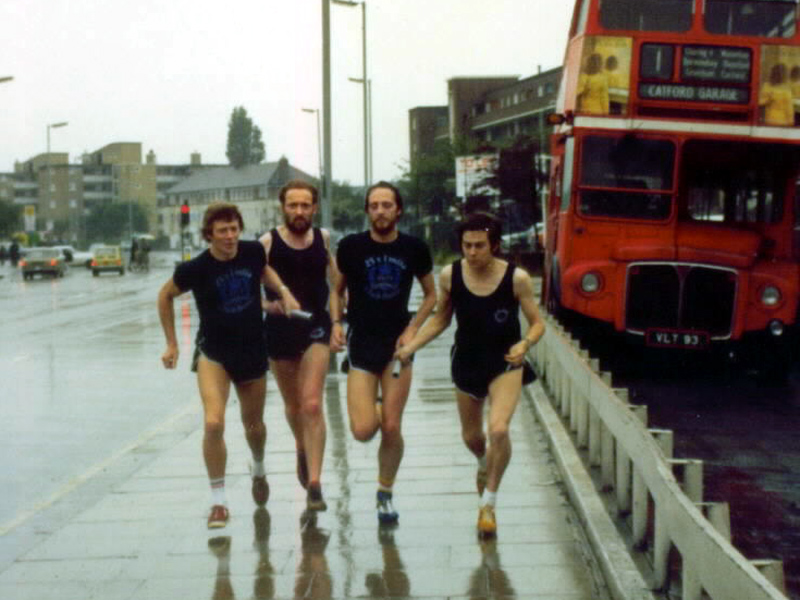 1977 Silver Jubilee relay from Bromley to Buckingham Palace. Chris Haines and Steve Cluney, having run from
Bromley Town Hall hand over to Mike Peel and Andy Frankish at Catford Bus Garage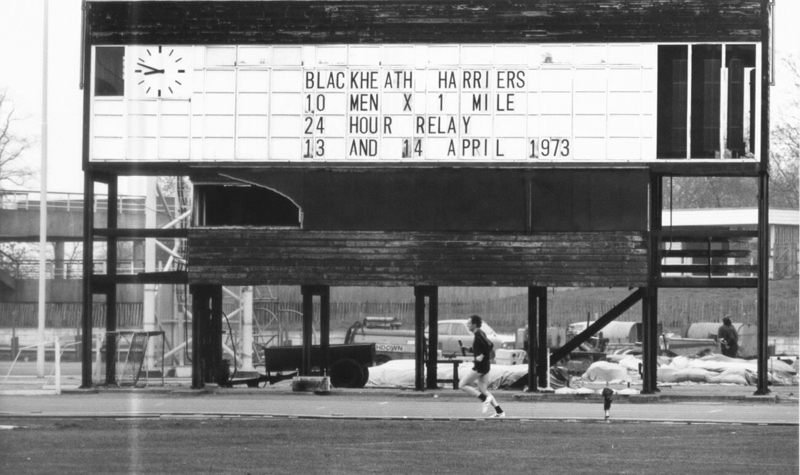 An early morning leg for Chris Haines at Crystal Palace on 14 April 1973, its note the decrepit state of the scoreboard

The Chief Trail Layer, Bob Cliff showing the way to The Hon. Handicapper,
Chris Haines sometime last century in the Southern at Parliament Hill Fields
---
A few from Ian Wilson's files...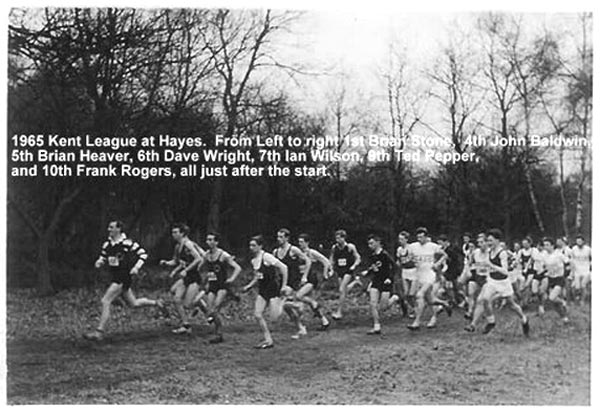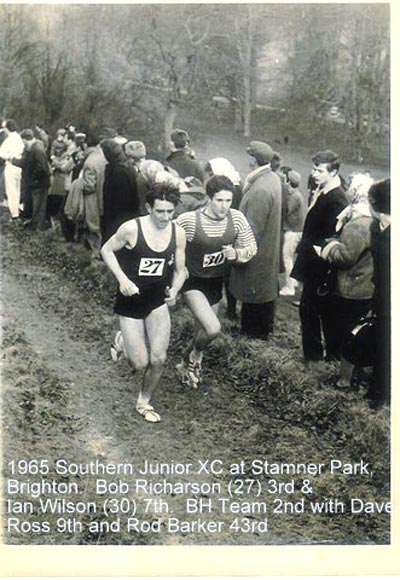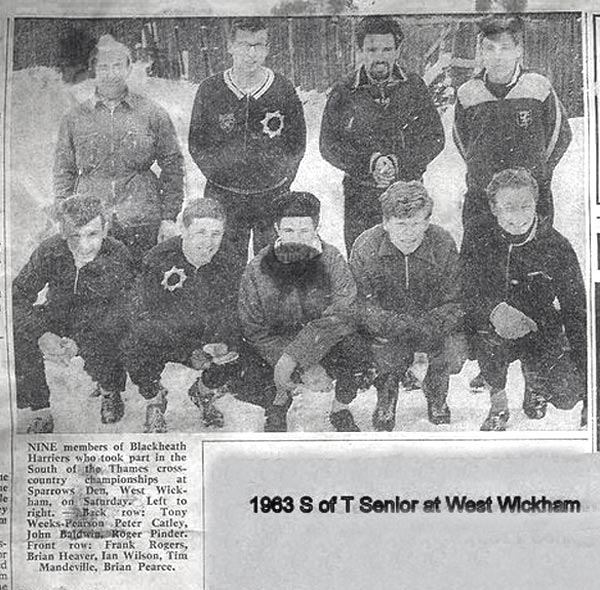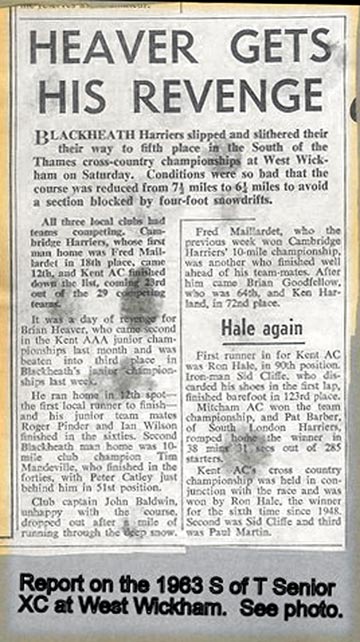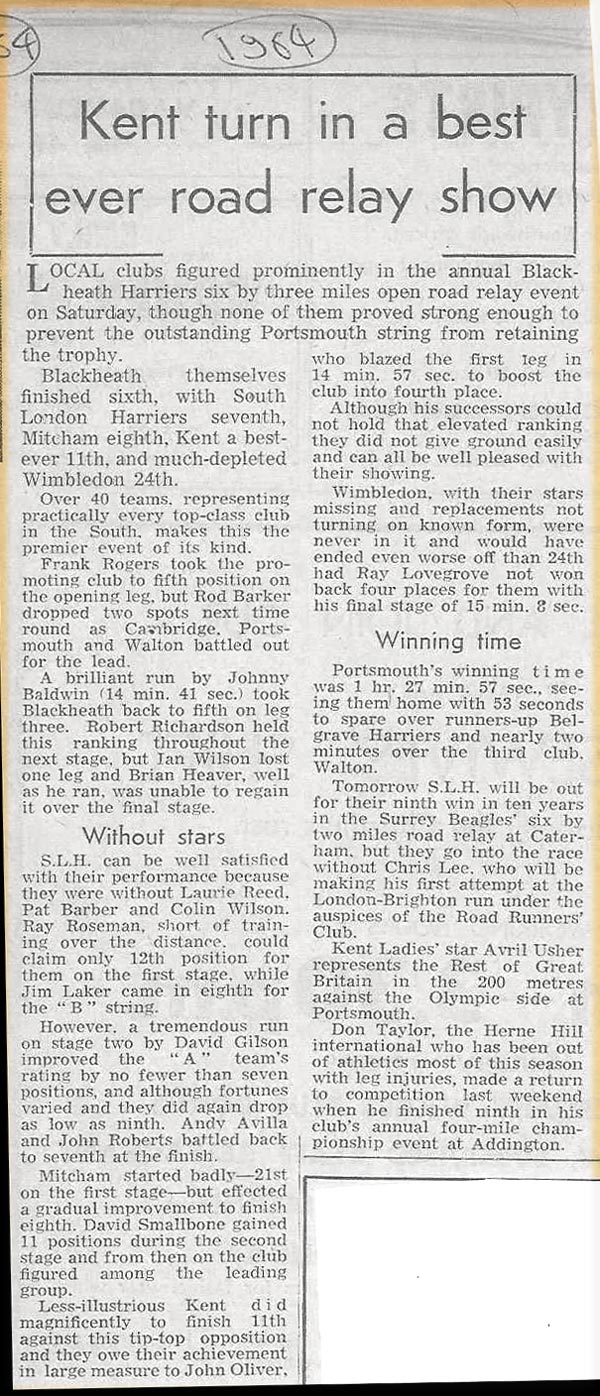 1964 Press Report on the Blackheath 6 x 3m Road Relay (Parris handicap course)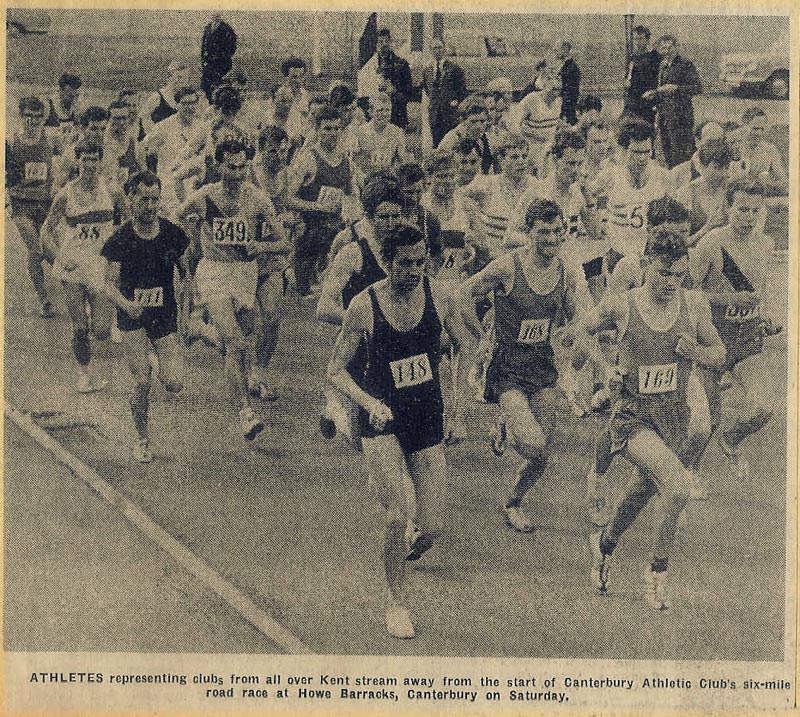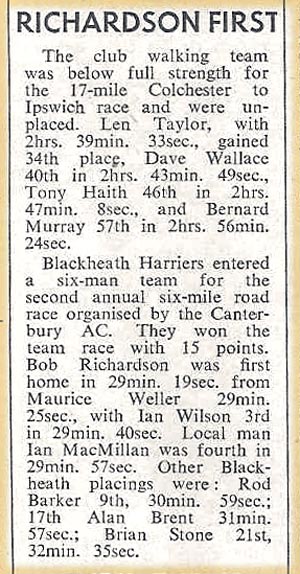 Press report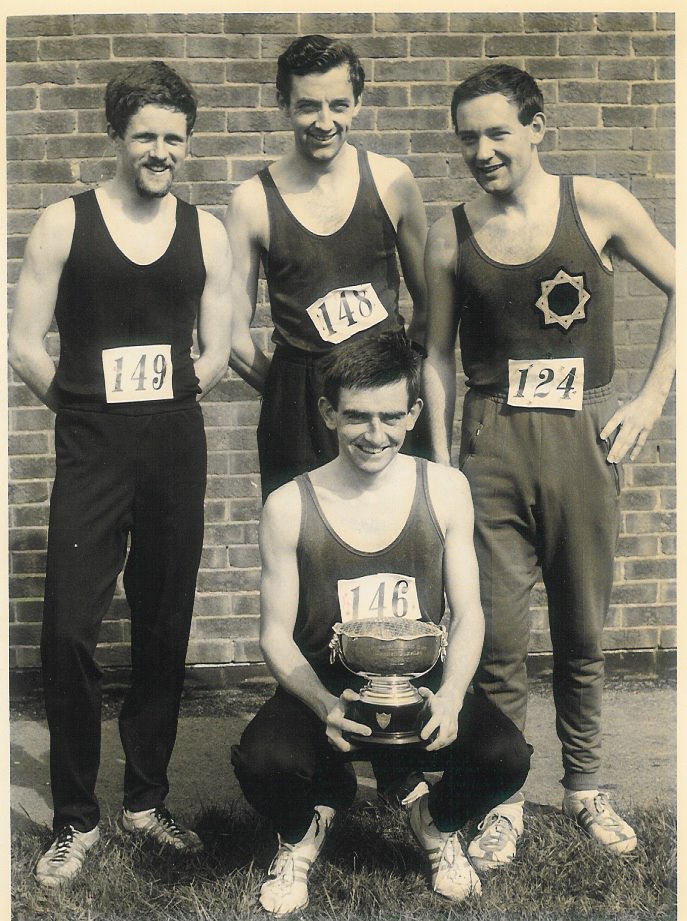 1966 winning Team Canterbury 6 - Wilson, Weller, Barker, Richardson holding cup
---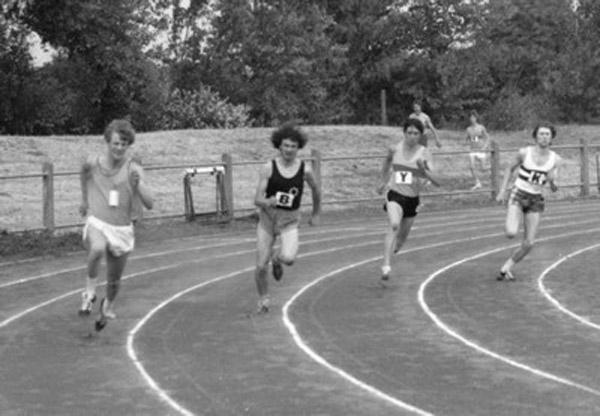 Tom Phillips at Croydon Arena in July 1975
---
Two photos from the late 60's of runners setting out from the clubhouse on a Sunday morning run. Found in Chris Haines loft...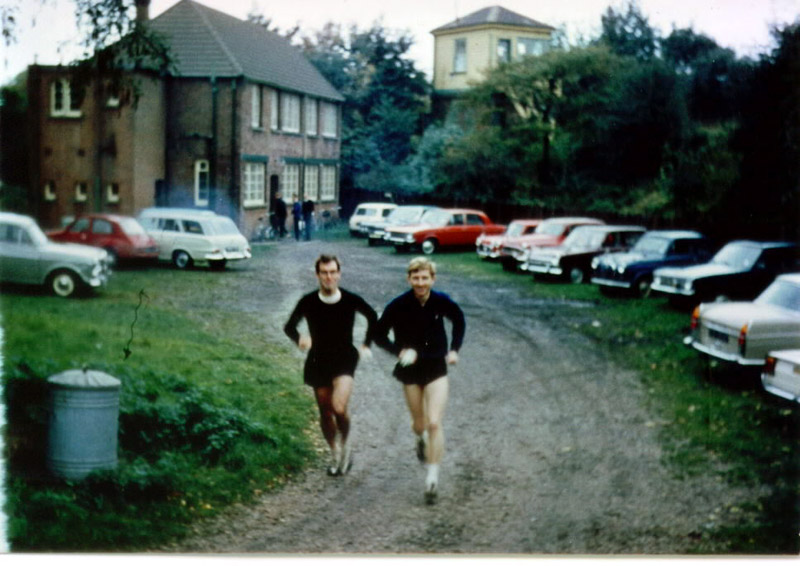 Fred Dudman (left) and Ted Pepper (right) setting out on a Sunday morning run having missed the main pack. (Photo: MA Walker)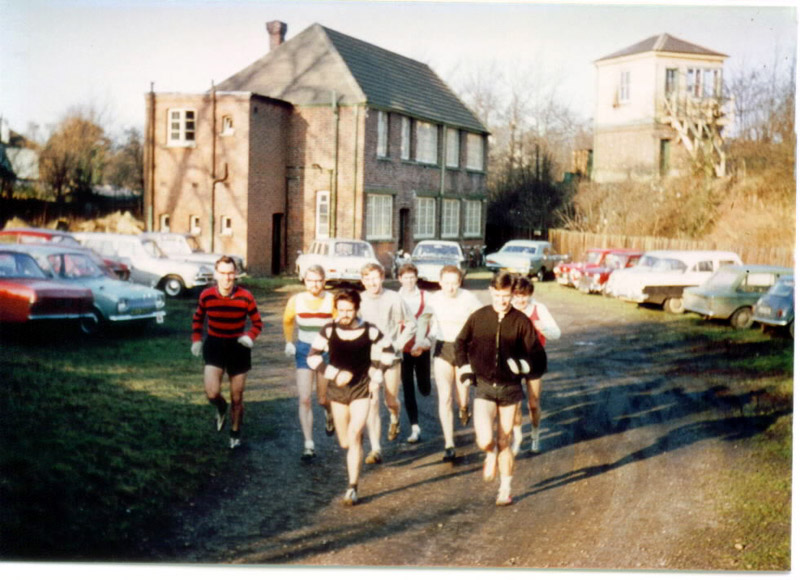 Sunday morning run, easy going for 17 miles or so:
left to right: Fred Dudman (formerly VP and Club Treasurer), Alan Domleo (2nd claim BH, Derby&County AC), Alan Davis, Ted Pepper (now remembered in the Ted Pepper 10k), Martin Hore (3rd in the National Youth X-C Championships) , Chris Haines, Mike Willis (4th in the BBHAC all-time marathon rankings at 2:17) , Tony Dunnett. (Photo: MA Walker).
I've just come across the archive photos section of the Blackheath Harriers website and found a photo of myself in 1969! Quite a surprise.

I'm at the back of the group leaving the clubhouse on one of our Sunday morning 17 mile runs. I was 18 at the time. The caption describes me as Southern Counties youth champion but in fact I was only 4th in that race, just behind Phil Banning who went on to have successes as a senior. Later that season I was 3rd in the National Youths Championships at Parliament Hill Fields, by some margin my best ever result, beating Phil Banning and the Tuck brothers on that occasion.

I was at St Dunstan's College at the time. The school had a very competitive cross country team under the excellent coaching of Bill Wade, also a Blackheath member. Tony Dunnett, also in the picture, was another St Dunstan's student, only 16 at the time - quite an achievement to complete a 17 mile training run at 16.

Of the other runners pictured in the archive photos I remember Ted Pepper, who died on the Three Peaks a few years later, and also Nick Mandeville. Nick assisted Bill Wade with a St Dunstan's College mountaineering expedition to the Lofoton Islands in Norway of which I was a member. Bob Richardson was, of course, a leading club runner at the time, and I also remember Alan Brent and Tony Weeks-Pearson, who I see are listed on the site as existing past presidents.

I carried on running competitive cross country for a couple of years at university, but soon nagging injuries intervened and I turned my efforts to mountaineering. Nowadays I compete regularly in orienteering events, moving up into the 60 - 65 age class this year.

Although I never realised the promise as a senior athlete that the club might have hoped for, I'm certain that the training at that time has stood me in good stead health-wise ever since, so I've a lot for which to thank the members of the club who encouraged me at that time. If any of the above are still involved, do please pass on my thanks.

Best Wishes
Martin Hore
---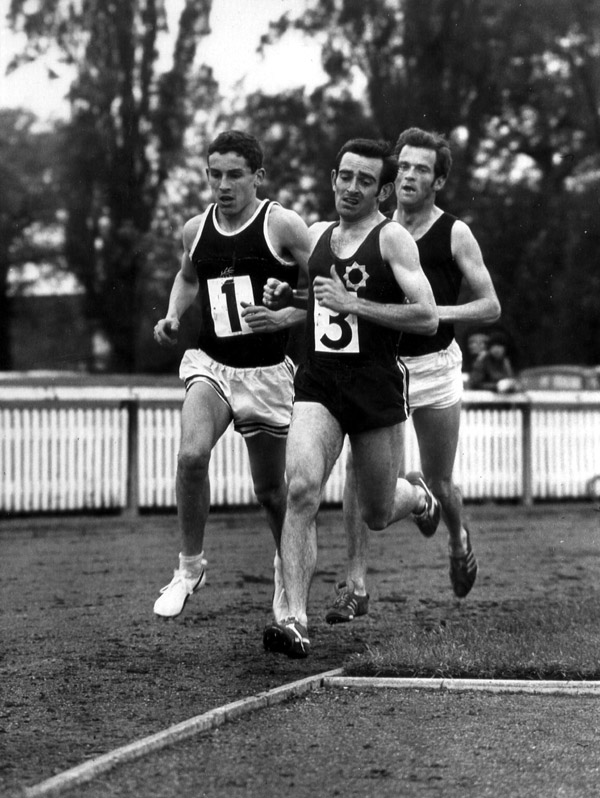 Bob Richardson about to beat Ian Stewart...
---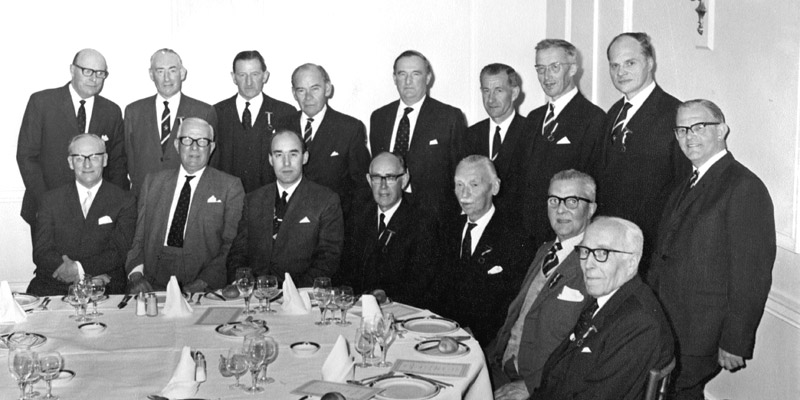 Past Presidents all... Charing Cross Hotel, Friday 18th April 1969
Back row: Victor Beardon, Harold Thompson, Will Vercoe, Cecil Pollard, Dick Cockburn, Alan Brent, Laurie Hammill, Jack Sims, W J (Bill) Traer
Front row: Charlie Wiard, William (Bill) Knobby Clarke, Dudley Child, Sydney Wooderson, J. Morrison. Cyril Starnes, Freddie Barker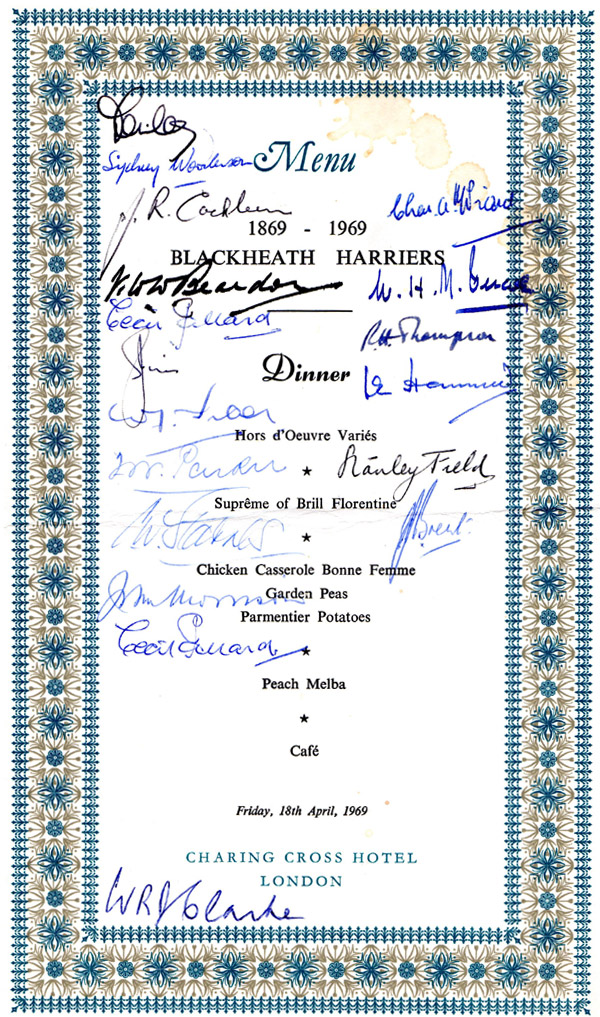 ---