Page 2 - Summer2014Gazette
P. 2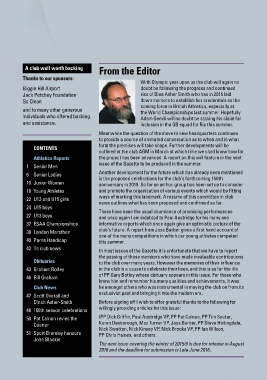 2

    A club well worth backing       From the Editor

   Thanks to our sponsors:                                  With Olympic year upon us the club will again no
   Biggin Hill Airport                                      doubt be following the progress and continued
   Jack Petchey Foundation                                  rise of Dina Asher Smith who has in 2015 laid
   So Clean                                                 down markers to establish her credentials as the
   and to many other generous                               coming force in British Athletics, especially at
   individuals who offered backing                          the World Championships last summer. Hopefully
   and assistance.                                          Adam Gemili will no doubt be staking his claim for
                                                            inclusion in the GB squad for Rio this summer.
     	CONTENTS                      Meanwhile the question of the move to new headquarters continues
                                    to provide a source of animated conversation as to when and in what
     	 Athletics Reports            form the premises will take shape. Further developments will be
     1	Senior Men                  outlined at the club AGM in March at which time we shall know how far
     6	 Senior Ladies               the project has been advanced. A report on this will feature in the next
     10	 Junior Women               issue of the Gazette to be produced in the summer.
     18	 Young Athletes             Another development for the future which has already been mentioned
     22	 U13 and U15 girls          is the proposed celebrations for the club's forthcoming 150th
     24	 U15 boys                   anniversary in 2019. So far an ad hoc group has been set up to consider
     27	 U13 boys                   and promote the organisation of various events which would be fitting
     37	 ESAA Championships         ways of marking this landmark. A resume of this committee in club
     38	 London Marathon            news outlines what has been proposed and confirmed so far.
     40	 Parris Handicap            There have been the usual abundance of promising performances
     42	 Tri club news              and once again I am indebted to Paul Austridge for his many and
                                    informative reports which once again give an optimistic picture of the
     	Obituaries                    club's future. A report from Joss Barber gives a first hand account of
     43	 Graham Botley              one of the many competitions in which our young athletes competed
     46	 Bill Graham                this summer.
                                    In most issues of the Gazette it is unfortunate that we have to report
     	 Club News                    the passing of those members who have made invaluable contributions
     47	Scott Overall and          to the club over many years. However the memories of their influence
                                    in the club is a cause to celebrate their lives, and this is so for the life
         Dinah Asher-Smith          of PP Gary Botley whose obituary appears in this issue. For those who
     48	150th season celebrations  knew him and remember his many qualities and achievements, it was
     50	Pat Calnan revies the      he amongst others who was instrumental in moving the club on from its
                                    exclusivist past and bringing it into the modern era.
         Courier                    Before signing off I wish to offer grateful thanks to the following for
     51	Sport Bromley honours      willingly providing articles for this issue:
                                    IPP Dick Griffin, Paul Austridge VP, PP Pat Calnan, PP Tim Soutar,
         John Blackie               Karen Desborough, Maz Turner VP, Joss Barber, PP Steve Hollingdale,
                                    Nick Swatton, Nick Kinsey VP, Nick Brooks VP, PP Ian Wilson,
                                    PP Chris Haines, and others.
                                    The next issue covering the winter of 2015/6 is due for release in August
                                    2016 and the deadline for submission is Late June 2016.