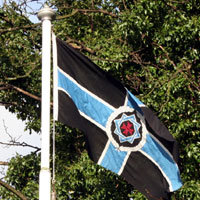 In March 2003 Blackheath Harriers (BH) merged with Bromley AC (BAC) to form Blackheath & Bromley Harriers AC (B&B).
The club Headquarters were based at Hayes, in the London borough of Bromley. The BH club moved there way back in 1926 - and left in August 2021.
Pending our move to our new permanent home at Norman Park Track, Hayes Lane, Bromley, BR2 9EJ (Summer 2022?) we are using the Beccehamian Rugby Football Club, Corkscrew Hill, West Wickham BR4 9BB as a base for Wednesday club nights.
Cross-country and road-running training runs go out from the 'Old Becs' HQ on Wednesday evenings. We are very lucky to have pleasant country paths and local, well lit roads. Runs are principally over the country, but in the darker evenings we have to resort to running over the roads. After the Wednesday evening runs a pre-booked supper is available for a small charge and the bar is open!
The nearest railway station is Hayes (one mile away) or West Wickham (also one mile). Our home running track is in Norman Park, Bromley - which is about two and a half miles away from the Old Becs.