Since March I have been working as a triathlon and cycling coach in Mallorca, whilst at the same time pursuing my own training towards my primary goal of the year......to win my age category at IM Lanza.
I started off by running a couple of seriously steep 'Mountain Marathons' to enhance my run strength and overall core/ conditioning, but ended up falling over more times than I care to remember, cutting myself up quite badly, calling into question the wisdom of this decision.
Next up, in early April, was a great little triathlon race in a little fishing port on the East coast of Mallorca called Porto Colom, with a pretty lighthouse on the headland at the mouth of the harbour. It is the perfect season opener, offering two distances, the full 111km ( 1km swim, 100km bike, and 10km run) and the 55.5km 'half' version. I finished 2nd to a Belgium guy who informed me from the top step of the podium that he owed his victory to the Tagliatelle 'Wiggins' that he'd eaten in Tolo's the evening before!
After this I rode a long distance sportive, the Mallorca 312km, round the island ride, with a group from a large club in Kent. Although not strictly a race it offered a pretty intensive workout which took over 12hrs........that's a tough days training!!
Next up was the biggest Half Ironman race in the World, the Mallorca 70.3, had over 3500 athletes competing this year. One step lower on the podium for me, a third place, against stiff competition left me happy enough with my form (following a chest infection, cough and cold a couple if weeks before) see Mallorcaman picture of me in my pointy silver aero helmet leaning my bike over Valentino Rossi style on one of the descents......well almost......
Two weeks later followed my primary goal IM Lanzarote the full distance event ( 2.4miles, 112 miles and a marathon run). I flew home from Mallorca the week before the race to hook up with my Thomas Cook flight and hotel package the next day, to stay near the race start in Puerto Del Carmen. The winds blew really hard In the week leading up to the race so I was pleased with my decision ( based on past experiences in Lanza that you don't need to be wrestling the front wheel for the whole bike ride in the crosswinds) to bring a normal shallow section front wheel. I met up with Trevor (Simmons) and partner Lucy for a leg massage at his Athletes Prepared By Clinic (APB Works) in the village of La Santa on registration day. Now I was ready to race.....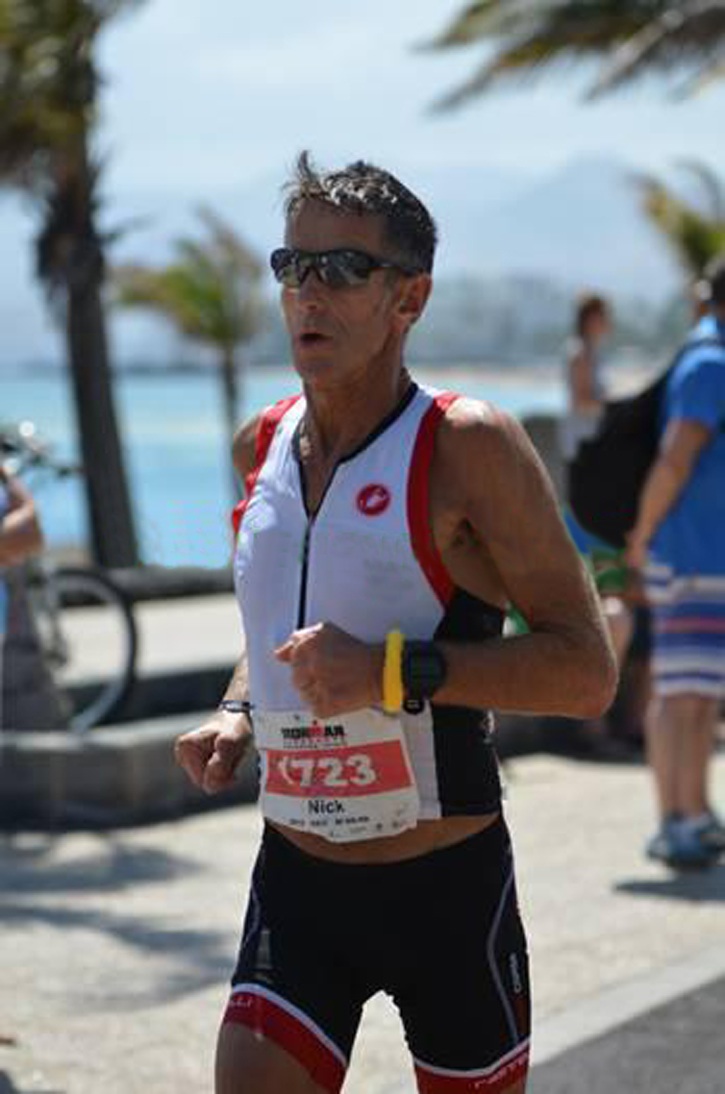 From the 'B' of Bang I knew I was on for a good day as I was never too stressed in either the swim or even on the bike although the wind was often brutal. Coming from a mountain bike background, grinding up hills is basically what I can do.
Plus, I was super hydrated, needing to have multiple wee's whilst on the move on the bike ( even more important than normal to check the wind direction first) which is always a good sign in a hot ironman race like Lanza.
The start of the run was daunting, with the thought of running a marathon into strong winds a first for me, but I was determined to endure and just keep running, even through the aid stations, to lose as little time as possible to my competitors. I was asking various 'faces' that I recognised for time gaps, but all I was getting back was 'your winning', (my age category). Finally after 26km someone told me that I was over 20 minutes ahead. This info had actually come via Blackheaths own Jim Phelan following the race online at home in the UK, he'd text to say my gap was 23 mins and increasing. Good solid info at last. I was spurred on by the news and just kept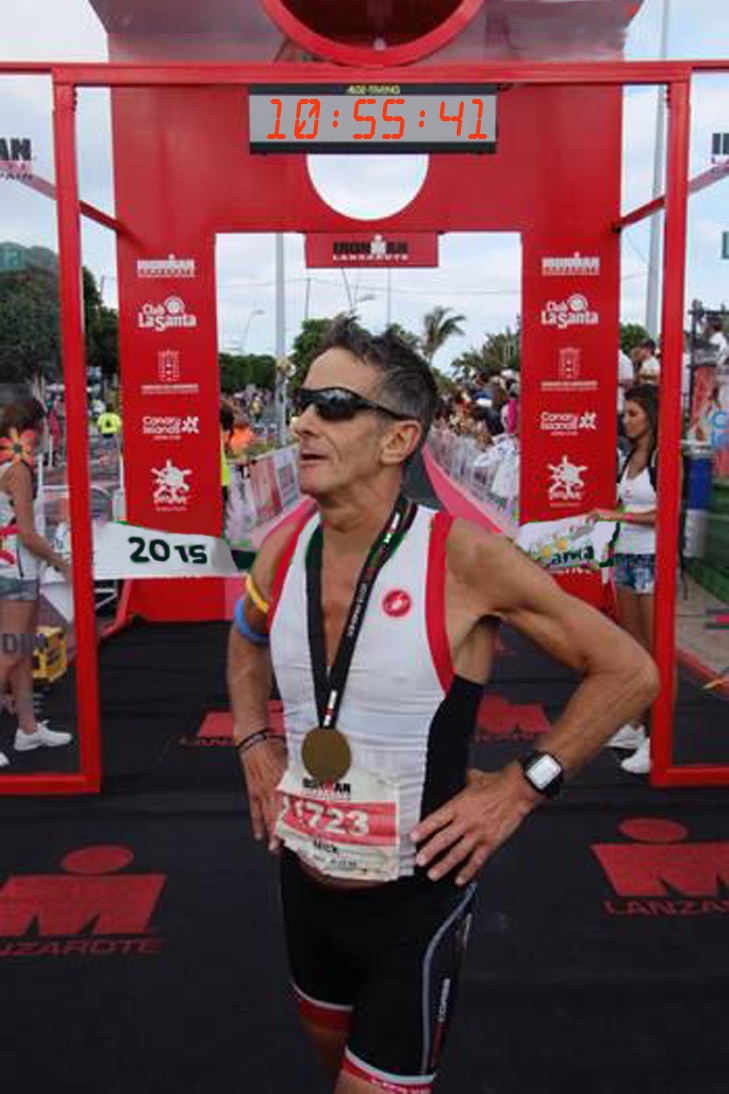 balancing the nutrition to keep moving forward and energy coming through into the legs. It came in waves, sometimes I felt ok and at others was just creeping forward. I held that 20 minute gap until the finish line to achive the number 1 spot on the podium for the first time this year.......in my most important race.......my primary goal......how did I feel........relieved and delighted!! I think the photos tell the story better than I.
Facebook https://m.facebook.com/profile.php?id=504091392936774

Winner age 55-59 category IM Lanzarote 2015

Ps I won a qualification slot for the World Champs in Hawaii in October, but passed it up this year after getting sick 2days before the race last year........and the thought of those long costly trans Atlantic flights.......no.......for me the sun bed beckons....