20 July 2009 - Kent Masters League - Erith
As we thought, the final fixture of the Kent Masters League was cancelled for good, and therefore the Men's team are Kent Champions again. Outcome is as at 13 July results, Ladies miss second place by half a point. League Final is 6 September.
Owing to the major power cut that hit the Dartford/Bexley area on 20 July, a decision was taken at very short notice to cancel the final Kent Masters League fixture. No decision has been taken at the moment about re-scheduling it, so it is possible that the League will be decided on the five fixtures held to date this summer. This would place our Men's team as Kent League winners once again, and on their way to the SCVAC League Final on 6 September. However, the position would be a galling one for our Ladies team. They would finish in third place, just half a league point behind Cambridge Harriers, yet tied on match points, and miss out on a place in the League final by the smallest margin possible. Truly cruel.
Tom

---
13 July 2009 - Kent Masters League - Erith
Allan Williams had cleared 3.90 a couple of days previously, for a UK M55 pole vault record. He won the League match comfortably with 3.70 and in fading light, had several good tries at 4.00. Alan Hardy's 3.00 was a clear win in the M35-49 group, although Alan is now an M50. Well done both.
On the track, Tim Soutar continued his dominance of the League's M50 middle distance races, with a decisive win in the 3,000m. Rob Hall and Mark Ellison were up against tough opposition in the M35-49 race.
Windy conditions didn't help the 400m runners, but Clem Leon (59.7) and Tom Phillips (59.9) dipped under the minute. Tom's time was his Masters PB, largely because he is quite careful not to race 400's very often. The wind didn't seem to affect a very competitive triple jump, where Clem Leon came third, and Dennis Wallington second. Dennis wants us to believe that he turns 60 next year, and Clem was another athlete competing out of age group. Colin Brand put in a very sound second place in the M60 discus.
So, the League goes right down to the wire, at the second Erith fixture, on 20 July. We may yet rue the catalogue of non-availability and injury that has beset the squad all through this summer.
Tom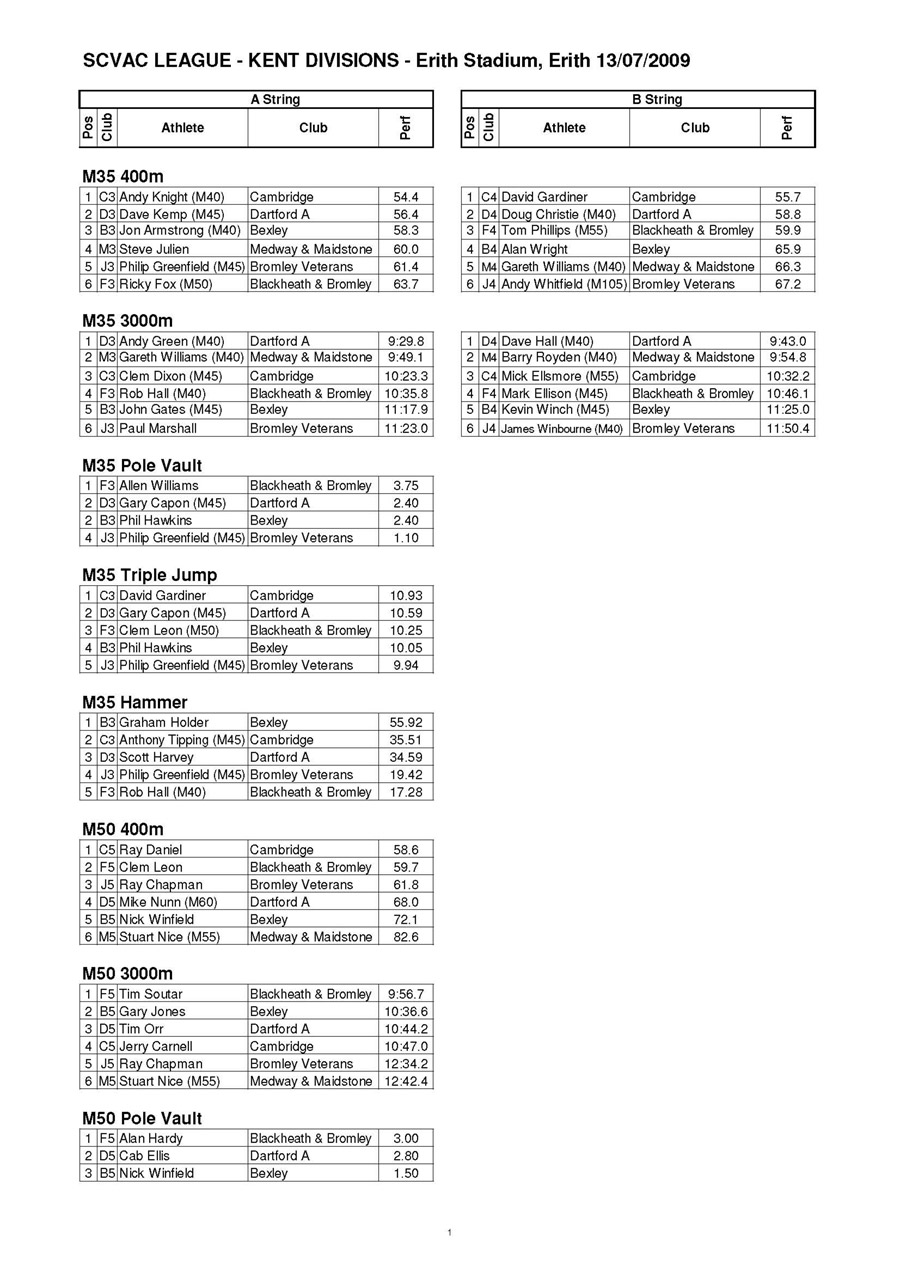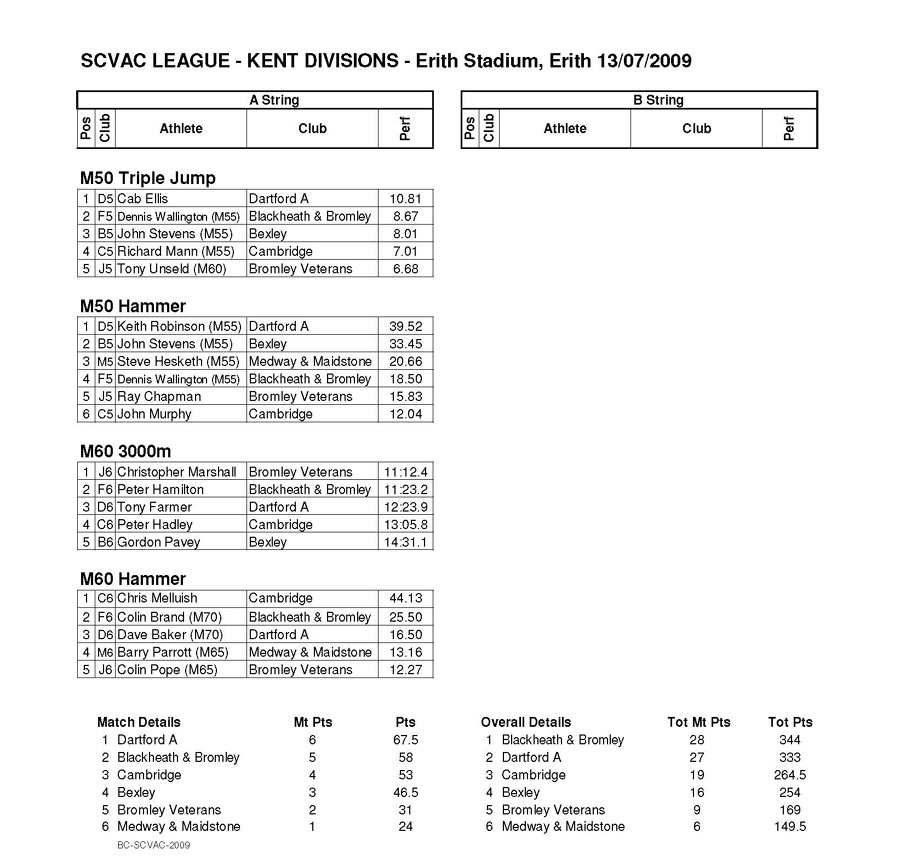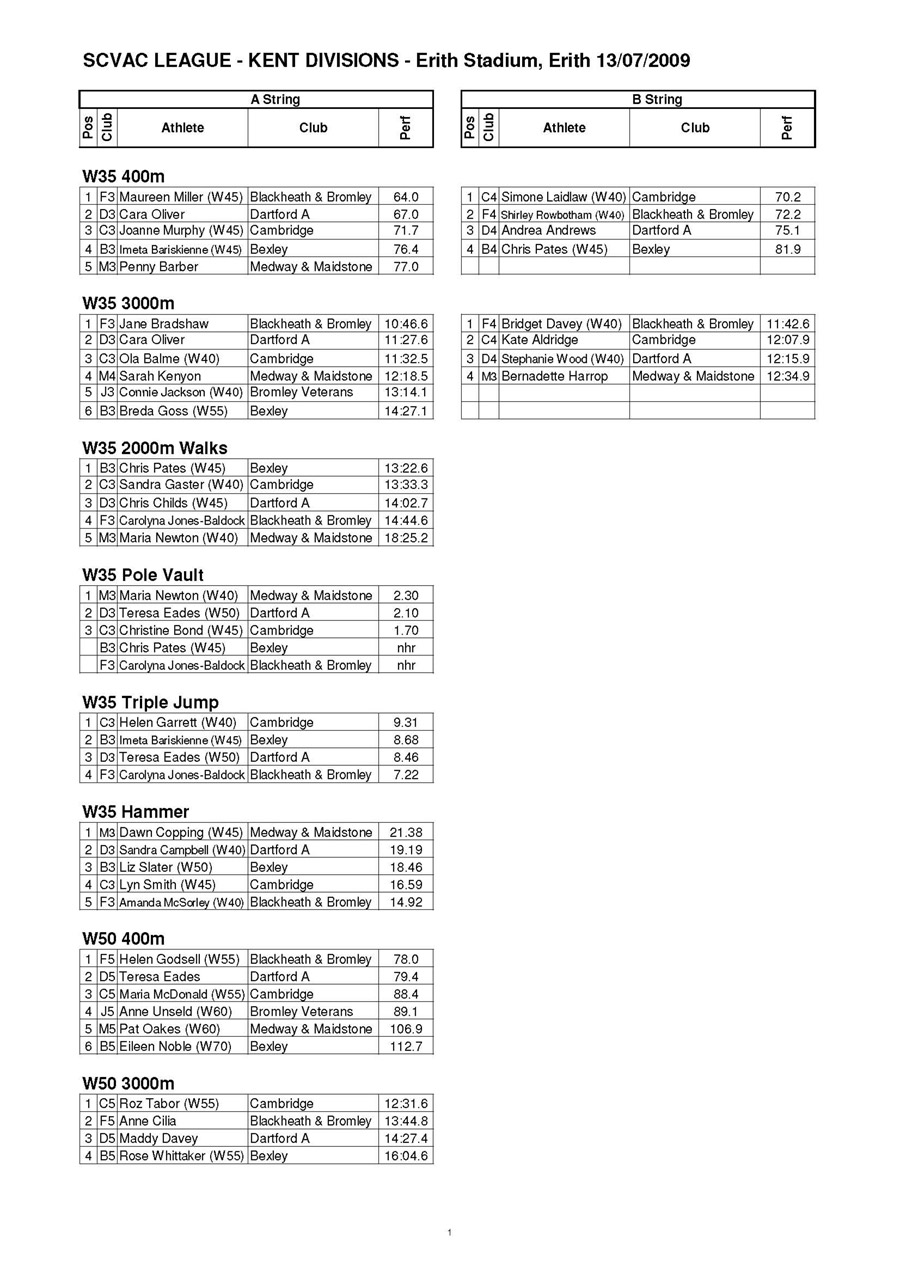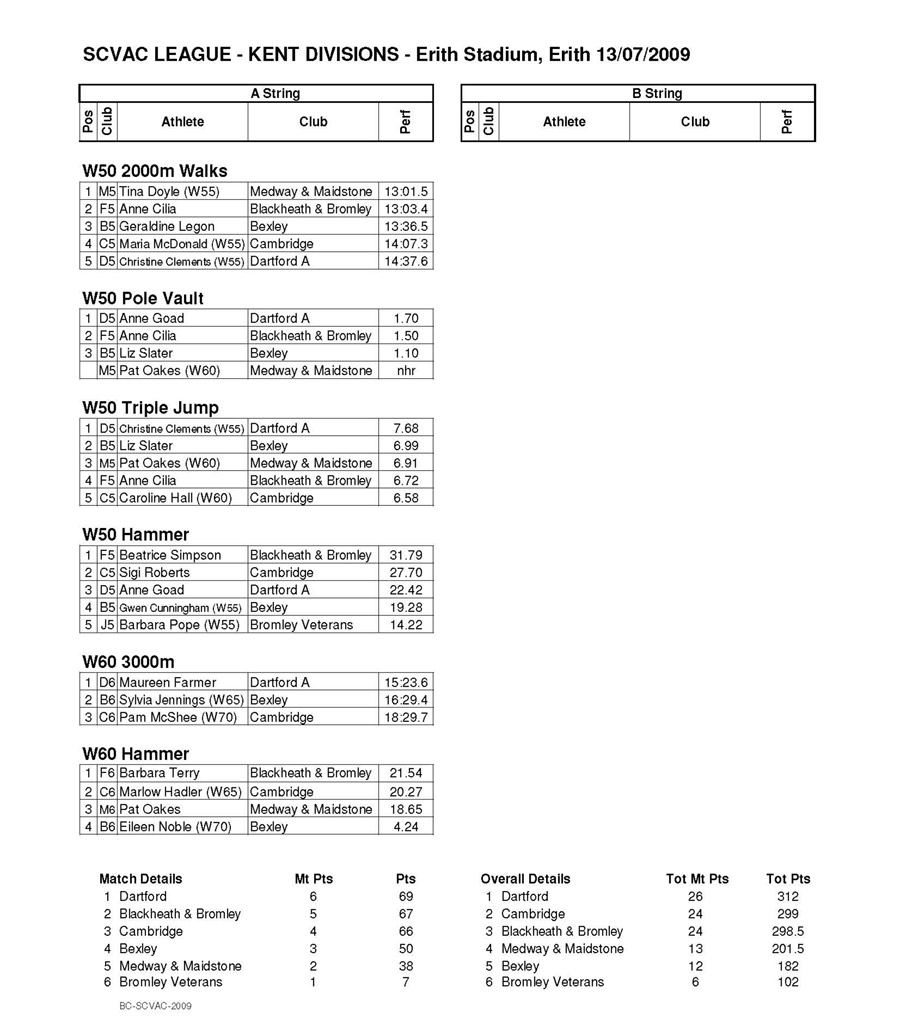 ---
4/5 July 2009 - British Masters Championships - Birmingham
Highlight of the weekend for the Club was Allan Williams at last achieving the GB M55 pole vault record, at 3.85, after coming close at the SCVAC championships a few weeks earlier. Allan had unsuccessful efforts at 3.90 too.
Also in M55, Tom Phillips claimed two bronze medals, both of which were nearly silvers. He was out-dipped by 3/100ths in the 100m, in 12.69, and faded in the final metres of the 200m in 26.12, both times depressed by strong headwinds in the stadium.
Clem Leon had a useful weekend, going sub 60 in his 400m heat, failing to qualify for a strong final, but taking high jump silver (1.55) and triple jump bronze in a personal best of 10.57. He was also 6th in the long jump with 4.78. Fellow M50 Steve Langdon took part in a nail-biting javelin competition, ending in silver medal place, but with a new Club M50 record of 52.63. On the track, Bill Foster placed fourth in the sprint finish to the M50 1500m, with 4.37.11.
Walker Peter Hannell smashed his own Club 3k walk record in the recent Club championship, and came within two seconds of this in Birmingham, to win in 17.39.05.
One of the strangest pieces of seeding over the weekend put M35 Matt Richards in to the "B" final for the 100m. He won easily in 11.77, and would have had a chance of a medal had he run in the more competitive "A" final.
Colin Brand contested four M70 throws, gaining silver in the shot (10.70),discus (31.15) and javelin (36.22), plus a 30.34 hammer for 4th place. Winner of the discus event was former Blackheath member and UK record holder 40 years ago, John Watts, newly returned to the sport as a Masters athlete at age 70.
Last but not least amongst the men, Gordon Hickey had a prolific weekend of throws. He continued his dominance of M75 shot this year, with a gold medal at 9.49 (a CBP). He also hurled a 26.06 discus for second place, took gold in the javelin with 24.31, silver in the weight throw (9.62), and fourth place in the hammer (23.96). All that training in Kent Masters league throwing heavier implements clearly paid off!
Our women's team was depleted, to say the least. Helen Godsell narrowly won a hot W55 100m in 14.11, but withdrew from the other sprints with a hip niggle. Barbara Terry was our only other contestant in Birmingham, bringing home silvers in discus and javelin (23.05 and 16.99 respectively), bronzes in shot and weight (8.56 and 10.90), and a fourth in the hammer (25.88).
A relatively good weekend for the Club. Had Daryl Brand not at home, being Man of the Match at the BAL fixture, we'd have had an extra M45 national javelin title too, no doubt.
Tom

---
29 June 2009 - Kent Masters League - Ashford
Men's Masters Team report
Phew, we won, by three slender points. This one really was touch and go. At one point, the sick and injured handsomely outnumbered the fit and able. With a guaranteed point-scorer having to withdraw on the afternoon before the evening's competition, we were dependent on everyone pulling out all the stops.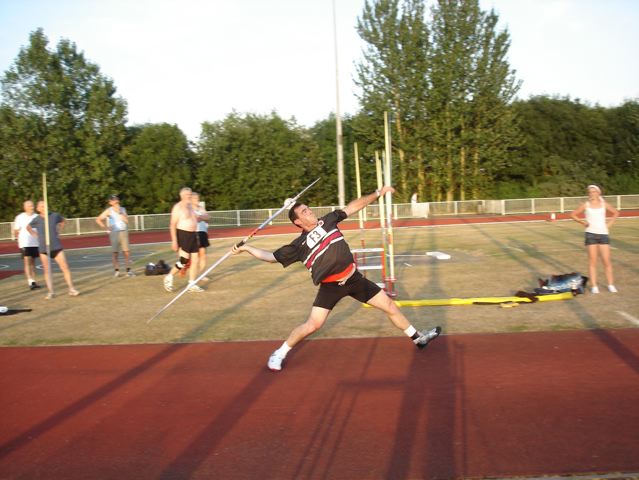 There was at least one rich irony. With Mike van den Dobbelsteen, Daryl Brand, Steve Langdon and Colin Brand all available to throw the javelin, we had possibly the best combination of masters throwers from one club anywhere in Europe on display - and only needed either Daryl or Mike in the M35-49! We used Daryl and he won with a huge 58.23 (probably a League Record), with good throwing also by Mike. Steve and Colin also dominated their age groups.
On the track, Tim Soutar's brave front-run to beat Cambridge's Ray Daniel in the M50 1500m was momentarily lost from view by an amazingly fast finisher in the Division 2 race run at the same time, but Tim's 4.40.7 was a win by three seconds, a great time and a great race. Solid running too by Mark Ellison and Peter Hamilton. Peter stood in at an hour's notice, and although an M60, ran in M35-49.
Our top sprinters were again on form, with 200m wins by Matt Richards (M35 in 23.4 - possibly a League Record), and Tom Phillips (M50 in 25.7, to equal his season's best). Ricky Fox was second in the M35-49 B race (25.3, his best for some time and indications of better things to come), and Mike Martineau 4th in M60.
Elsewhere, we had a huge win by Daryl Brand in the M35-49 shot, with 13.53, and a near win by M60 John Robinson in the high jump. He was second, but only on count-back.
The 4x400m ended a nail-biting evening. Paul Byfield was holding a good second place on the opening leg when his achilles tendon gave out. He bravely hopped 70m to the changeover. Ricky Fox kept his head and clawed back two places before a scorching 54.9 lap from Nigel Keogh got the team back up to second. Good running from Matt Richards, racing well beyond his comfort-zone, kept the squad there at the finish. Those points were crucial!
We now move to Erith on 13 July, and need to maintain the pressure, guys!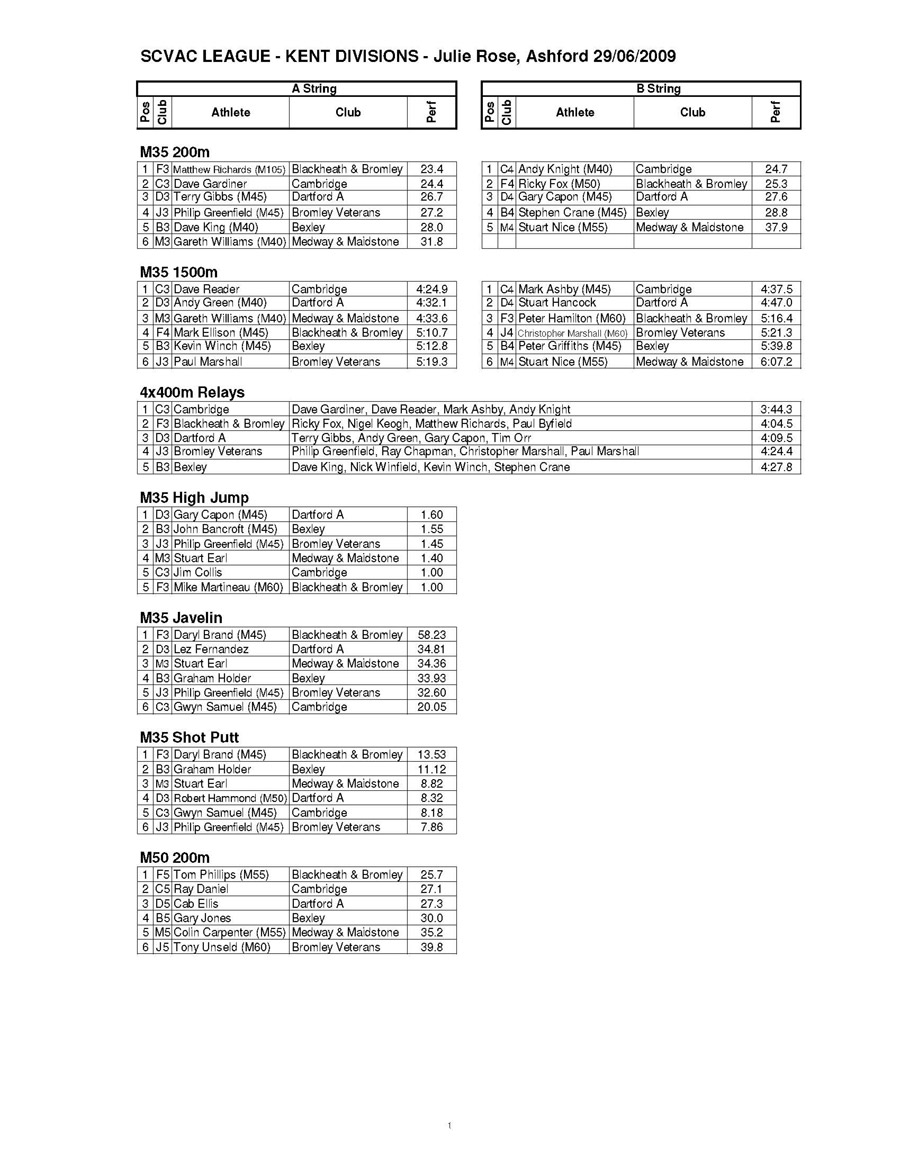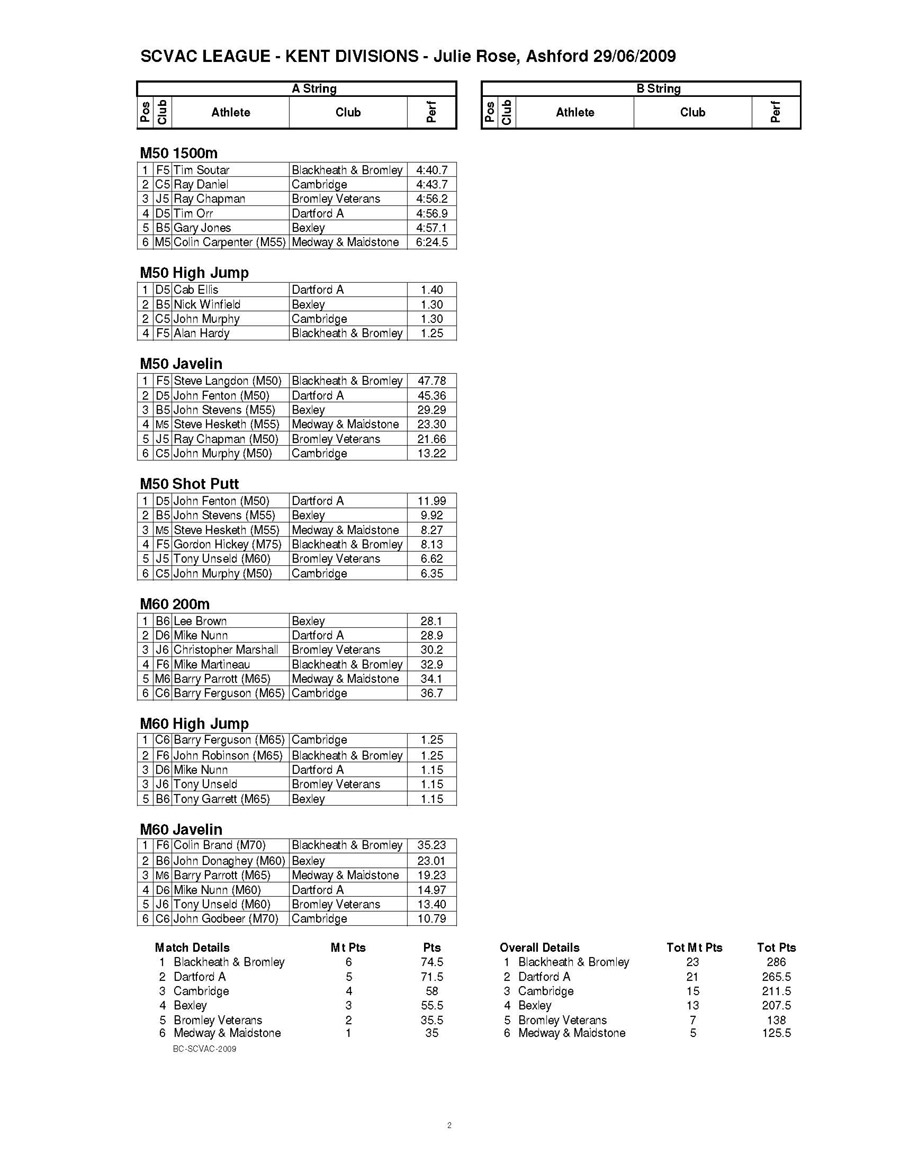 Women's vets league at Ashford.....match 4
At last!
The women's vets team managed a convincing win in the latest match at Ashford, not put off by the travelling distance.
A full team and good strong performances meant the results from this match have now put us back in contention.
There is everything to play for in the remaining 2 matches so please ladies I'm relying on you I know you can do it!!!
Many many thanks to the ladies who competed on Monday
Anne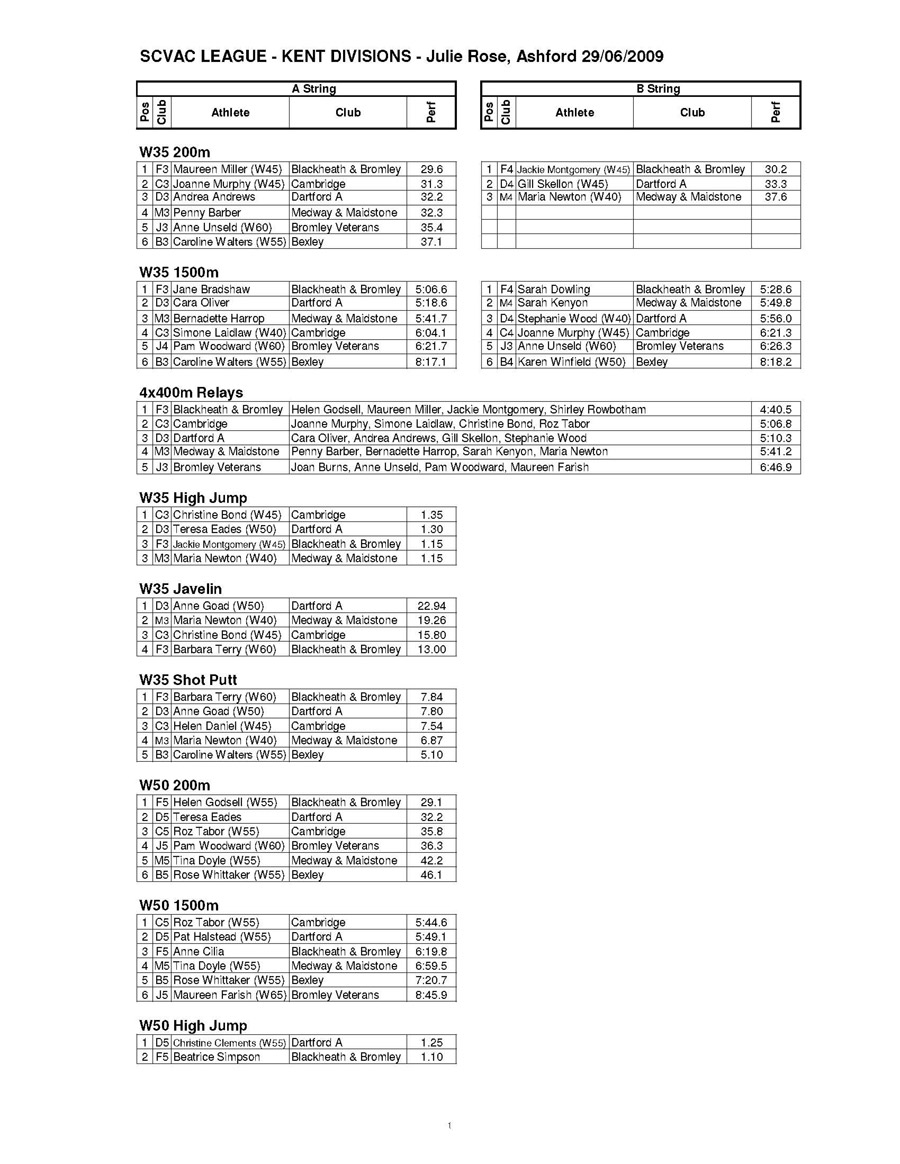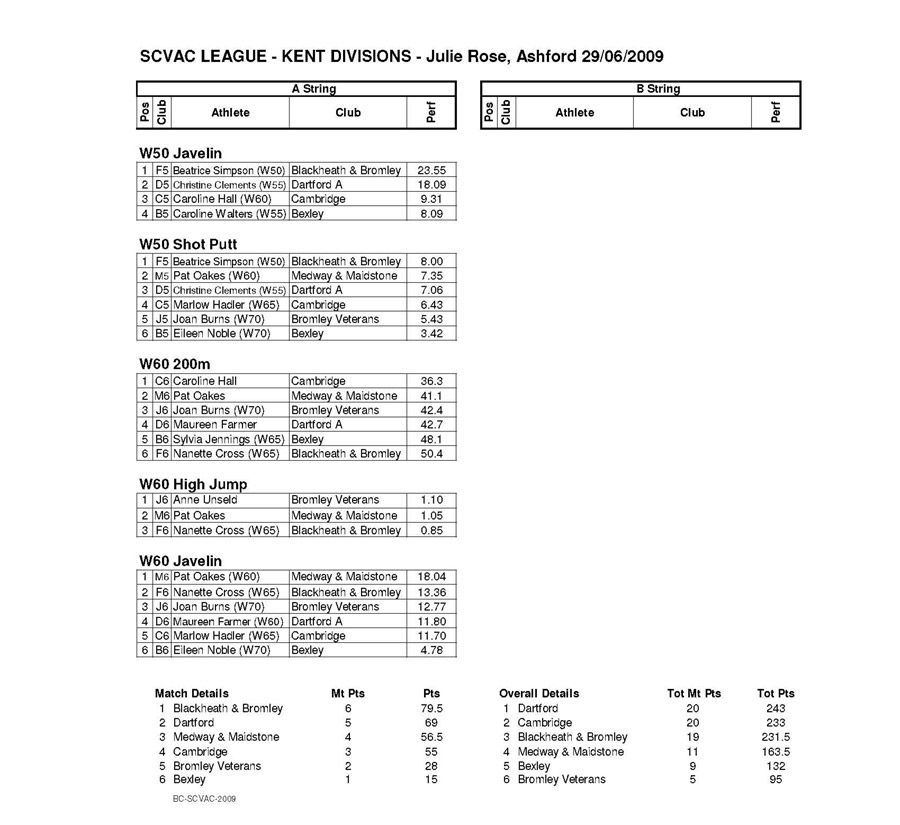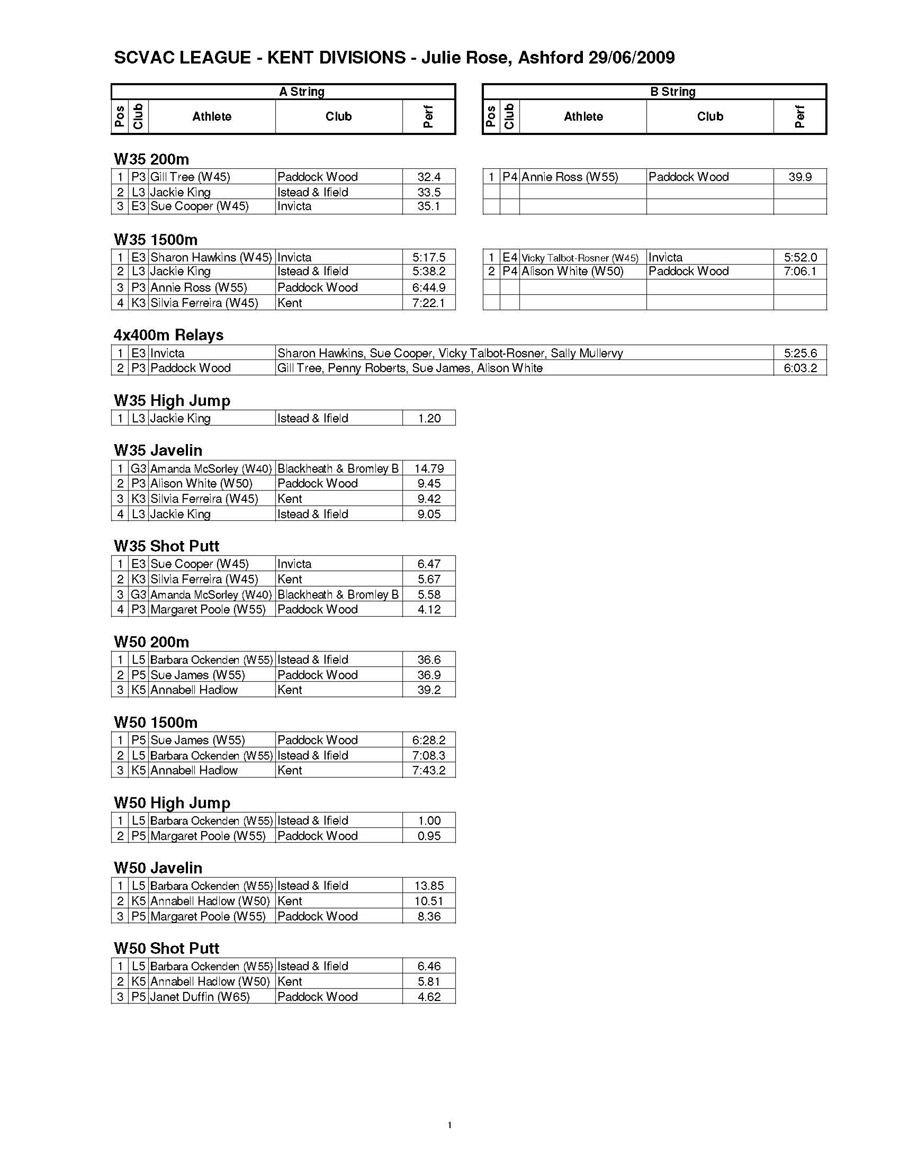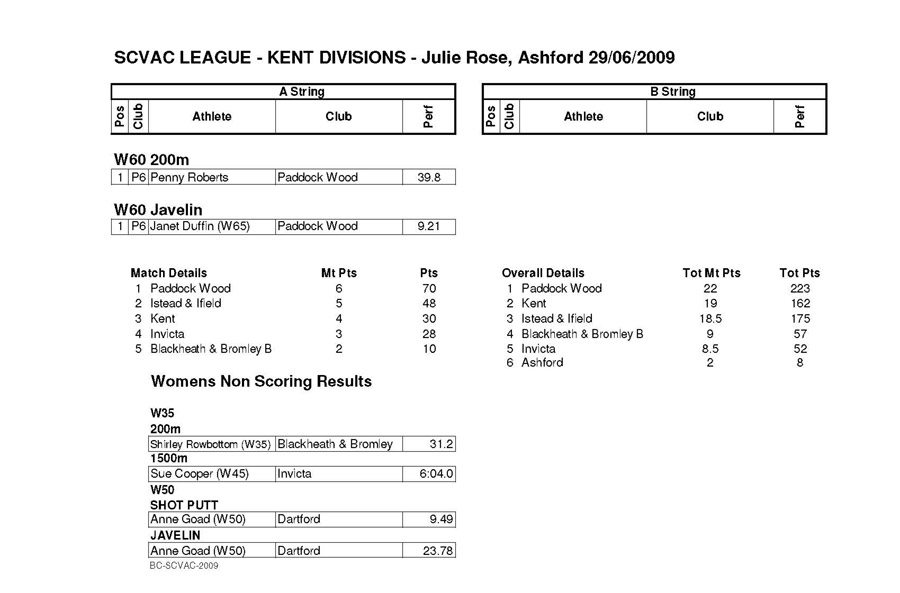 ---
12 June 2009 - Kent Masters League - Norman Park
That the men's team won the match by 8 points was really just the icing on the cake. This was a demonstration of how good our Masters squad can be, and a memorable evening of top quality athletics.
Bob Minting comes up from Exeter at least once each season to bolster our results, and was a man with a mission this time. He was chasing the UK best for 800m by a 59 year old, and gained this convincingly, with 2.10.6 in an exciting battle against Ray Daniel of Cambridge. At 200m, we thought Bob would win, but Ray was a worthy opponent, albeit seven years younger, and was pushed to his best time for many years, while holding Bob off.
Within half an hour, Bob was in action again, joining Clem Leon, Rob Brown and Tom Phillips to form a non-scoring M50 4x200m relay team, which ran 1:47.1 in the Division 2 race. The reason for this was that we had enough strength and depth to field a "proper" team in the Division 1 match race. There, Ricky Fox, Nigel Keogh, Paul Byfield and Matt Richards won by a street in 1:42.0. This was just a second shy of the Club's Masters record for the event. When the overall results were analysed, we discovered that, had they not raced, and had we used the M50 squad in the match, we'd still have won, such was our quality and strength. Rob Brown stood in for an injured Dennis Wallington at a few hours' notice, too!
Earlier on in the warm, still evening, our Masters sprinters almost had a clean sweep of 100m victories. Matt Richards looked a class apart in winning the M35-49 A race in 11.6, a time not seen in the Kent Masters League for a good few years. We were also on for double wins in the M35-49 800m until Keith Ewing's hamstring failed him after 300m. The brave lad carried on, clearly in pain, for the remaining 500m, to ensure us a point. We'd not forgotten that we lost the last Kent Masters League fixture by a mere half point. In the B race, Rob Hall was impressive, storming to a fine win.
A big welcome to Paul Byfield and Simon Tolson to the Masters squad. Along with 2008 M35 GB 60m champion Matt Richards, this was the sort of influx of new blood Team Management had been dreaming about. Our win re-establishes us at the top of the League, by one league point, with a useful cushion of 15.5 match points over the ever stronger Dartford A team. The League moves on to the Ashford round on 29 June. It's a fixture that again plays to many of our strengths - if we can get the athletes there!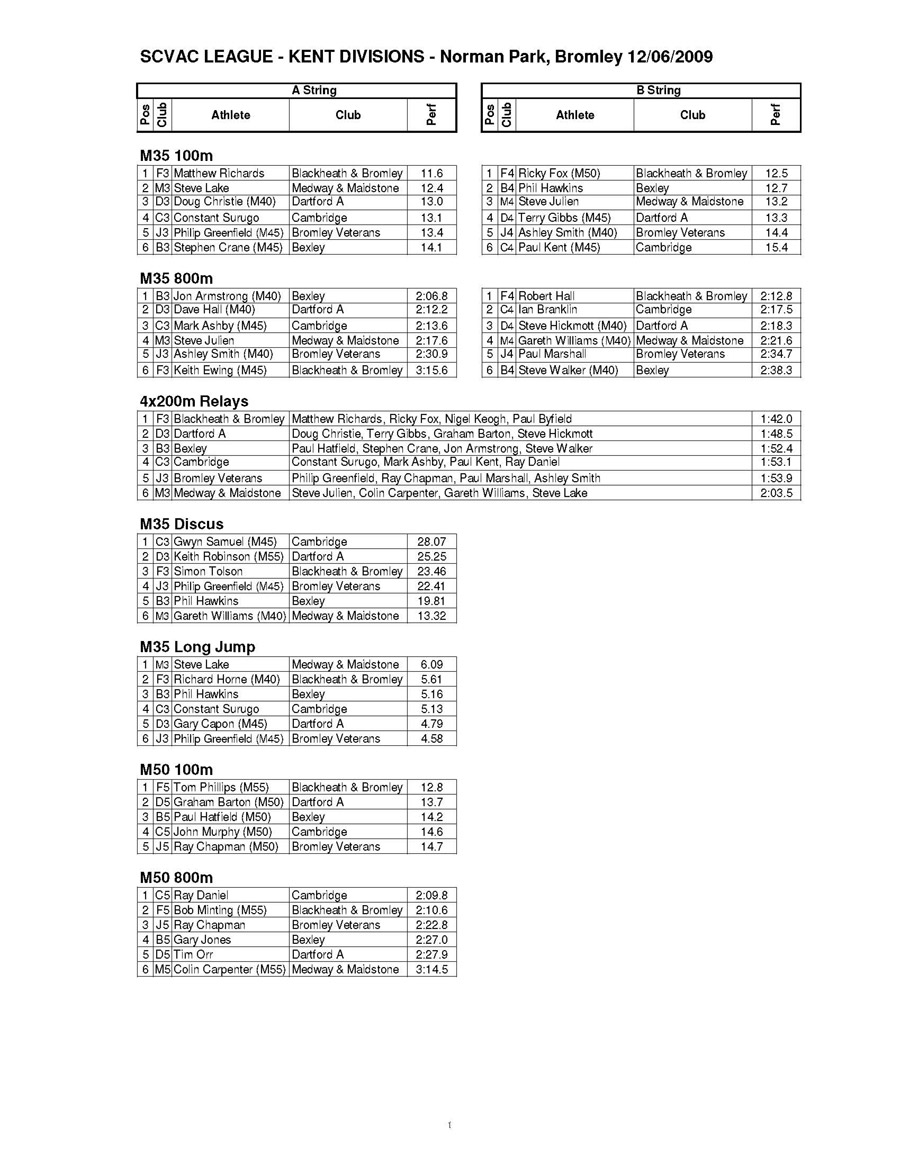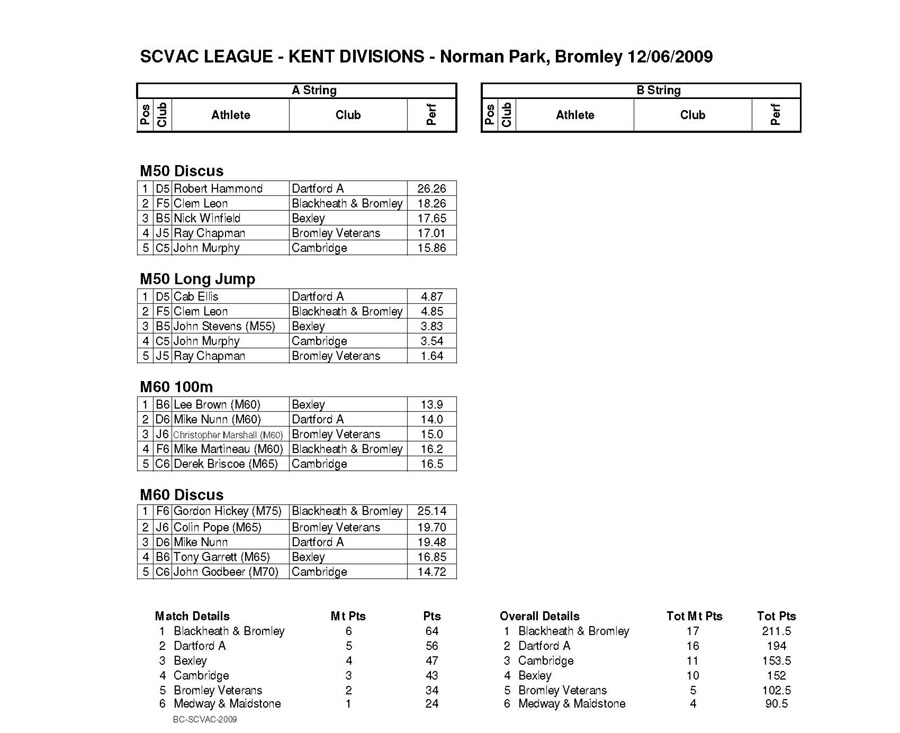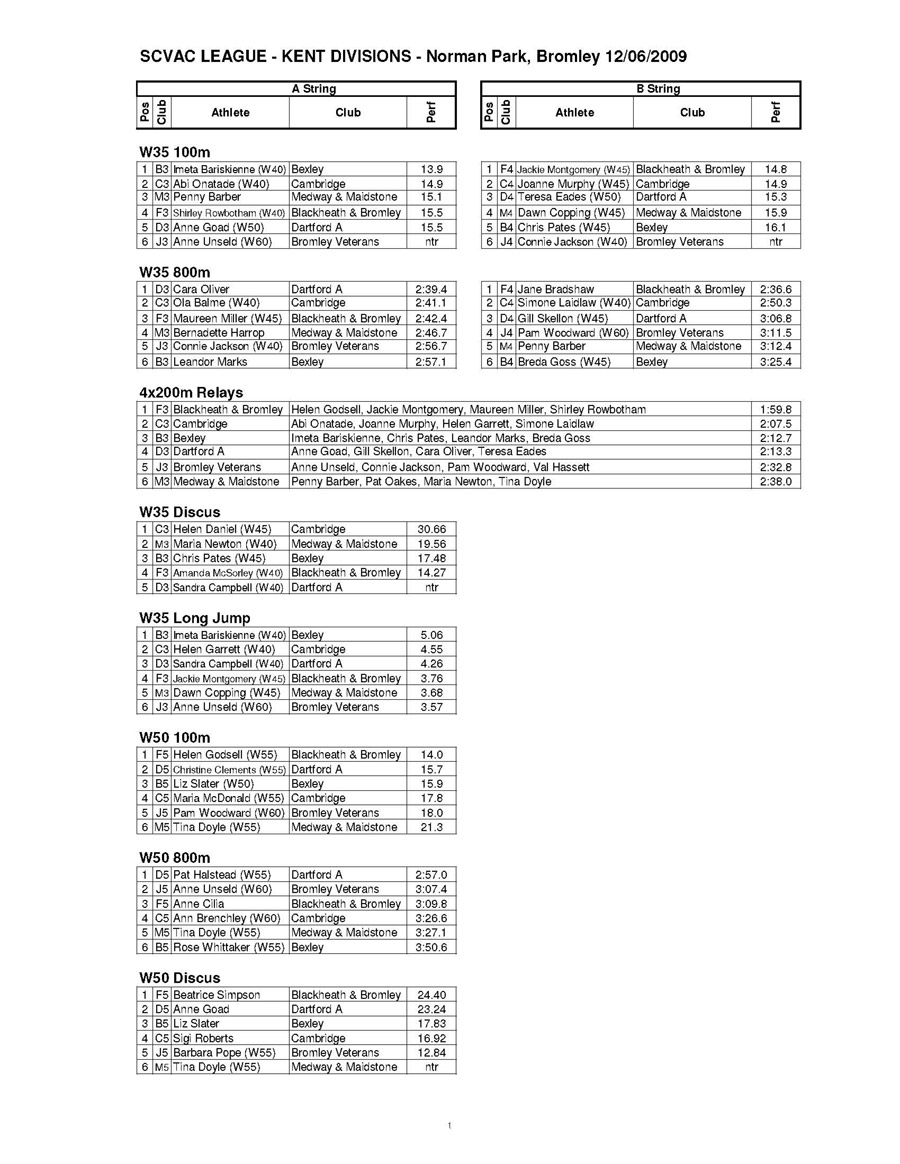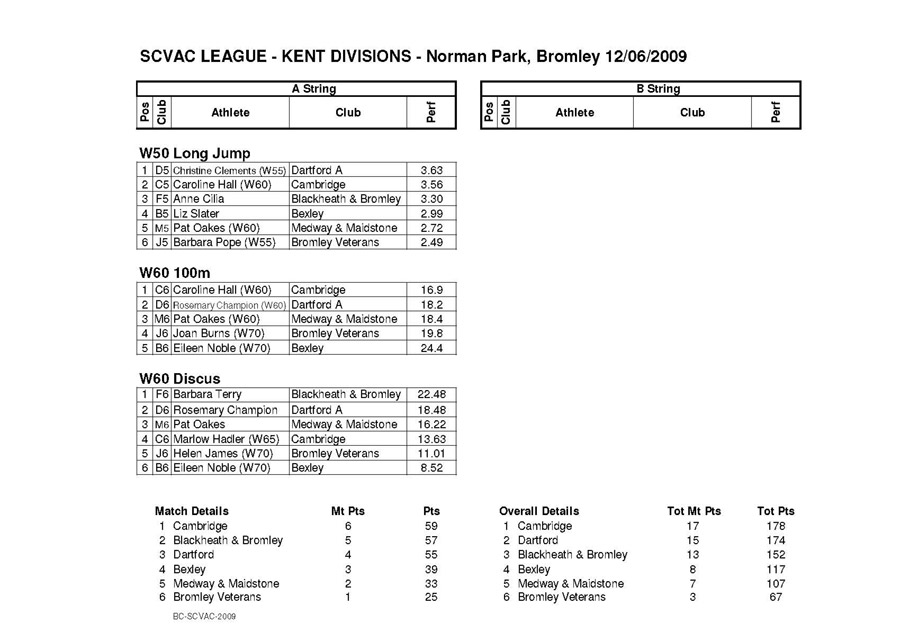 ---
18 May 2009 - Kent Masters League - Canterbury
Men's Team
Tom has a definition of "desperate". It's when he has to race a 400m, because he can't find anyone else to do it. When that also means dropping down to race against much younger athletes, that counts as a really desperate fixture. So it was for Canterbury. Several weak events for us, and the added inconvenience of getting athletes to Canterbury on a Monday evening. Many thanks to all who did turn out. We went into the match with little real optimism, yet ended up losing the match by a mere half point.
Hats off (again) to Tim Soutar, whose win in the M50 3000m was a classic demonstration of progressively grinding your opponents into the distance. This coming just two days after the National Masters Relays, too. Clem Leon (pole vault, triple jump and 400m) and Rob Hall (3k, hammer and triple jump) were again our multi-eventers, without whom this team couldn't perform.
The results say Ricky Fox is an M50. Not yet, he isn't. He's still in the M45 ranks, and has years of good running left in his legs.
Let's be optimistic for the forthcoming Norman Park fixture. It plays to our strengths, on paper.
Women's Team
Always a difficult venue but the most recent vets league match at Canterbury was there for the taking! Had we won, which we could have done with a full team, we would have been back with an overall chance in the league. As it stands 2 x 3rd place results leaves us with probably too much ground to make up.
I came away from Canterbury thinking what a disaster but having seen the results I think the ladies who turned out (all 6 of the A team were over 45) did a great job to finish 3rd. When we're relying on a slow 50 year old lady to contest the A string 3000m and with no B string really we don't stand a cat in hells chance!
So there it is, if we want to be the best in Kent and qualify for the south of England final we have to field a competitive team in the league matches. To the ladies who came to Canterbury, my thanks as always, it's not your fault you were there!! To everyone else I know you all had good reasons but please try to make the next 4 matches, including Ashford!
Anne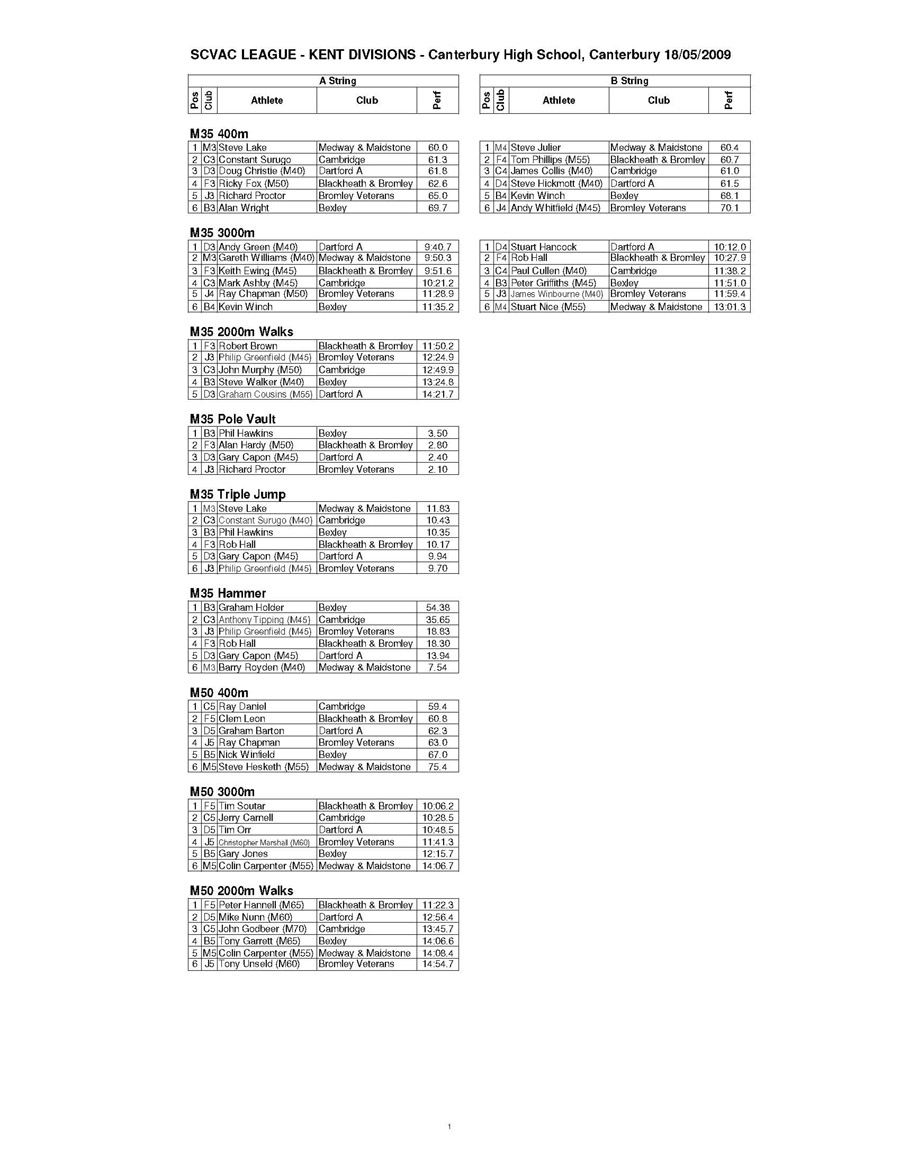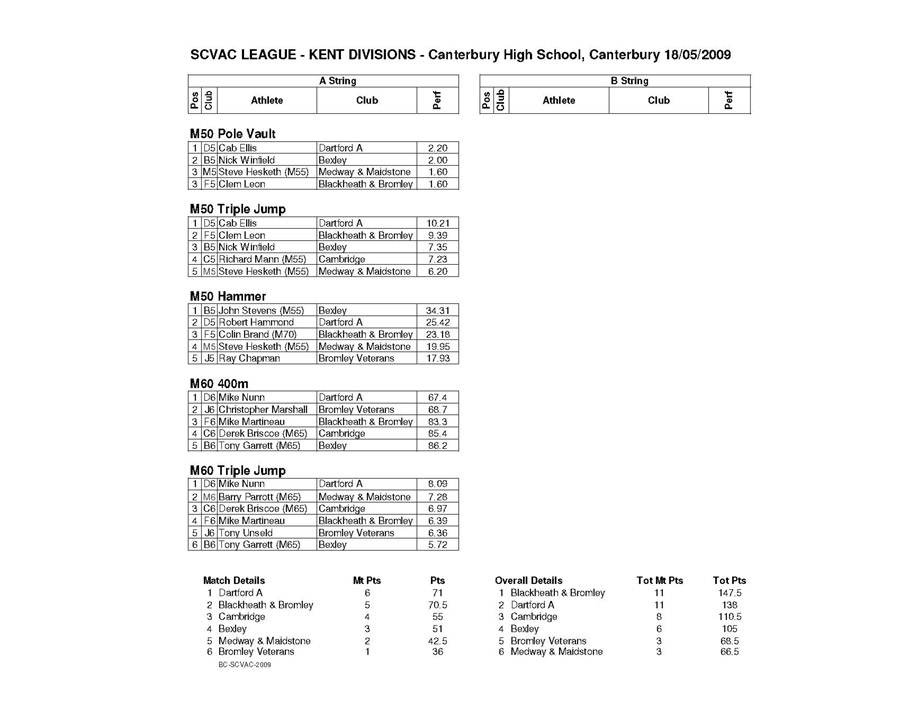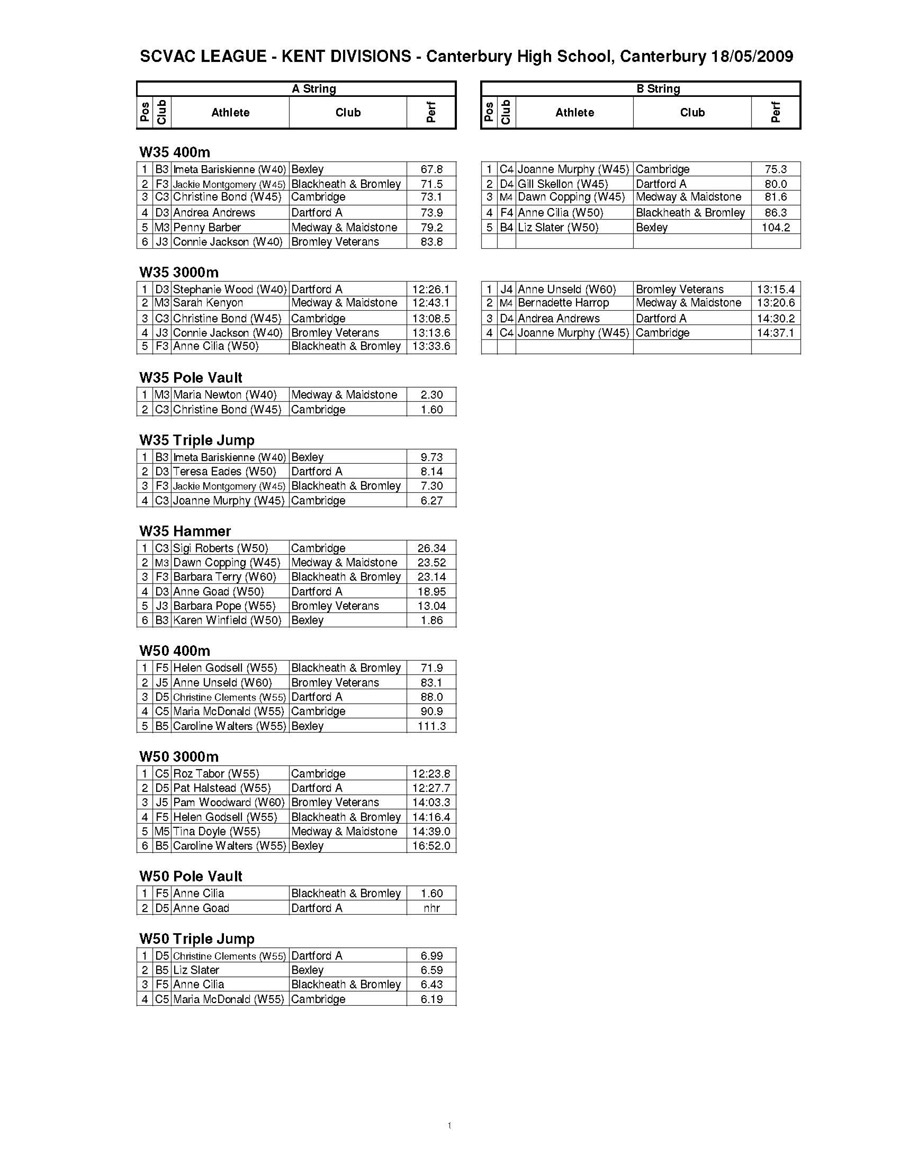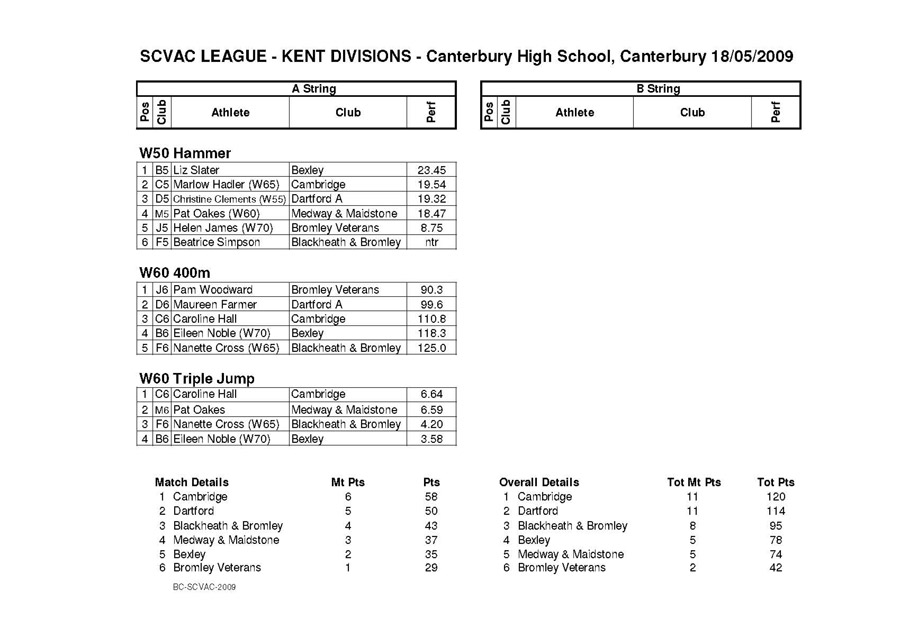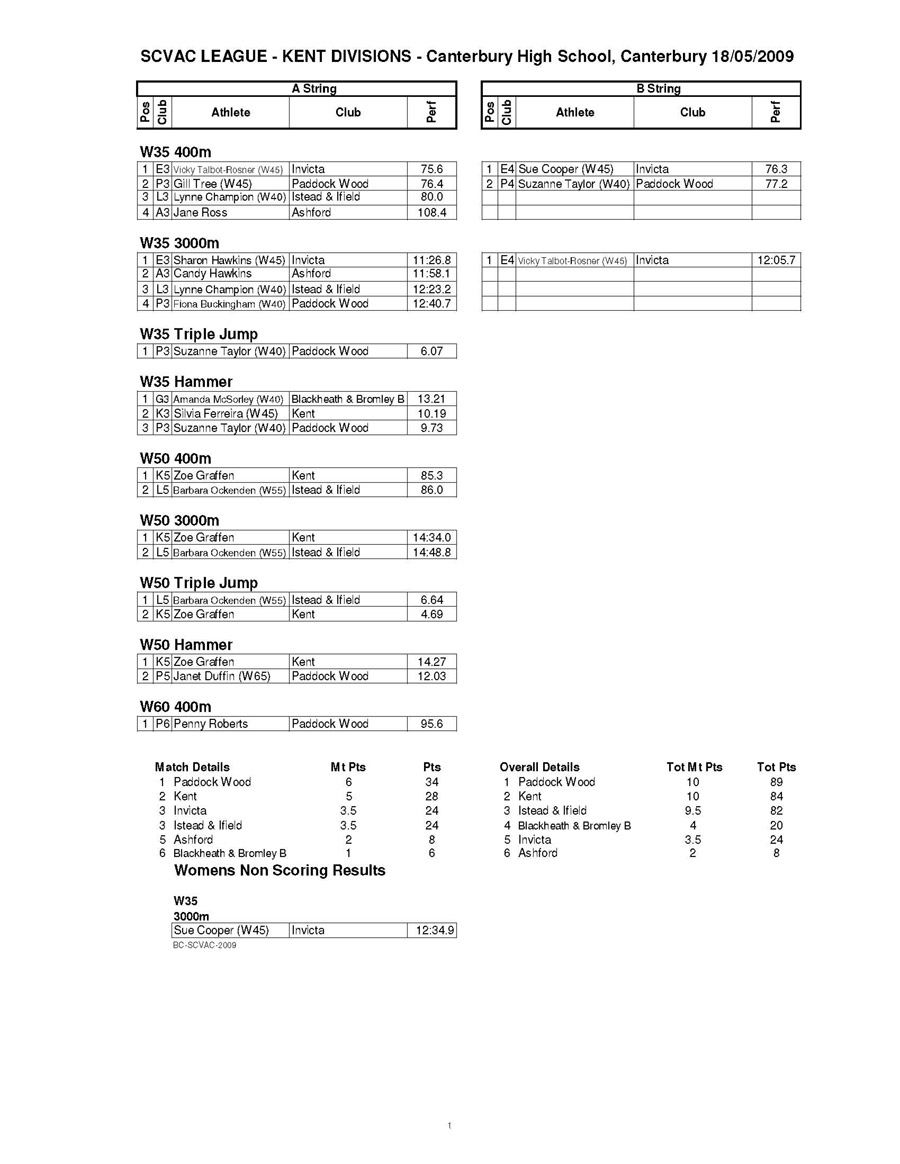 ---
27 April 2009 - Kent Masters League - Sutcliffe Park
Club Masters open in style
The first match of the 2009 Kent Masters League series took place on a cold and damp evening at Sutcliffe Park. Our men's Team convincingly won their Division 1 fixture, and the women's team achieved third place in their match, unfortunately hampered by a lack of any athletes to compete in the evening's over 60's events.
Race of the evening was definitely the man on man tussle between Blackheath & Bromley Past President Tim Soutar and European Championship medalist Ray Daneils of Cambridge Harriers in the M50 1500 metres. The two matched each other stride for stride for more than three laps, as Tim tried again and again to put distance between the two. However, he had no answer to Ray's sharp sprint for home over the last 100 metres, but Tim's time of 4:43.0 bodes well for the summer. Keith Ewing held third place in the M35-49 race, with multi-talented Rob Hall taking first in the M35-49 B race. In the women's race, Jennie Butler ran exceptionally well to take second place, just eight seconds adrift of multi UK and European Masters medallist Clare Elms of Cambridge, with Bridget Davey second in the B race.
This was a great match for our field eventers. New boy Mike van den Dobbelsteen lost a nail-biting javelin competition by just 6 centimetres, both he and his Dartford rival throwing over 45 metres, and landing high in the early season national Masters rankings. Colin Brand won the M50 javelin. Bear in mind Colin is over 70, and thus was (once again) throwing against athletes twenty years his junior! Mind you, Gordon Hickey's third place in the M50 shot put was against even greater odds. Gordon is the UK indoor record holder for the shot in his M75 age group.
Good to see Clem Leon high jumping well again, for an M50 win, ably backed up by Richard Horne, who took second in the M35-49 event, in slippery conditions.
Beatrice Simpson was also back in action, after 18 months out following severe damage to her foot at the 2007 World Masters Championships. Now well on the mend at last, this irrepressible force won the W50 javelin by more than 6 metres, took second in the shot, and then third in the high jump.
It was also nearly a clean sweep for the Club's top Masters sprinters. New world record holder for the 60 metres, Helen Godsell was comfortably two seconds ahead of the opposition in the 200 metres. Tom Phillips had to drop down to the 200 metres in the M35-49 age group at the last moment, to cover a missing athlete, but still claimed second place and a useful 26.0, given the poor conditions. Helen and Tom then contributed decisive legs for the Club's winning sprint relay teams, to end the evening.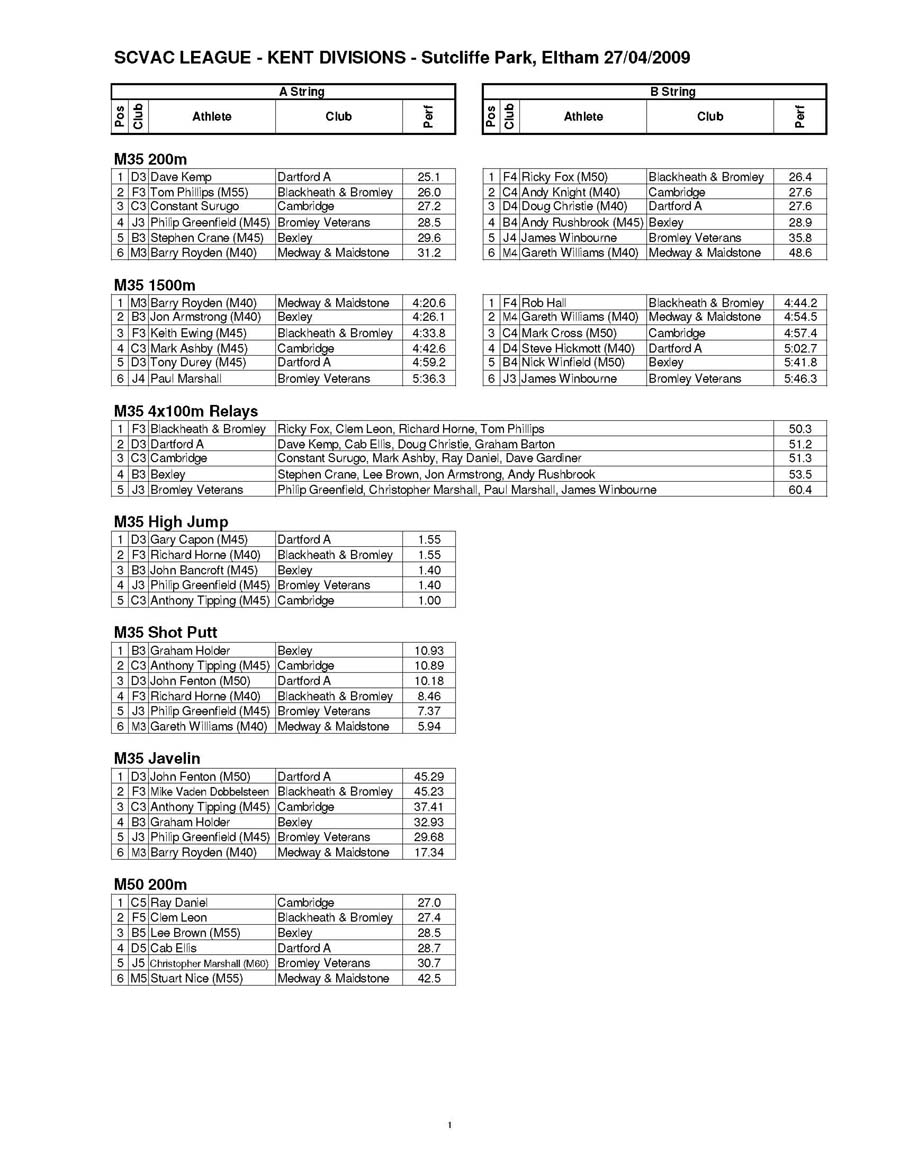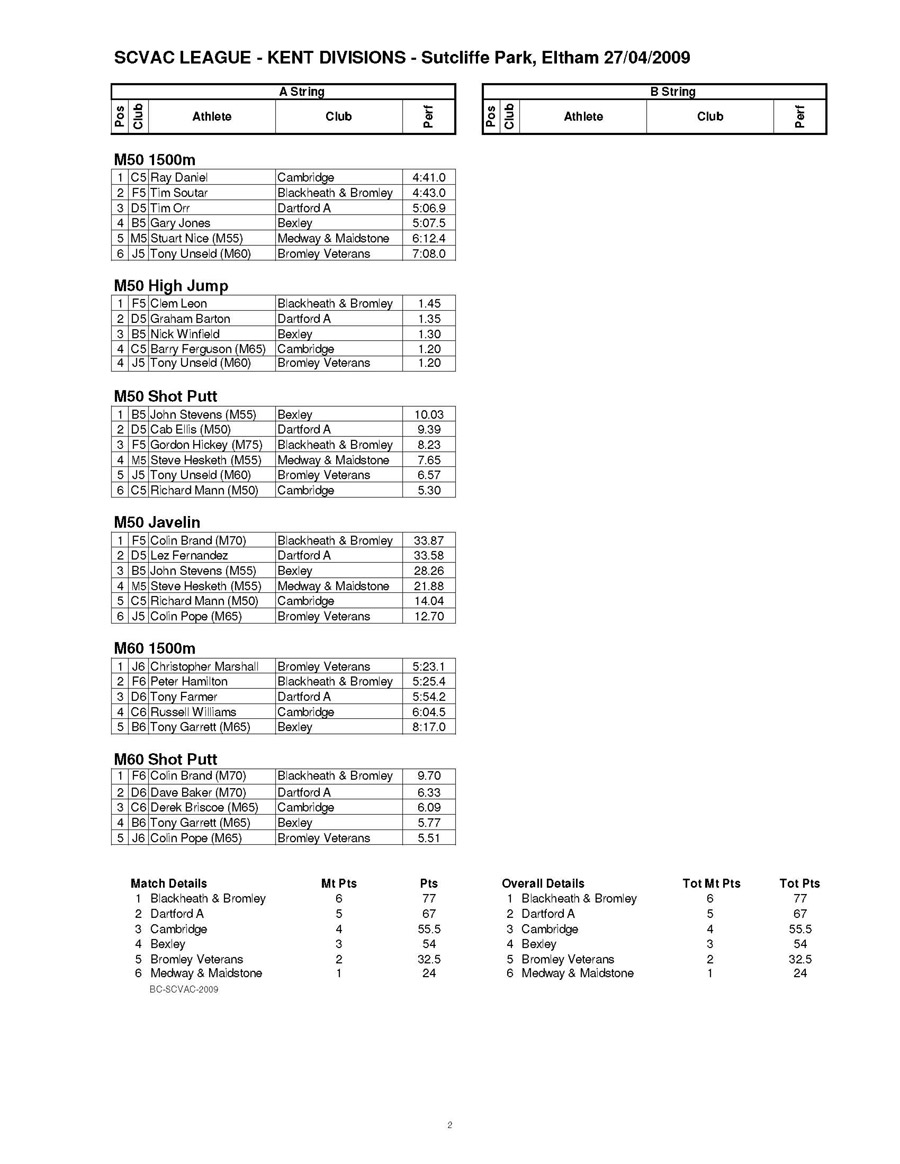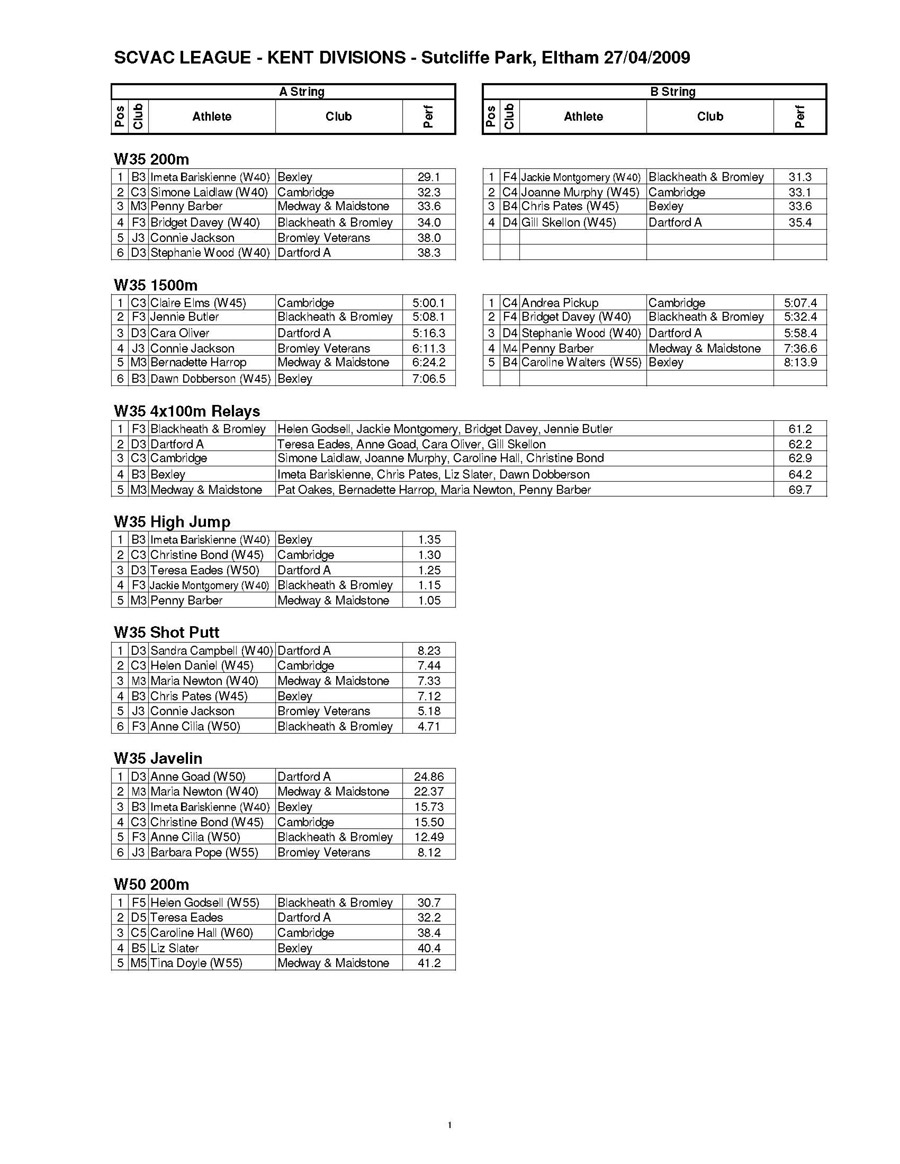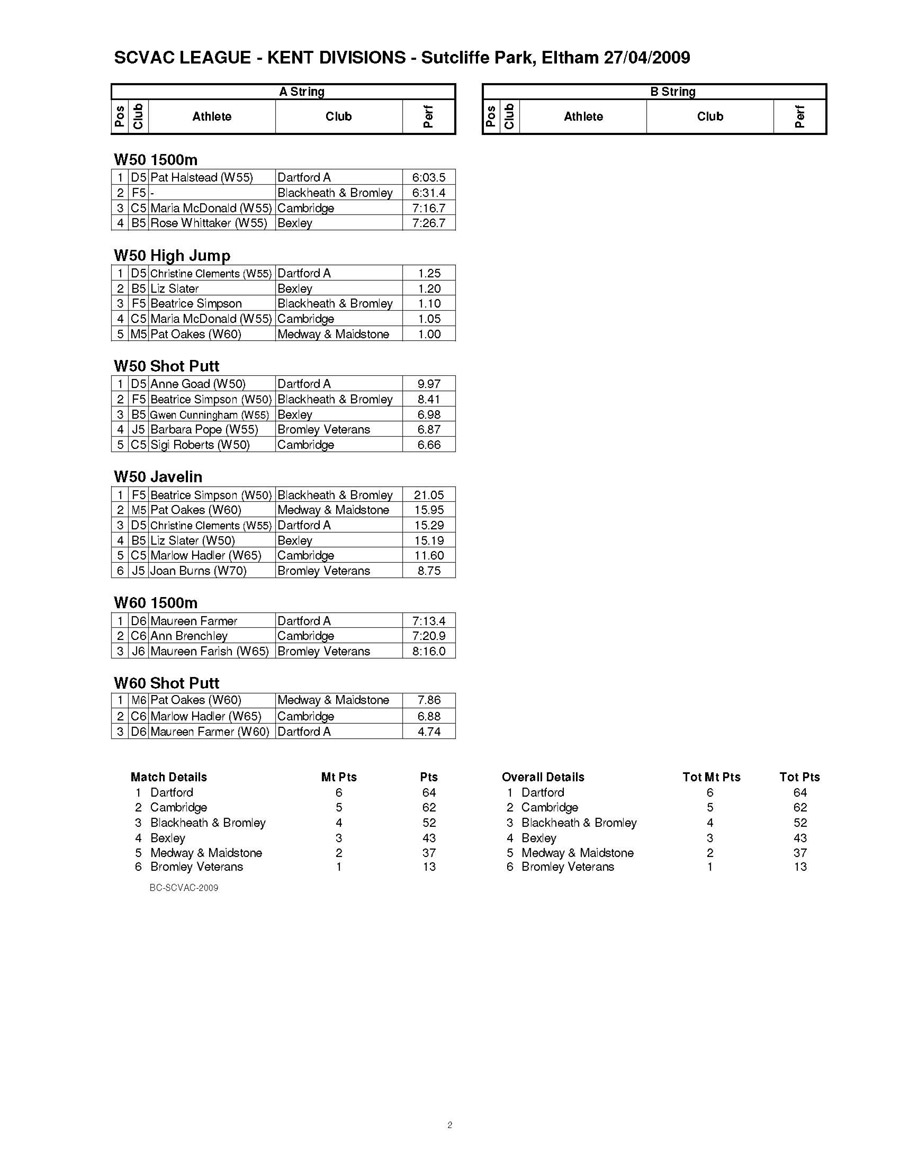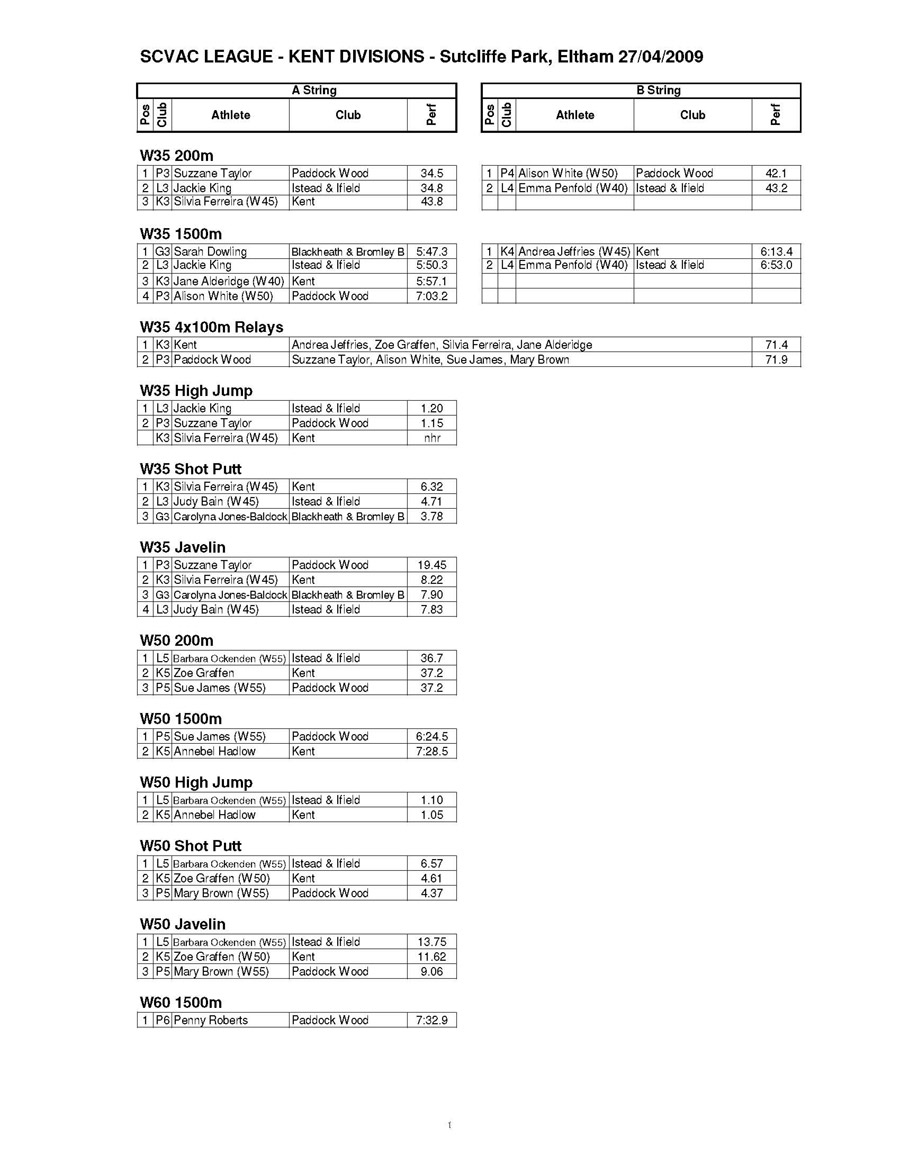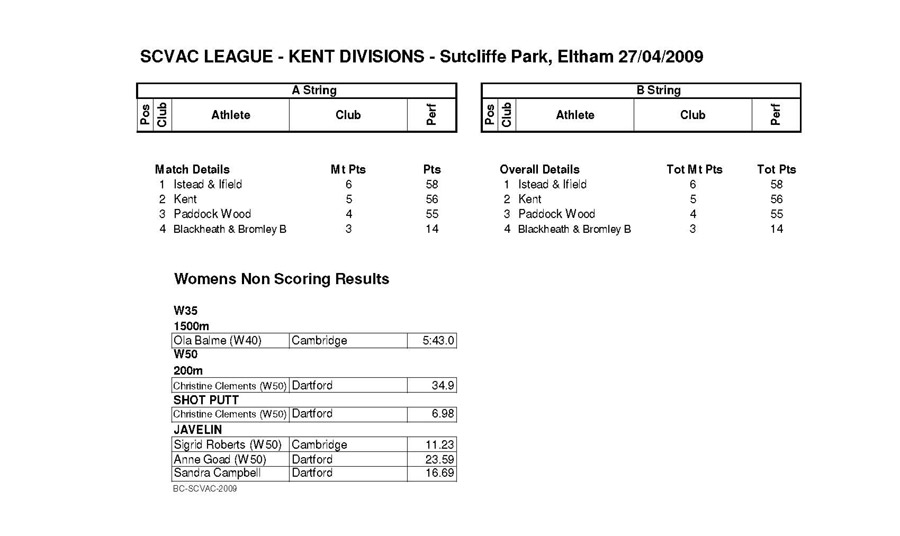 ---
23 March 2009 - European Masters Indoors in Ancona, Italy
European Masters Indoors in Ancona, Italy
The shot of Helen racing was from the 60m in which she set her new World W55 age group record. The shot of Bob (Helen's brother) is of him winning the M55 800m, leaving the rest trailing.

The group shot shows Bob, Helen, Clem and Tom in the stadium. Bill Foster had gone home by this point, but we were the five from the Club there. 2-04-09

---
SCVAC Full details of matches and Time Tables for Kent in 2009