Page 9 - Summer2014Gazette
P. 9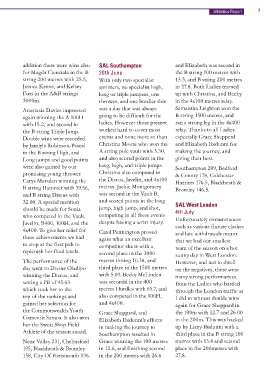 Athletics Report                 7

addition there were wins also  SAL Southampton                 and Elizabeth was second in
for Magda Cienciala in the B   20th June                       the B string 100 metres with
string 200 metres with 25.5,   With only two specialist        13.3, and B string 200 metres
Jessica Keene, and Kelsey      sprinters, no specialist high,  in 27.8. Both Ladies teamed
Fuss in the A&B strings        long or triple jumpers, one     up with Christina, and Becky
3000m.                         thrower, and one hurdler this   in the 4x100 metres relay.
                               was a day that was always       Samantha Leighton won the
Anastasia Davies impressed     going to be difficult for the   B string 1500 metres, and
again winning the A 100H       ladies. However those present   ran a strong leg in the 4x400
with 15.2, and second in       worked hard to cover most       relay. Thanks to all Ladies
the B string Triple Jump.      events and none more so than    especially Grace Shepperd
Double wins were recorded      Christina Moore who won the     and Elizabeth Ibidunni for
by Jamiyla Robinson-Pascal     A string pole vault with 3.30,  making the journey, and
in the B string High, and      and also scored points in the   giving their best.
Long jumps and good points     long, high, and triple jumps.
were also gained by our        Christina also competed in      Southampton 209, Bedford
promising young thrower        the Discus, Javelin, and 4x100  & County 178, Colchester
Carys Marsden winning the      metres. Jackie Montgomery       Harriers 176.5, Blackheath &
B string Hammer with 39.56,    was second in the Vault B,      Bromley 146.5.
and B string Discus with       and scored points in the long
32.60. A special mention       jump, high jump, and shot,      SAL West London
should be made for Sonia       competing in all these events   4th July
who competed in the Vault,     despite having a wrist injury.  Unfortunately circumstances
Javelin, B400, 100H, and the                                   such as various fixture clashes
4x400. To give her relief for  Carol Pennington proved         and late withdrawals meant
these achievements we had      again what an excellent         that we had our smallest
to stop at the first pub to    competitor she is with a        team of the season on a hot
replenish her fluid levels.    second place in the 3000        sunny day in West London.
                               metres timing 10.38, and        However, and not to dwell
The performance of the         third place in the 1500 metres  on the negatives, there were
day went to Divine Oladipo     with 5.09. Becky McLinden       many strong performances
winning the Discus, and        was secondd in the 400          from the Ladies who battled
setting a PB of 45.63          metres Hurdles with 65.7, and   through the London traffic as
which took her to the          also competed in the 100H,      I did to witness double wins
top of the rankings and        and 4x400.                      again for Grace Sheppard in
gained her selection for                                       the 100m with 12.7 and 26.00
the Commonwealth Youth         Grace Sheppard, and             in the 200m. This was backed
Games in Samoa. It also won    Elizabeth Ibidunni's efforts    up by Lizzy Ibidunni with a
her the Sweat Shop Field       in making the journey to        third place in the B string 100
Athlete of the season award.   Southampton resulted in         metres with 13.4 and second
                               Grace winning the 100 metres    place in the 200metres with
Nene Valley 231, Chelmsford    in 12.6, and finishing second   27.8.
195, Blackheath & Bromley      in the 200 metres with 26.6
158, City Of Portsmouth 136.