| | |
| --- | --- |
| | Bennett Cup - 2023/24 28-10-23 |
| | 7 May 2024 - Ted Pepper 10k - Norman Park |
| | 23 March 2024 - Closing 5 - Norman Park |
| | 17 March 2024 - SLH & Orion Mob Match - Norman Park |
| | 24 February 2024 - National Cross-Country - Western Park Shropshire |
| | 10 February 2024 - Kent League - Norman Park |
| | 4 February 2024 - Open 10k & Vets Champs & match against Beckenham RC & Croydon Striders - Hayes |
| | 27 January 2024 - SEAA Cross-Country Championships - Beckenham Place Park |
| | 14 January 2024 - Club 10 mile Championships - Norman Park |
| | 6 January 2024 - KCAA Cross-Country Championships - Brands Hatch |
| | 3 December 2023 - Ranelagh Mob Match - Norman Park |
| | 2 December 2023 - KCAA Masters Cross-Country Championships - Dartford |
| | 25 November 2023 - Kent League - Swanley Park 26-11-23 |
| | 18 November 2023 - London Cross-Country Championships, Parliament Hill 19-11-23 |
| | 11 November 2023 - Kent League - Danson Park, Bexleyheath 19-11-23 |
| | 4 November 2023 - National Cross-Country Relays, Mansfield 19-11-23 |
| | 28 October 2023 - Kent League - Somerhill School 2-11-23 |
| | 22 October 2023 - Club 5 mile CC Championships - Norman Park 22-10-23 |
| | 21 October 2023 - Beachy Head Marathon - Eastbourne |
| | 21 October 2023 - SEAA XC Relays - Wormwood Scrubs |
| | 14 October 2023 - Kent League - Foots Cray Meadows 16-10-23 |
| | 16 September 2023 - Will Bolton Memorial Cross-Country Relay - Sparrows Den 17-09-23 |
---
18 November 2023 - London Cross-Country Championships, Parliament Hill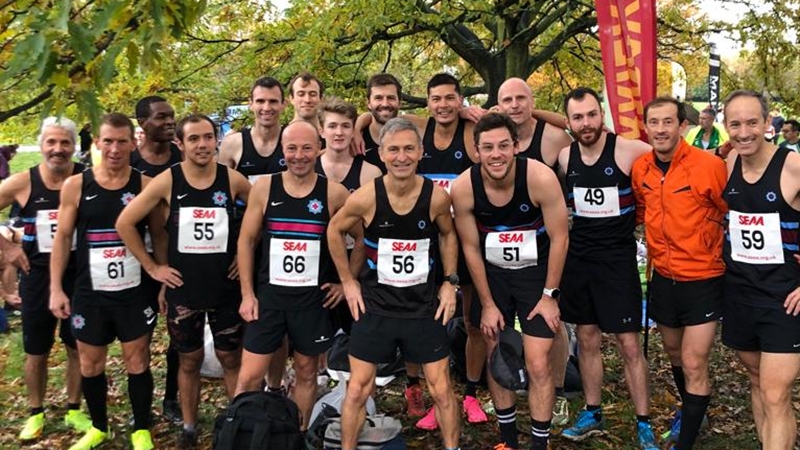 Despite the London Youth Games cancelling their event at Parliament Hill for all age groups from U11s to U17s late on the Friday night, the SEAA are obviously made of sterner stuff, or as some remarked in comparison to the kids: 'It doesn't matter if we die!' and 'We're expendable!'.
In any event, the senior mens race started at 2pm and was rain-free - instead we enjoyed balmy 15 degrees weather!
The day didn't seem quite as much of an atmospheric event without all the age group races preceding ours, but there was still a deep field of 445 runners competing as individuals and teams.
Continuing a recent good run of XC form and leading the team home in 20th place overall and 2nd M40 was Micah Evans in 40:32. Our second man home, only just back from a recent trip to South East Asia having admitted to enjoying plenty of the local cuisine was our Bostonian Kevin Fini in 35th place in 41:11.
Alex 'Gibbo' Gibbins in his first XC club race of the season was our third man, 52nd overall and 7th M40 in 42:07 and completing our 4 to score was Will Senbanjo in 95th overall and 18th M40 in 44:12 - it was only Will's second race for us since joining 2nd claim from PWR so we're trying hard to convince him to come across 1st claim!
In order thereafter:
Luca Ercolani 101st in 44:39
Dave Adams 117th in 45:09
Greg Bull 119th in 45:12
Ryan Ali 180th in 47:35
Ted Marston 182nd in 47:40
Ian Scott 224th in 49:23
Josh Dowling 231st in 49:37
Greg Firth 252nd in 50:51
Phil Bunn 265th in 51:35
Jason Meers 286th in 52:30
Luigi Arcuri 380th in 58:27
Chris Martin 385th in 58:42
So all 16 of our runners finished safely within an hour having tasted the best mud North London had to offer, then going to the pub to wash it down with a drink or two before the train journey home to Bromley and surrounding.
A good day out with the team, another improved turnout from previous years and a 10th placed finish for our 4 to score out of 36 complete teams (plus other incomplete teams).
Also special mention to our ladies team who came 7th overall with an excellent 3rd place medal for Morgan Squibb - Congrats!
Up the Heath!!!
Micah Evans

---
4 November 2023 - National Cross-Country Relays, Mansfield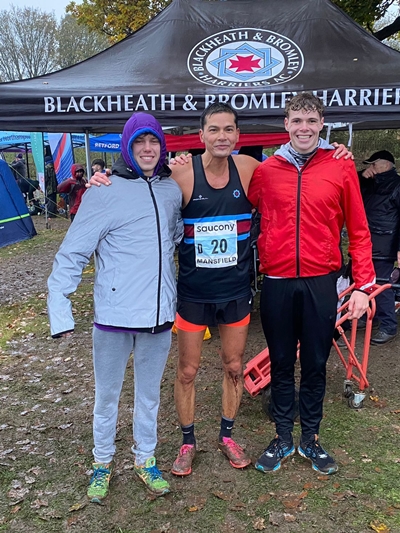 3 of the 4 man team @ National XC Relays (missing Kenno!)
We originally had two teams entered for this event but due to injuries, illness and withdrawals etc we were down to four athletes and one team. This team assembled at Berry Hill Park Mansfield from various parts of the country - Dan Kennedy from the Forest of Dean, Jake Leng and Justin Strover from down the road at Sheffield Uni and me on the 5:15am coach driven up by the Pauls Brash and Shaw with all the junior athletes, some parents, coaches and team managers. (Thanks so much to those guys who do so much for our junior athletes across the age groups and are so sacrificial with their time).
The senior mens race was the last one of the day, with legs a little short of the advertised 5k. An already very muddy and boggy course (including a section in the woods where you had no choice but to run through water), was even more cut up due to earlier races and the rain which had been pretty incessant throughout the day, though mercifully for us, it eased off somewhat by the time it came for us to race.
Dan Kennedy led us off (his first time on the first leg at Mansfield) with 18:24, a respectable time given the busy start and heavy traffic that invariably accompanies the start of a relay, after which we were in 113th place.
Jake Leng took over from Dan and ran our second fastest leg of the day in 17:59, bringing us up to 91st place.
Justin Strover was up next and ran 18:10, bringing us up to 77th, and doing well to handover to me just before the mass start went off for the final leg, which I was very thankful to him for!
I had the pleasure of running the anchor leg in 17:39 bringing the team home in 60th place overall, a decent team effort given there were 177 teams competing, so a third of the way up the field.
Despite the very muddy conditions, the course was brilliant fun to run on, the support was great and it was a good run from our team, including Jake and Justin making their National XC Relays senior debut at Mansfield.
Thanks to all athletes for making the journey to Mansfield and look forward to entering at least two strong teams next year for what is a really great National event!
Up the Heath!!!
Micah Evans