SLH Mob Match 12 March 2011
No-one knows the date of the earliest inter-club run between Blackheath & Bromley Harriers AC, or Peckham AAC as they were then known, and South London Harriers.

With Blackheath tracing their roots to 1869, and SLH forming a breakaway from them in December 1871, possibly as a result of a dispute over handicapping, (a vital part of early athletics competition), there is evidence suggesting these two clubs, then both based in Peckham, encouraged members from the other club to their weekend training runs as early as the autumn of 1872.

The Blackheath history reports the first official run between the Clubs was December 1873, whilst the SLH later reported it was on November 14th 1874. The latter event was from SLH headquarters, then not in Coulsdon, and 'the number of runners was the largest that had ever turned out for a cross-country run', so the home side's Gazette reported in 1912. Perhaps the first year, it was training, and the following year it turned competitive….

Download the full copy of the commemorative booklet celebrating the 100th match against SLH
A great Mob Match - SLH outnumbered us, they had 87 to our 57. Lots of spectators enjoy the springish weather, albeit with a strong chilly wind. Under foot was very firm making almost ideal conditions. After 100 events the score is now SLH 53 wins & Blackheath 47.
SLH pulled out all the stops and fed and watered us royally, presented everyone with an engraved shot glass and a Commemorative booklet. A most enjoyable Mob Match in the true tradition.... long may it continue.
Our photos start here...
Lots of SLH photos here...
And even more SLH photos here...
Bennett Cup - current positions, with one race to go....
race
actual
hcap
hcap
pos
time
time
1
GIBBINS, Alex
45:10
05:30
39:40
3
MARSDEN, Duncan
45:44
04:00
41:44
4
STEINLE, Mark
46:31
01:20
45:11
6
MCKINLAY, Dave
47:48
05:50
41:58
12
MERCER, Will
49:53
05:40
44:13
21
KEEN, Cliff
52:13
12:00
40:13
27
WATLING, Mark
53:04
11:20
41:44
28
PARROTT, Richard
53:24
09:30
43:54
29
GENTLE, Chris
53:26
11:00
42:26
30
MCSHANE, Brendan
53:45
10:20
43:25
35
PAIRMAN, Steve
54:29
09:50
44:39
38
DANIEL, Richard
55:22
13:20
42:02
42
LAWES, Andy
56:08
13:00
43:08
45
DOWLING, Sarah
56:42
10:20
46:22
46
TAYLOR, Ian
56:50
12:10
44:40
48
LLOYD, Simon
57:02
16:40
40:22
49
COATES, Graham
57:06
13:50
43:16
52
STOCKS, Adrian
57:31
14:20
43:11
53
DOWLING, Josh
57:32
19:40
37:52
54
MONTGOMERY, Ian
57:56
19:30
38:26
62
DRAKE, Clare
58:57
15:00
43:57
65
PIKE, Chris
59:08
15:40
43:28
66
PARKIN, Claire
59:11
14:40
44:31
67
JONES, Mick
59:21
13:50
45:31
70
PHELAN, Jim
59:59
20:50
39:09
71
ROGERS, Peter
1:00:01
18:40
41:21
73
BROWN, Rob
1:00:24
19:00
41:24
77
CARTON, David
1:00:48
18:30
42:18
80
FERGUSON, Rosemary
1:01:00
20:00
41:00
82
VENABLES, Martin
1:01:10
23:00
38:10
84
DESBOROUGH, Tom
1:01:36
18:20
43:16
87
GREENHILL, Tom
1:02:30
15:00
47:30
88
WETHERILT, Barry
1:02:39
20:00
42:39
89
FENWICK, John
1:03:06
19:10
43:56
91
LINDSEY, Ian
1:03:58
26:10
37:48
92
TURNER, John
1:04:06
25:00
39:06
93
EASTBURY, Justine
1:04:12
20:20
43:52
95
READ, Glen
1:04:19
20:00
44:19
102
COMPTON, Mark
1:05:20
22:50
42:30
105
COOPER, Gordon
1:06:43
22:50
43:53
106
ROBERTS, Neil
1:06:51
24:20
42:31
108
GODSELL, Helen
1:07:02
28:00
39:02
109
CILIA, Anne
1:07:10
24:10
43:00
110
WOOD, Zoe
1:07:24
28:50
38:34
111
LEESON, John
1:07:29
23:20
44:09
113
ORTON, Wilf
1:08:18
29:00
39:18
114
PHELAN, Jack
1:08:26
23:00
45:26
115
JONES-BALDOCK, Carloyna
1:08:29
31:40
36:49
118
SLACK, Will
1:09:17
23:40
45:37
120
GRIFFIN, Richard
1:09:49
21:20
48:29
121
BARBER, Nick
1:09:54
25:20
44:34
123
HORTON, Peter
1:10:18
30:30
39:48
124
HOLLINGDALE, Steve
1:10:40
32:40
38:00
125
ELLISON, Mark
1:10:48
12:50
57:58
136
LOVELL, Peter
1:16:44
33:40
43:04
138
MCDONOUGH, Annie
1:17:22
32:50
44:32
139
HOBEN, David
1:24:00
34:00
50:00
Handicap
race
time
pos
1
JONES-BALDOCK, Carloyna
36:49
115
2
LINDSEY, Ian
37:48
91
3
DOWLING, Josh
37:52
53
Leading Bennett Cup Positions after 8 events
points
1
COMPTON, Mark
289
2
PIKE, Chris
285
3
LAWES, Andy
284
4
CARTON, David
283
5
CILIA, Anne
282
6
HOLLINGDALE, Steve
279
7=
STOCKS, Adrian
270
7=
MCSHANE, Brendan
270
9
PAIRMAN, Steve
259
10
FENWICK, John
258
BBHAC 7.5 Mile Championship
race
time
pos
1
GIBBINS, Alex
45:10
1
BBHAC 7.5 Mile Championship Women
race
time
pos
1
DOWLING, Sarah
56:42
45
2
DRAKE, Clare
58:57
62
3
PARKIN, Claire
59:11
66
Mob match result scoring 54 a-side
points
1
SLH
2235
2
BBHAC
3879
This is Alastair Aitken's report that was sent to AW
SOUTH LONDON'S HISTORIC MOB MATCH (March 2011)

In the 100th Annual Mob Match South London obtained a good low score of 2411 points to Blackheath's 4153 (56 to score for each team). It was interesting to look back and see who those individuals who had won the Nicholls Cup event and they included Alf Shrubb in December 1901. He broke World records for 1, 3, and 10,miles plus the 10,000m. He also won the International cross country Championships in 1903 and 1904.

Those that won it more than twice in recent times included, Gordon Pirie three times (50-51-52); John Roberts (63,64,65,66,72,73, and 75); Bob Richardson (67,68,69); Richard Coles (77,78,79 and 80); Barry Attwell (76, 85, 91 and 92); plus Stuart Major (96,97,98,99, 2004, 5,6,and 9).

This year it was Alex Gibbins (45:10) of Blackheath & Bromley on the 12th of February. Gibbins, 34, who had his best ' National' position of 76th at Alton Towers, ran in flats on the dry but udulating course at Coulsdon. Mark Steinle (4th- 46:31) and Gibbins were at the head of a group at the top of Farthing Down. Gibbins pulled clear in the woods, after coming out of Happy Valley and, stayed in that position to the end of the race.

As they went down into Happy Valley for the second time, it was surprising to see Jason Simpson (45:39) up in second place which he kept to the finish, as he had only trained for a month after a year off with injuries that stopped him in his tracks and included a toe operation. Duncan Marsden (3rd in 45:44) went down into the valley for the last time in third place and, chatting to Steinle. The latter, who had been a brilliant marathon and cross country runner, had only been back training for about a month and was running really just to help Blackheath in the historic event.

Barry Attwell, a previous prolific winner over the course, was 26th out of the field of 140 and another interesting name was Robin Walsh who was 134th. He is 71 years old and he won the Mob Match back in 1962. He was in Cambridge Universities team that dominated the British Universities cross country in 1963 (He was 9th in that won by Tim Johnston--the famous snow runner). In the interim period Walsh was a Professor of Chemistry at Reading University.

Another interesting name in the results, finishing in 108th place, was Helen Godsell, known as a veteran sprint record holder over 55! Ruth Hutton (56:22,W45), a good triathlete, was the first woman in the race in 44th place in the mixed event.

Alastair Aitken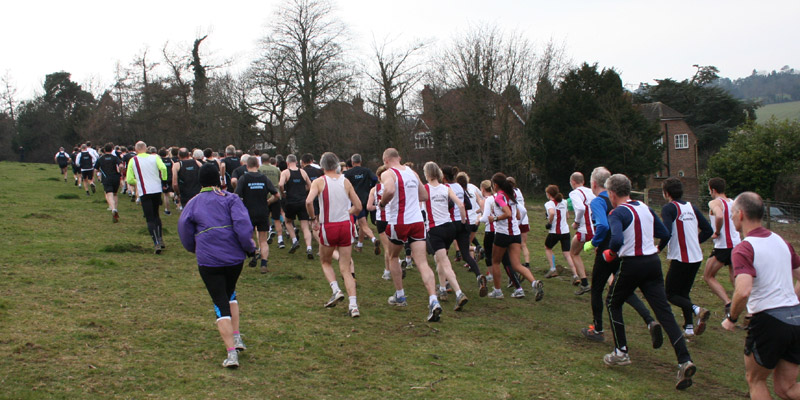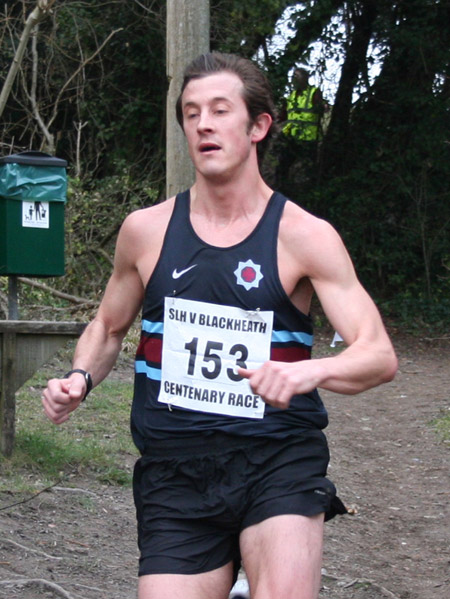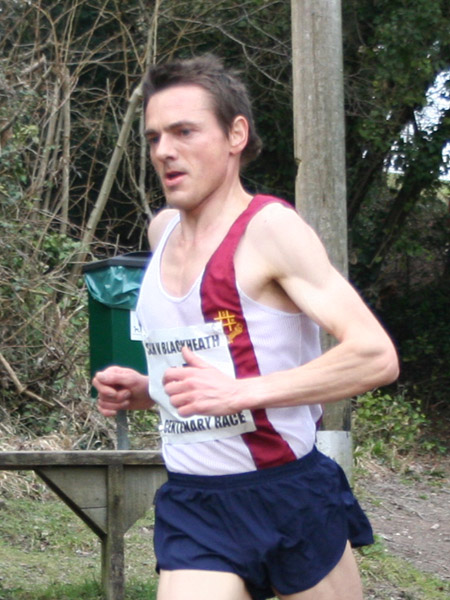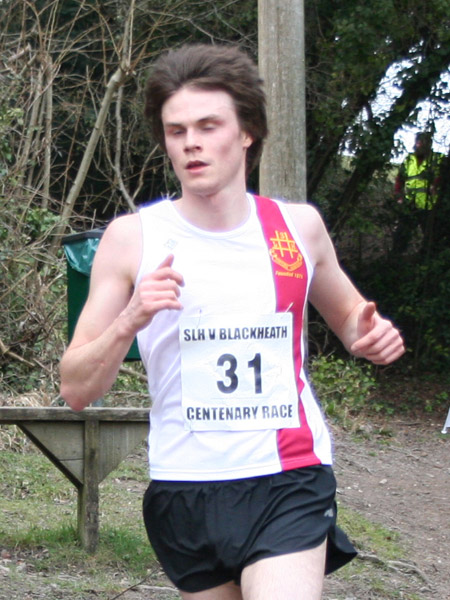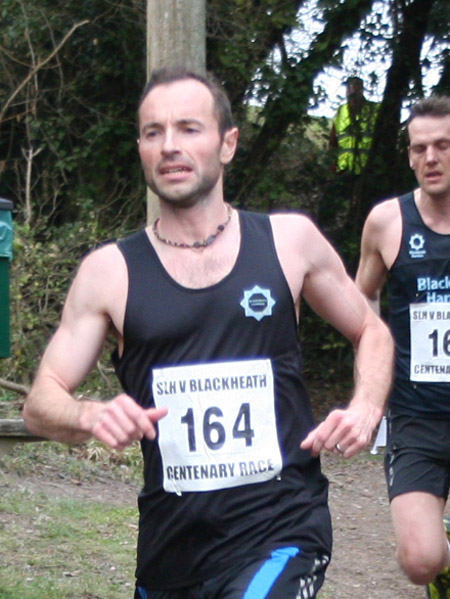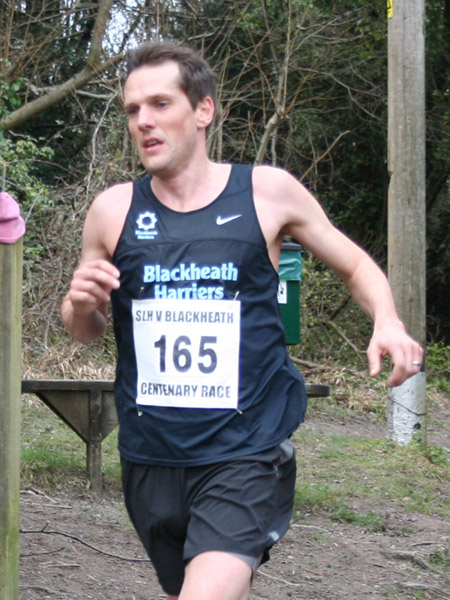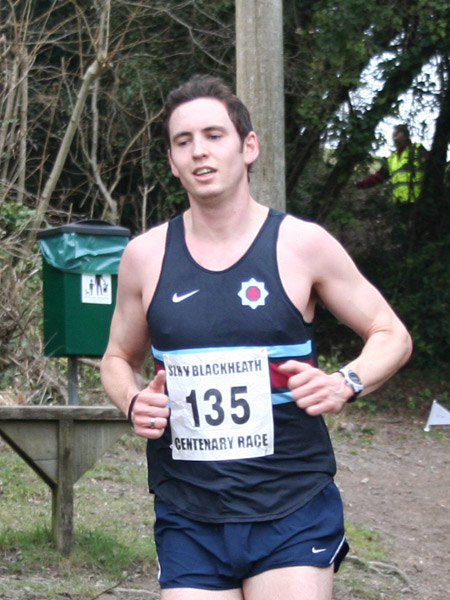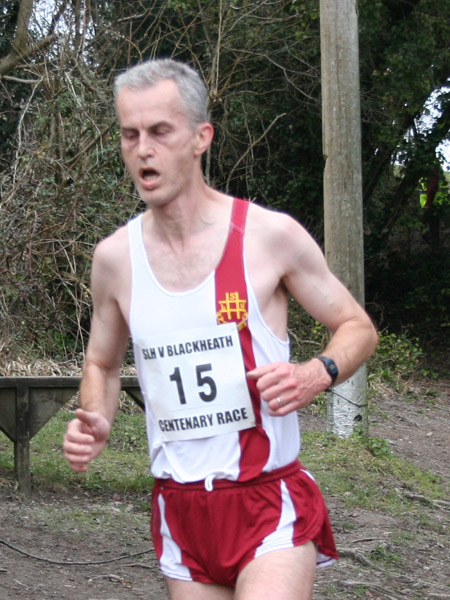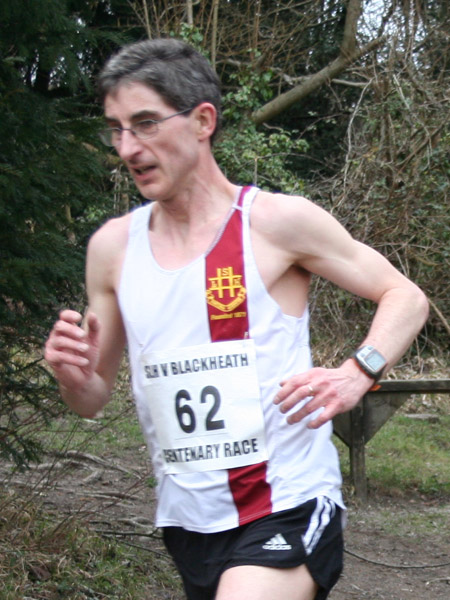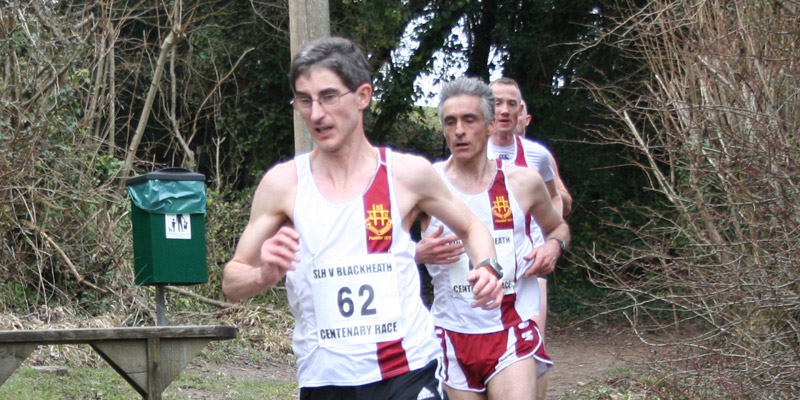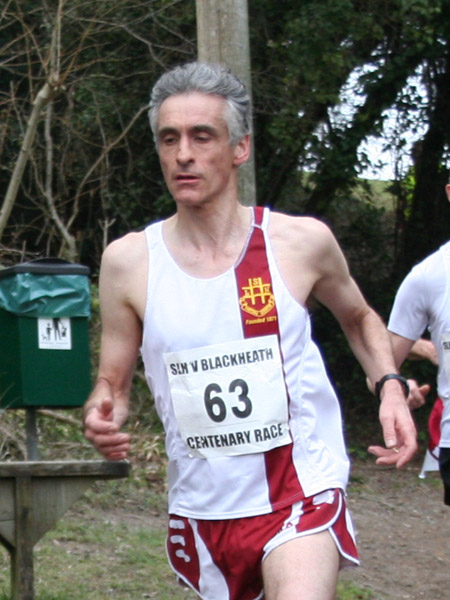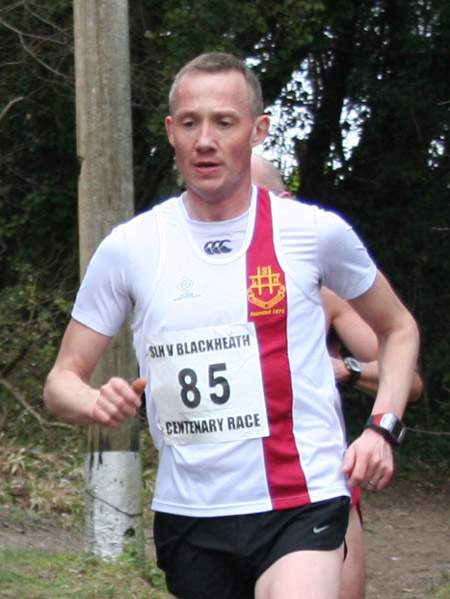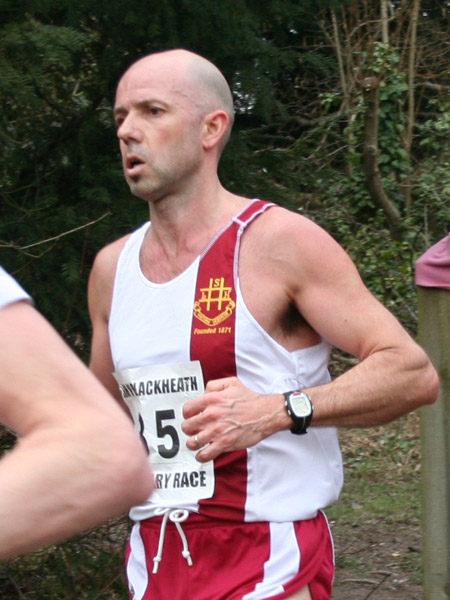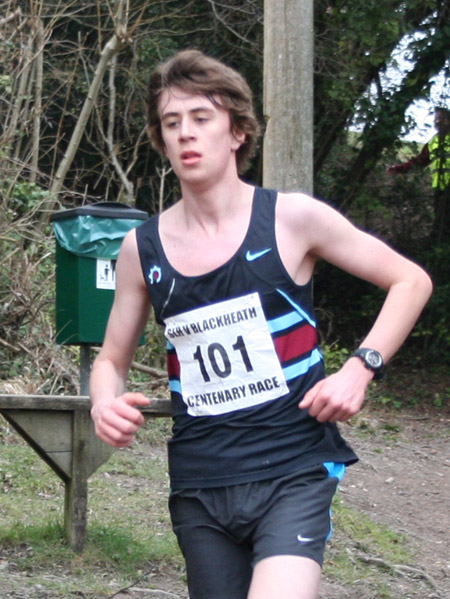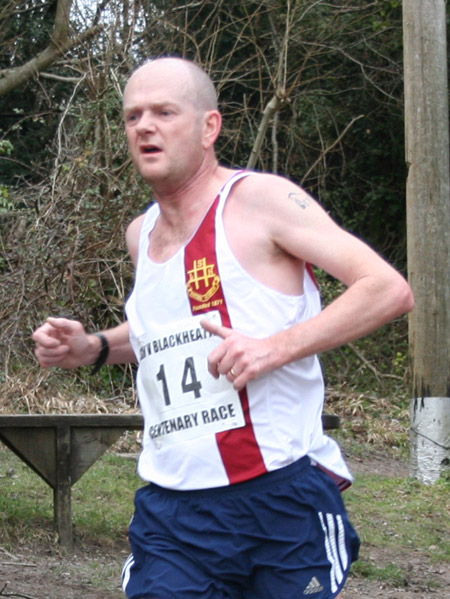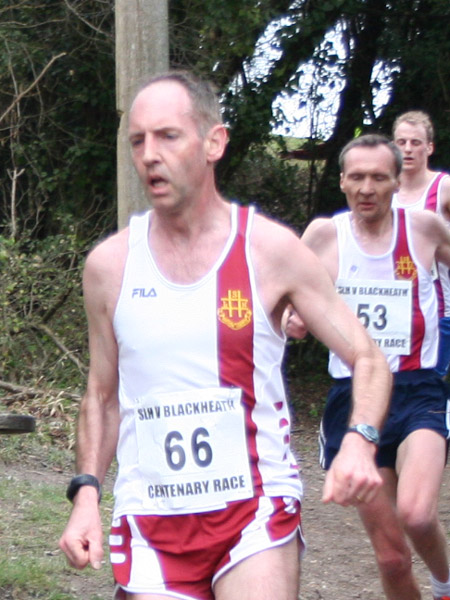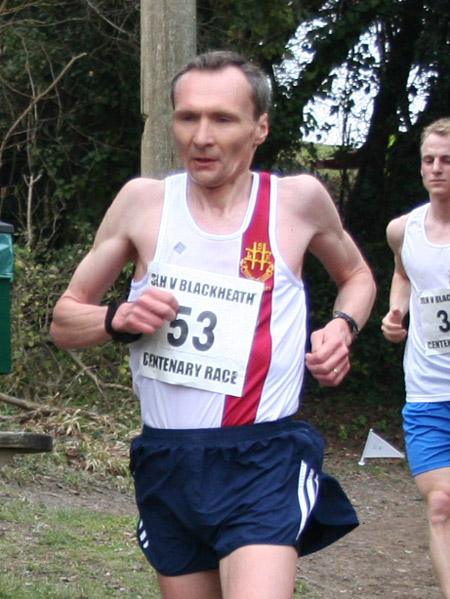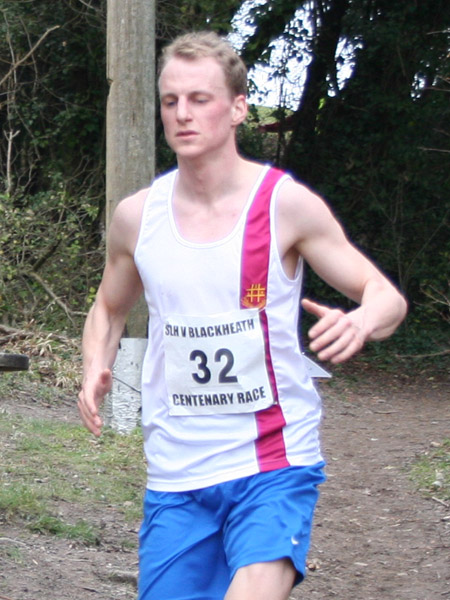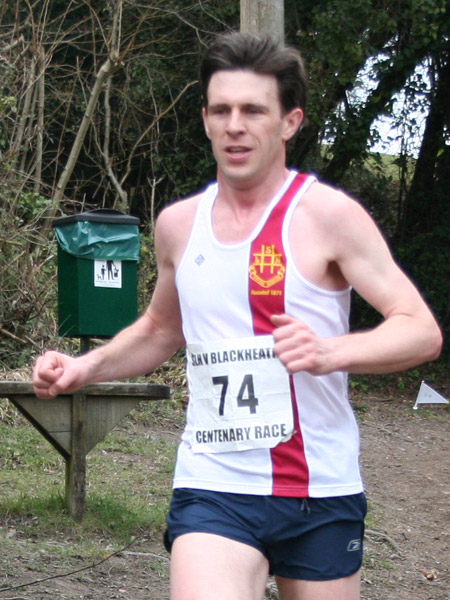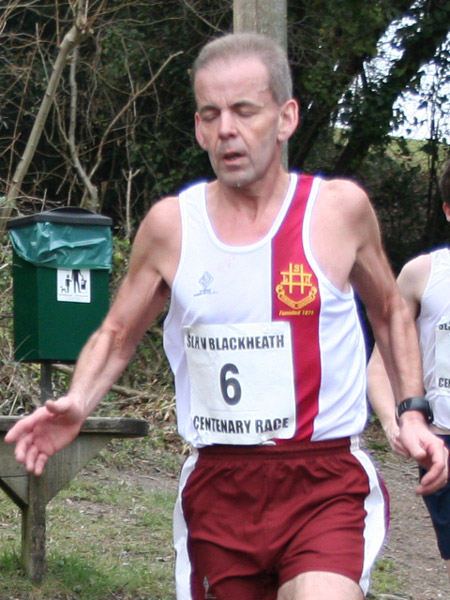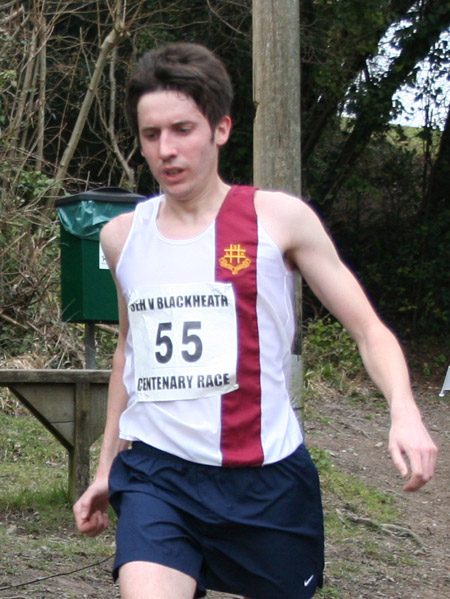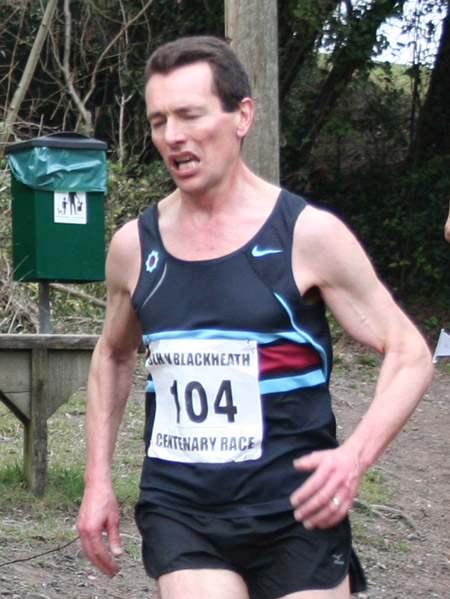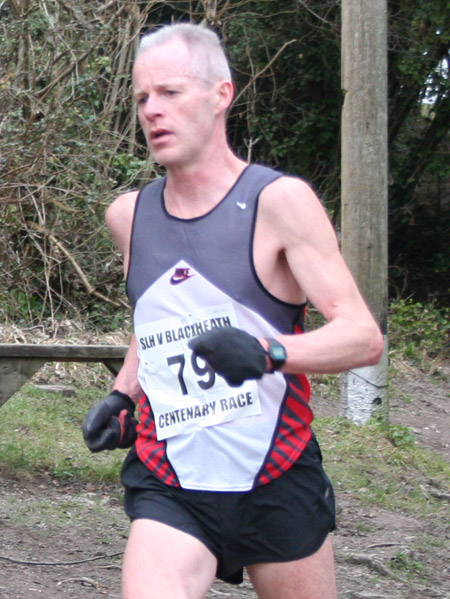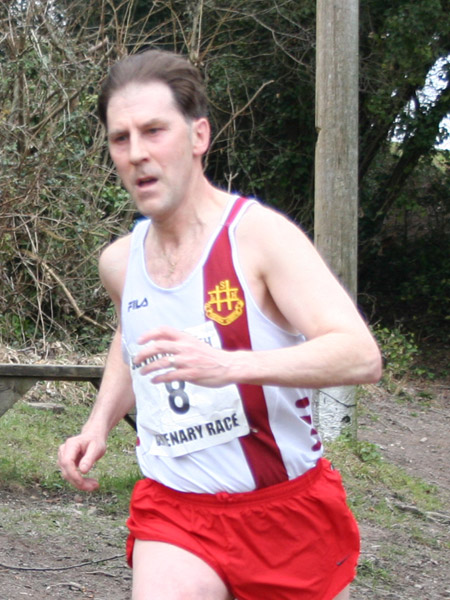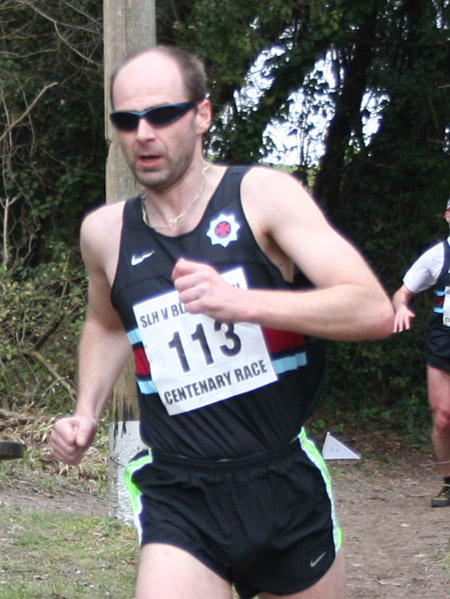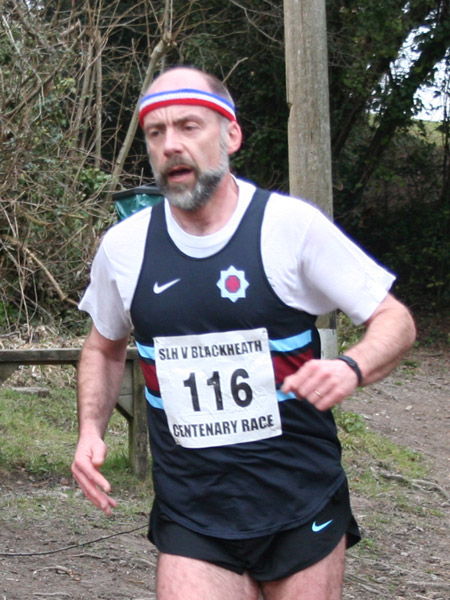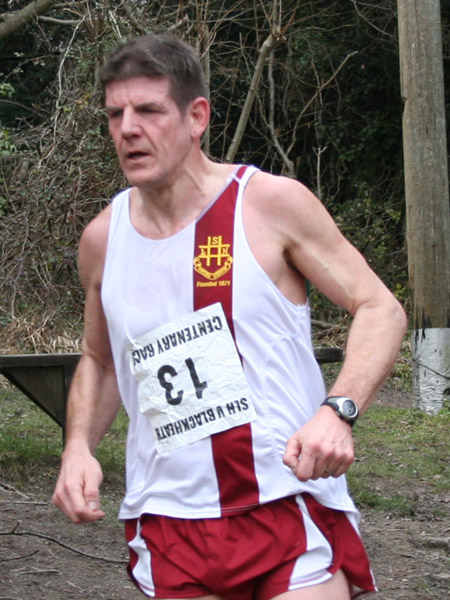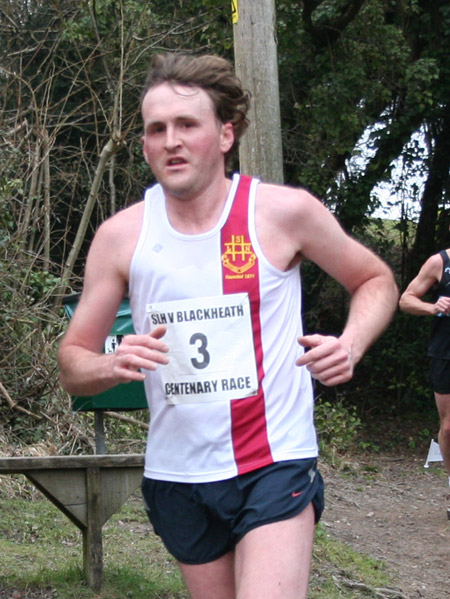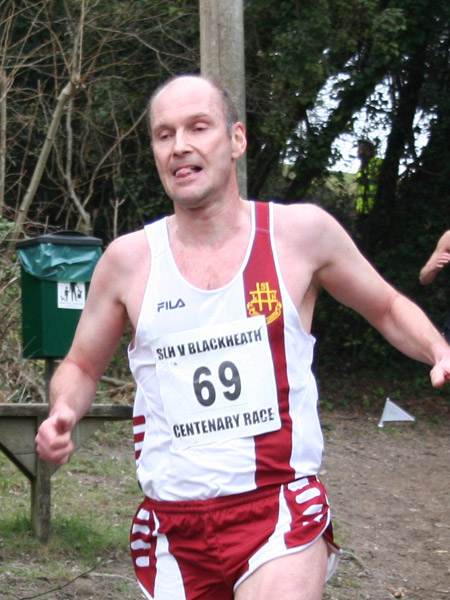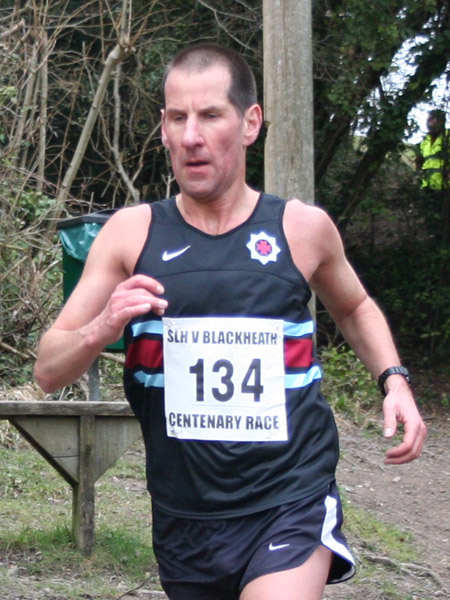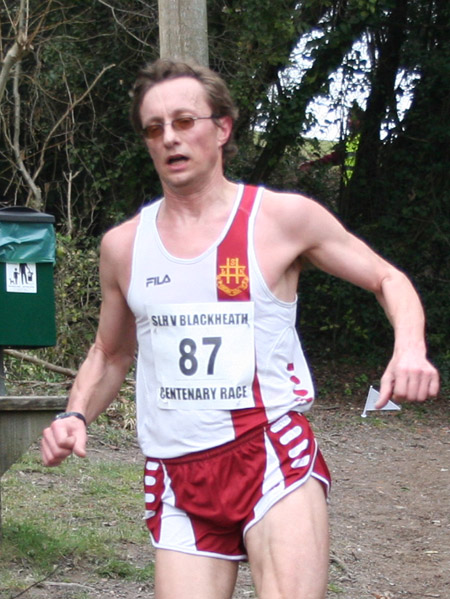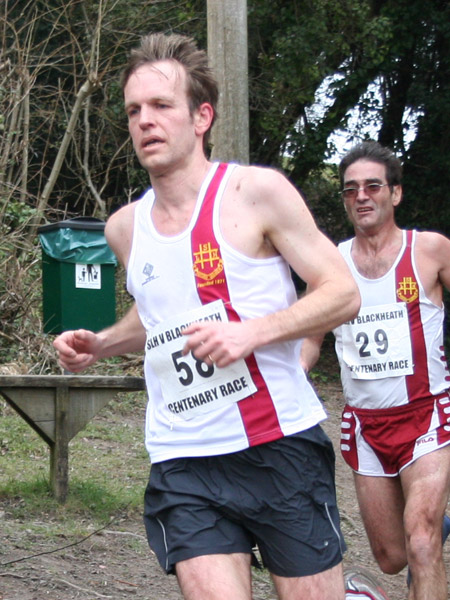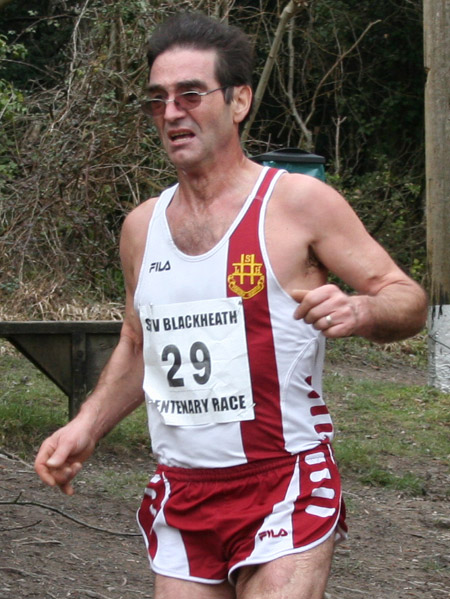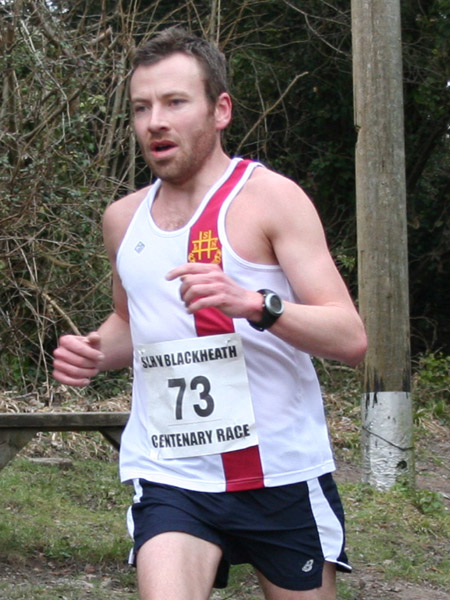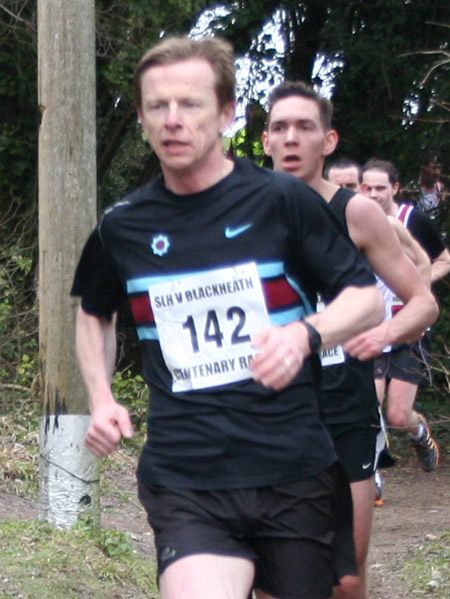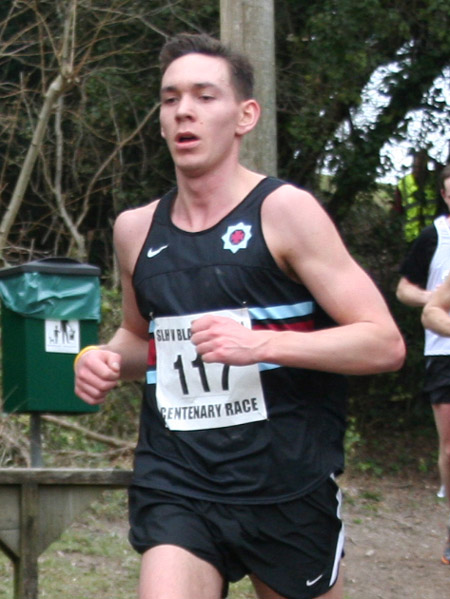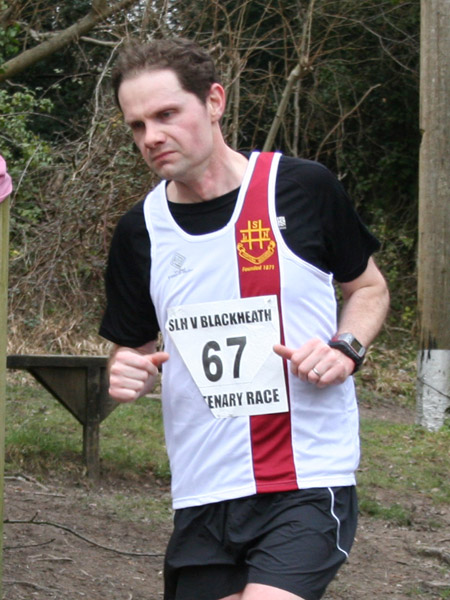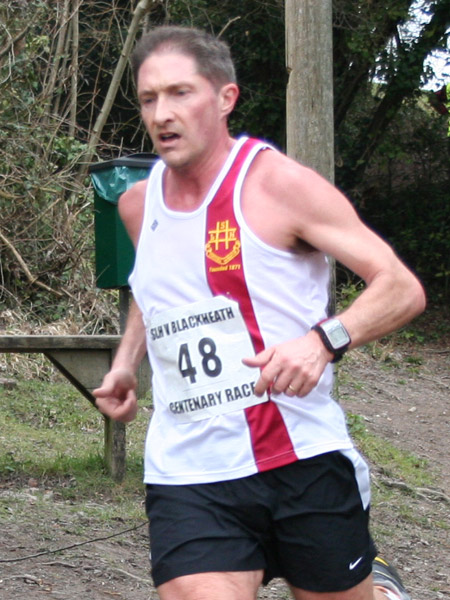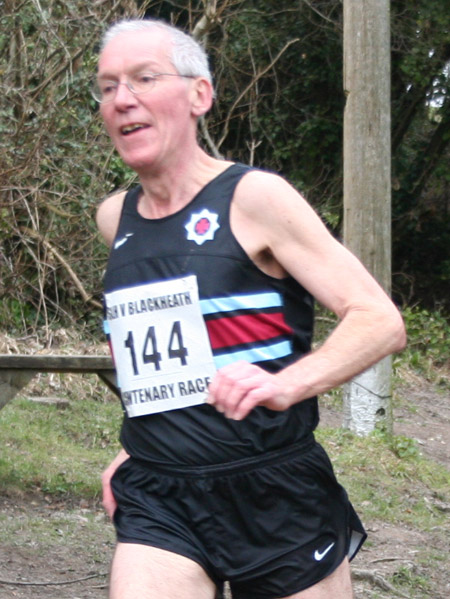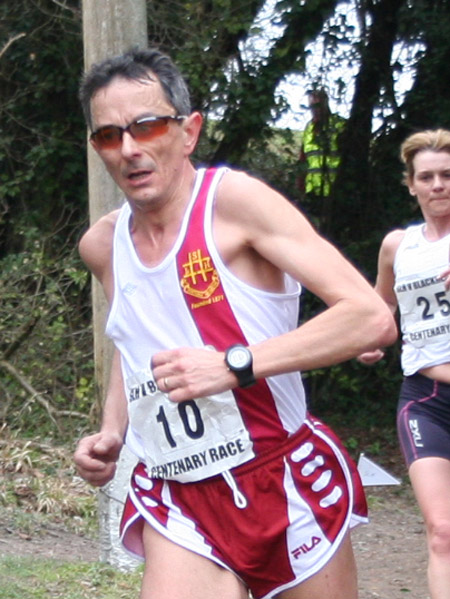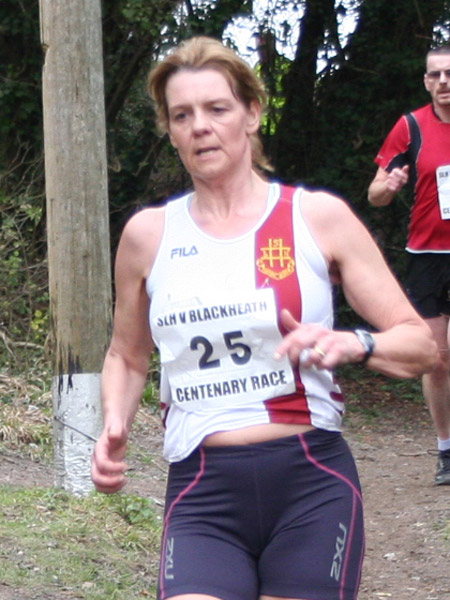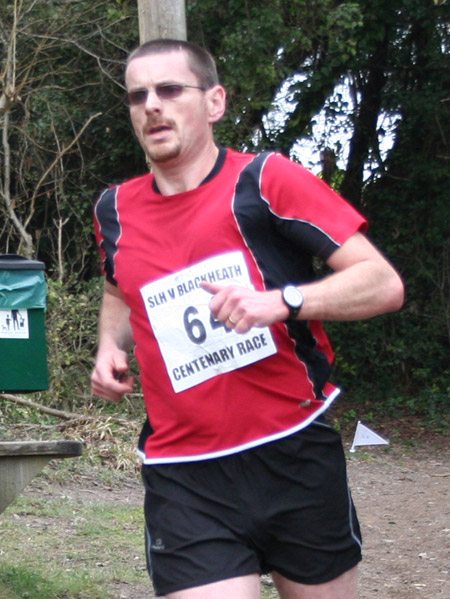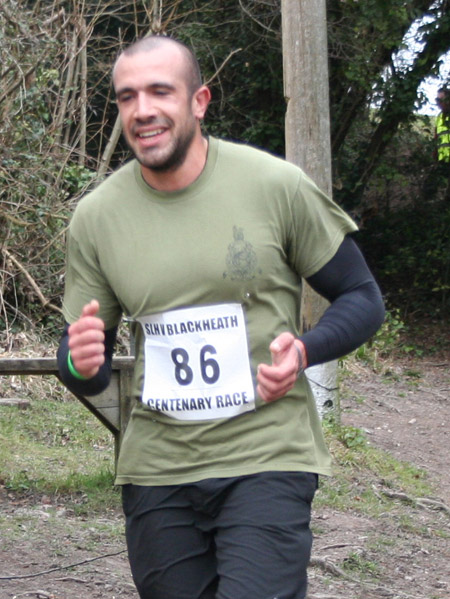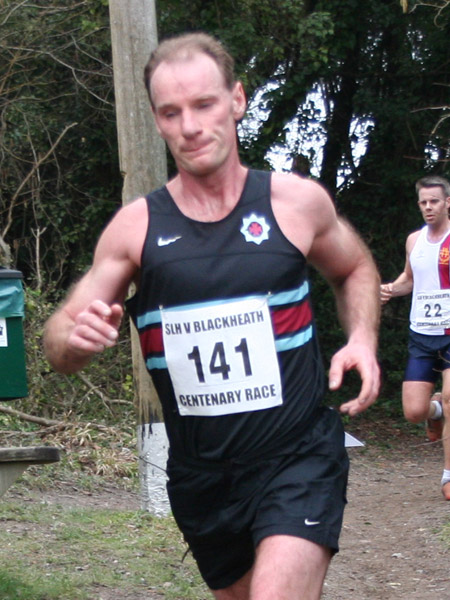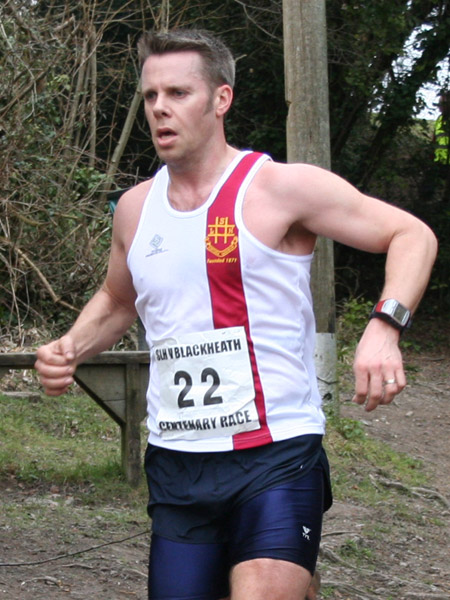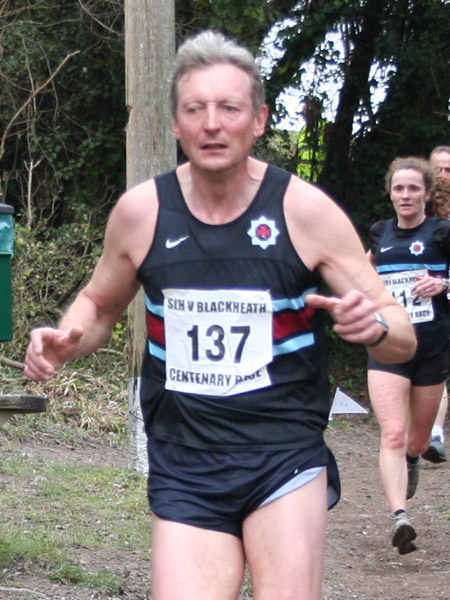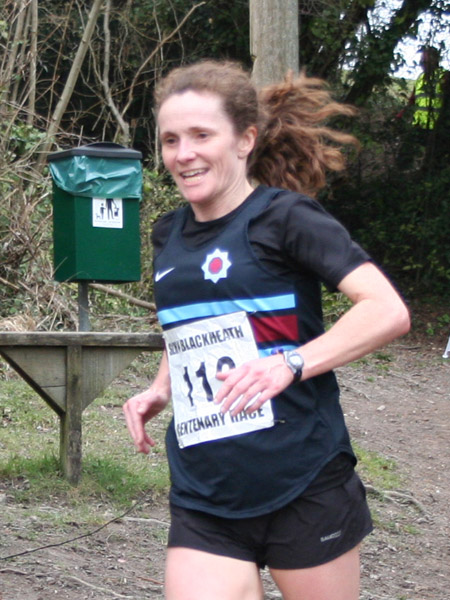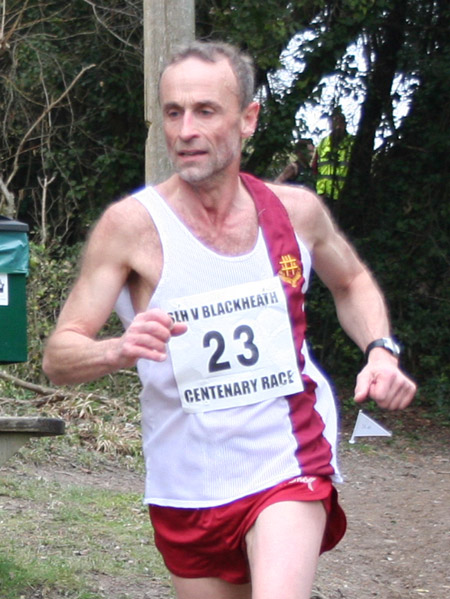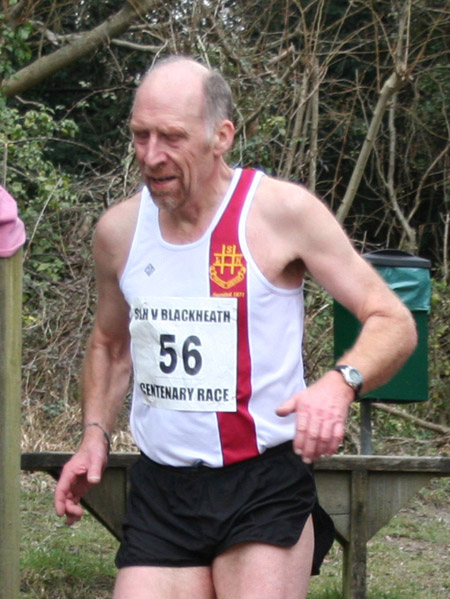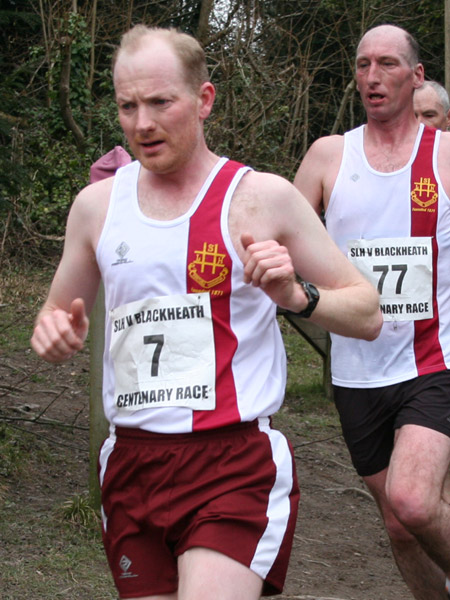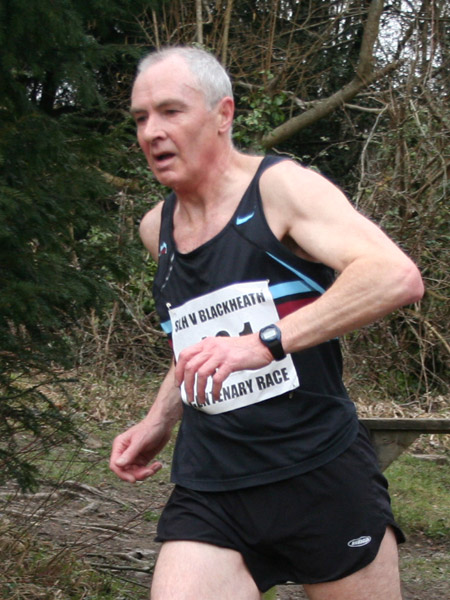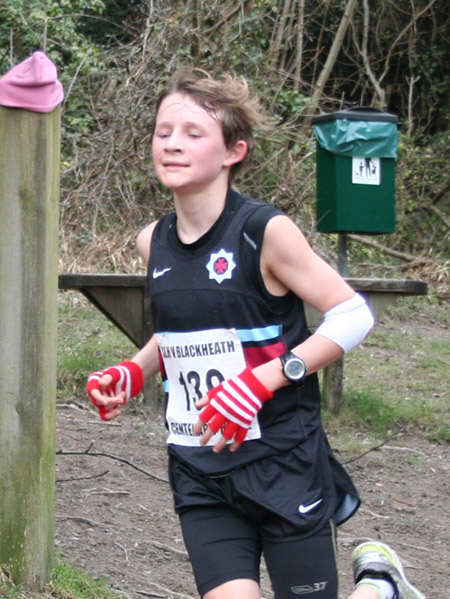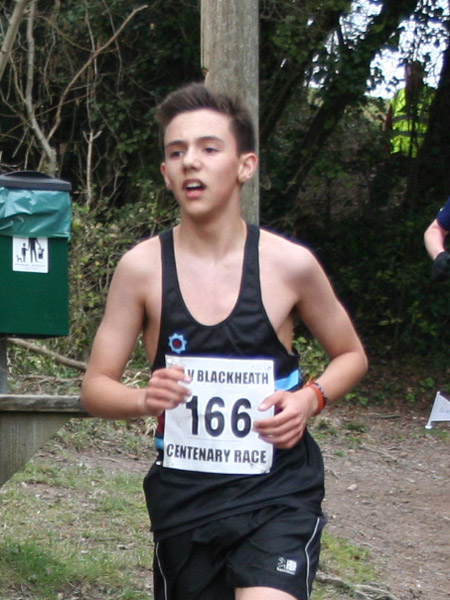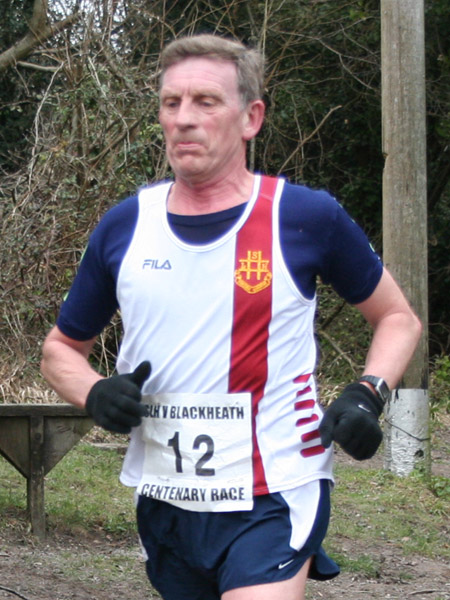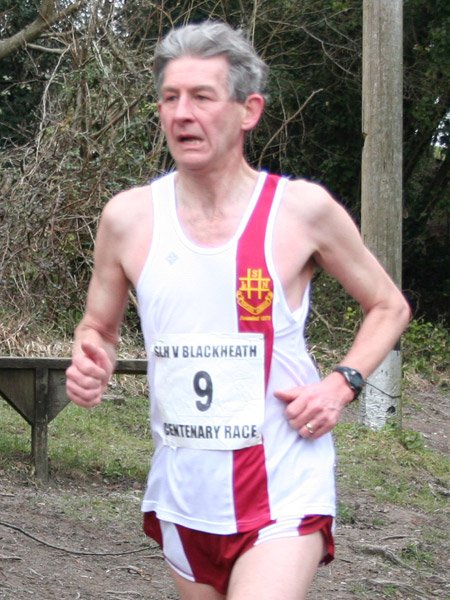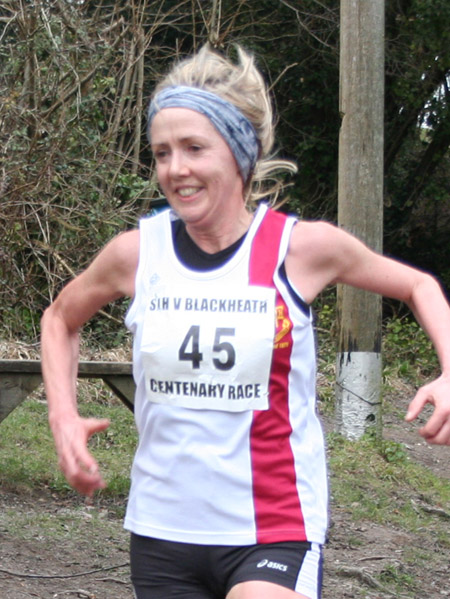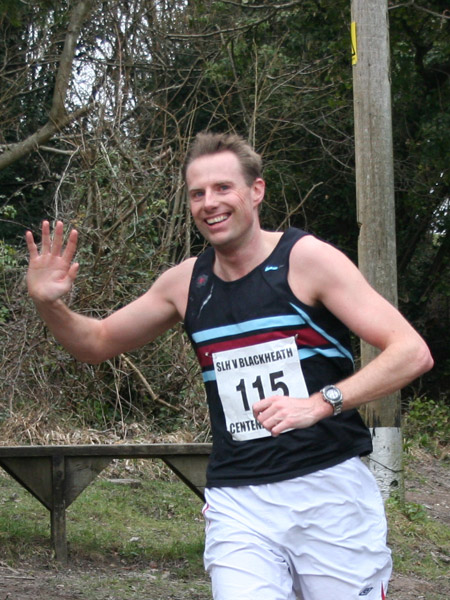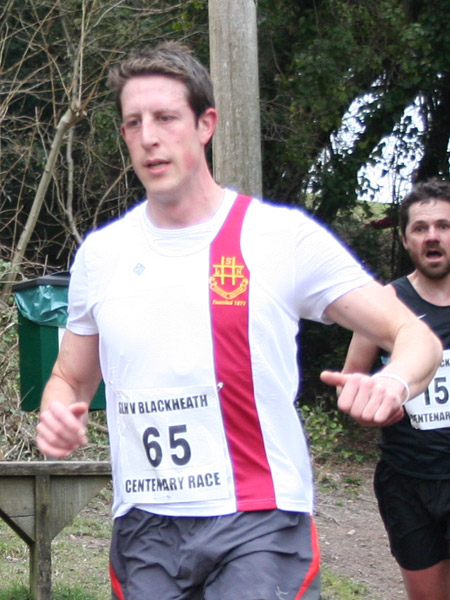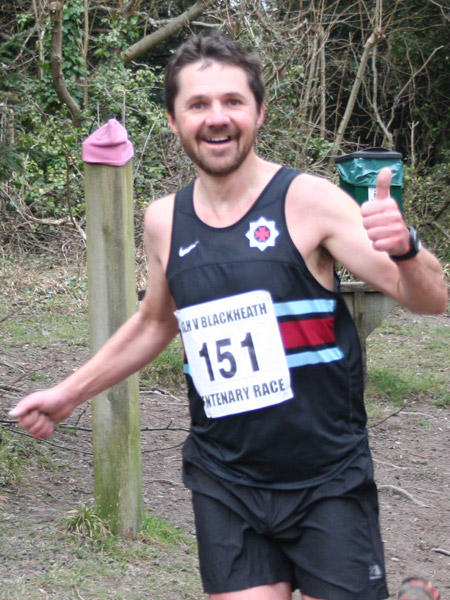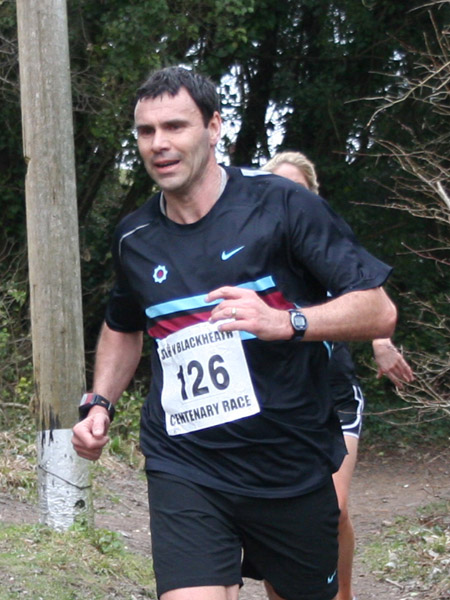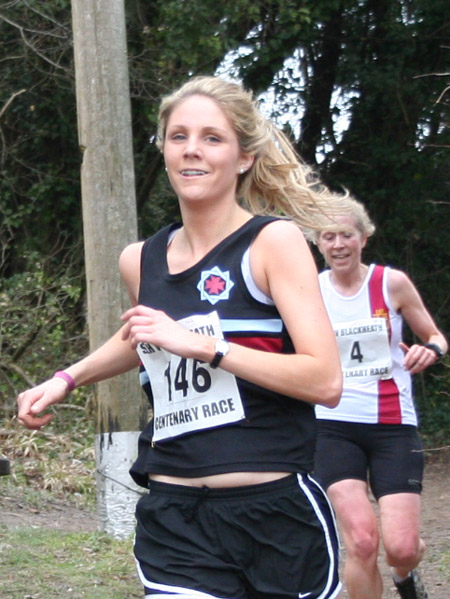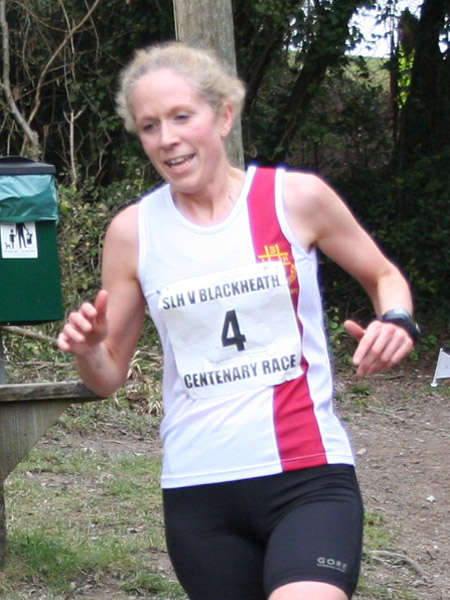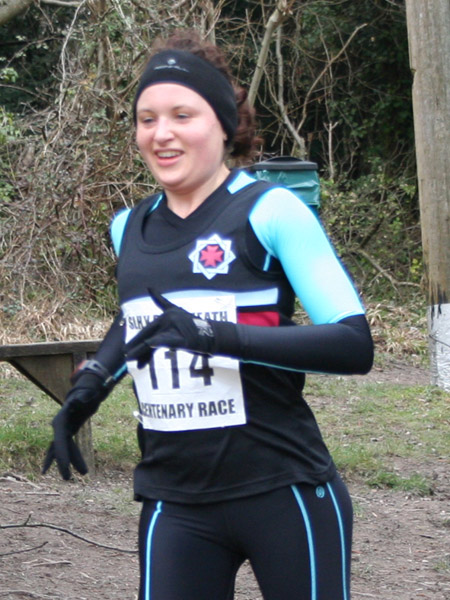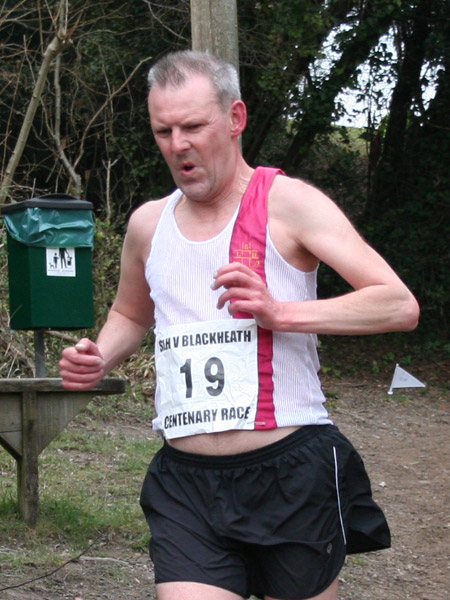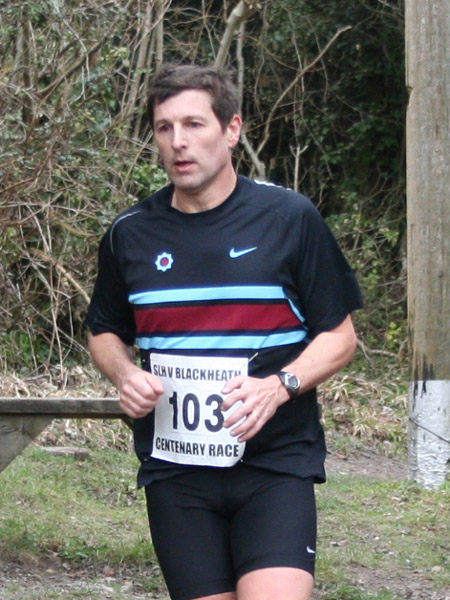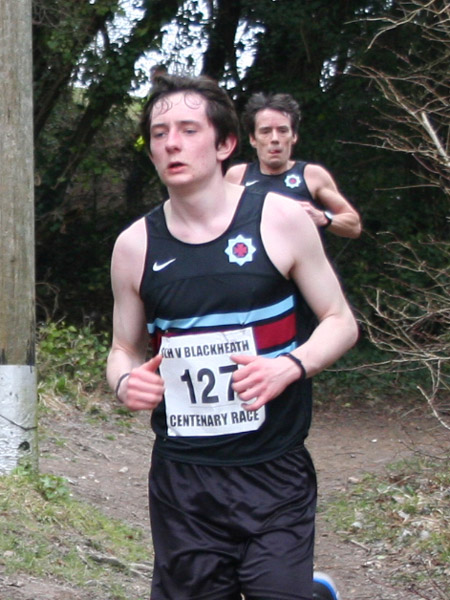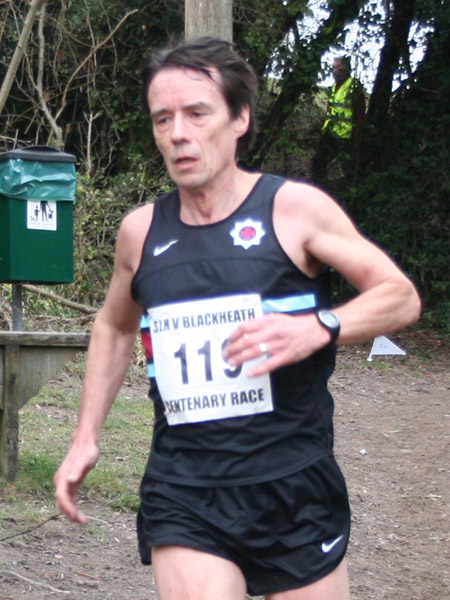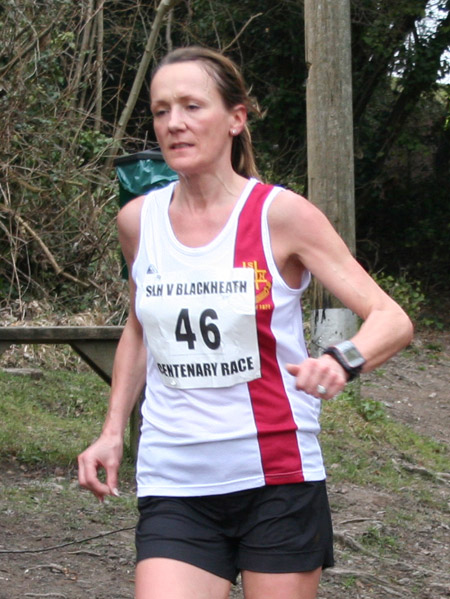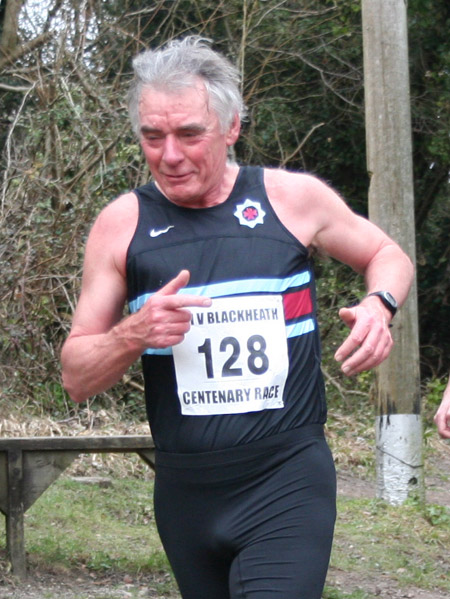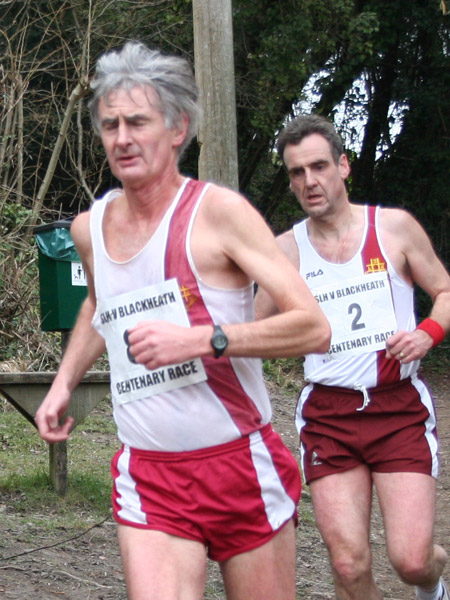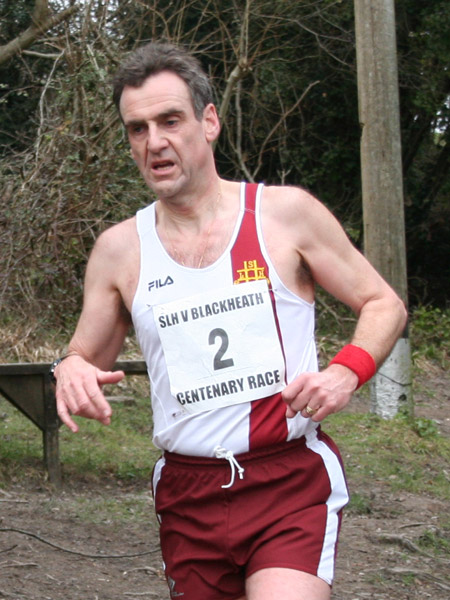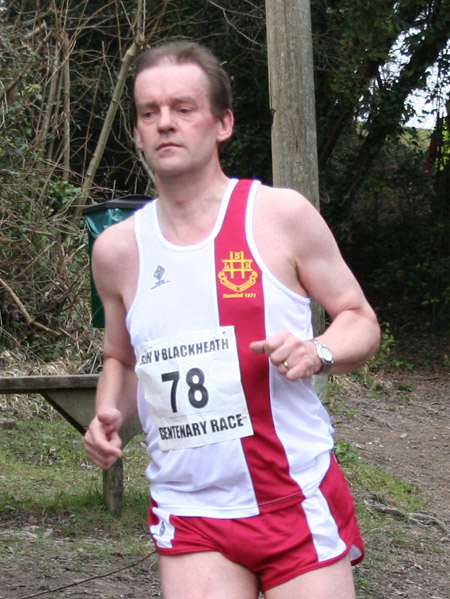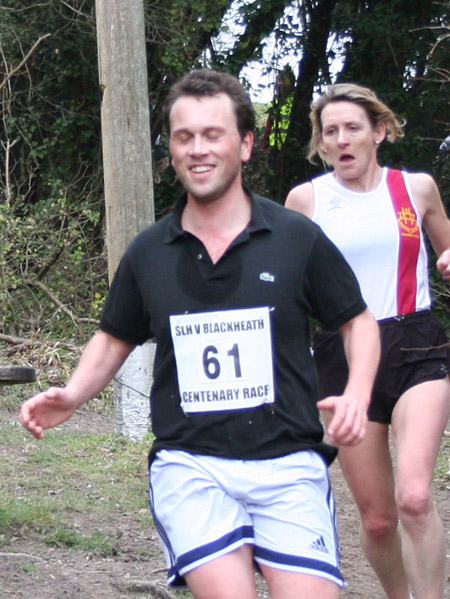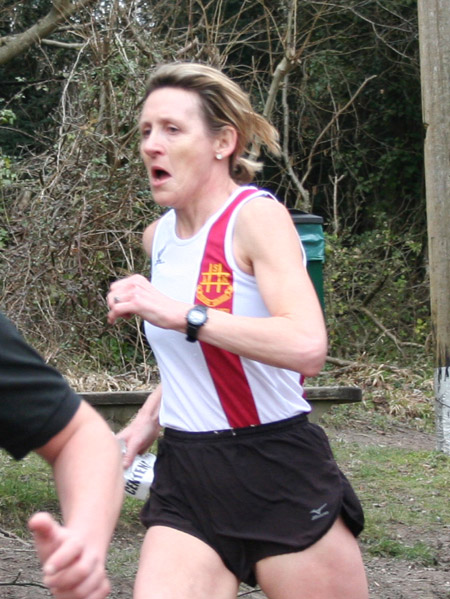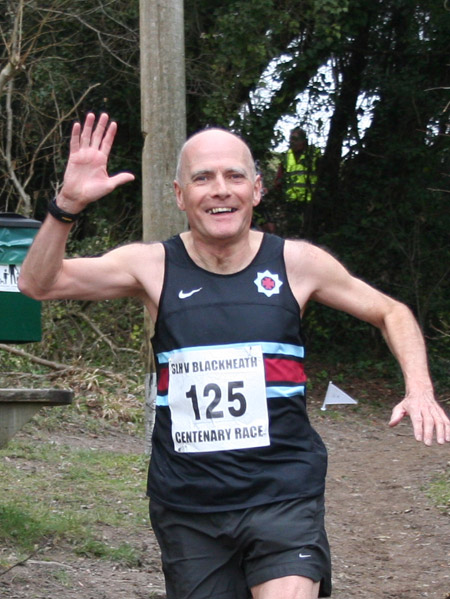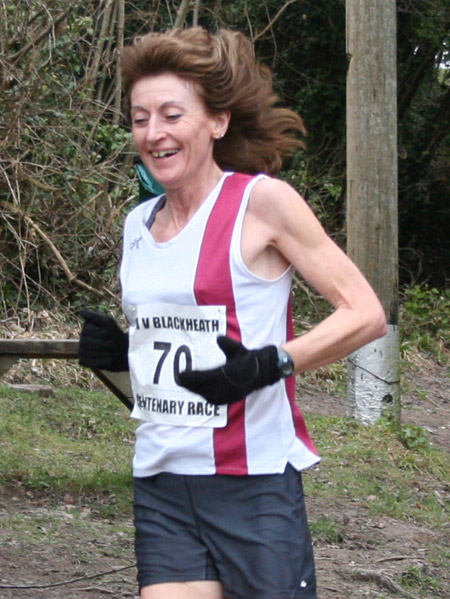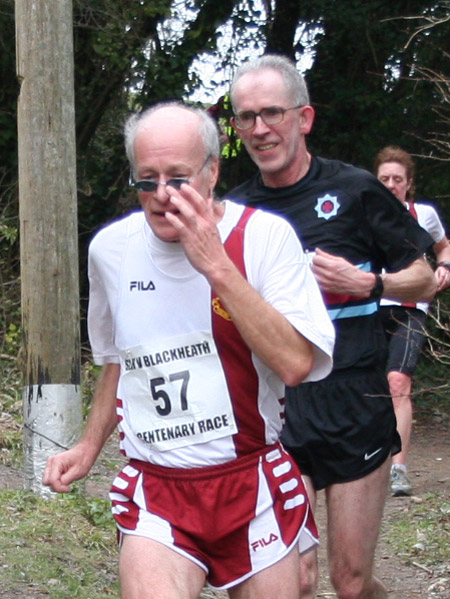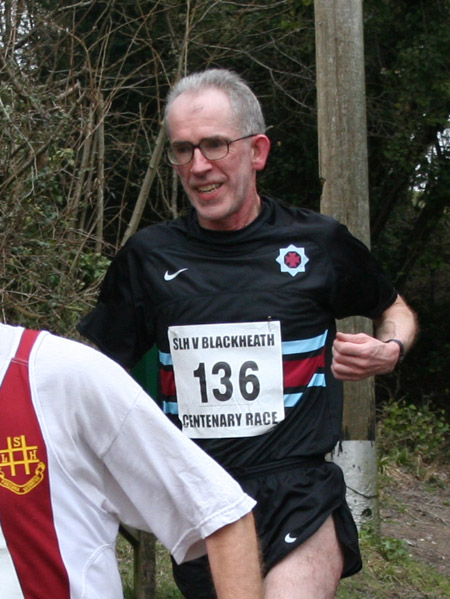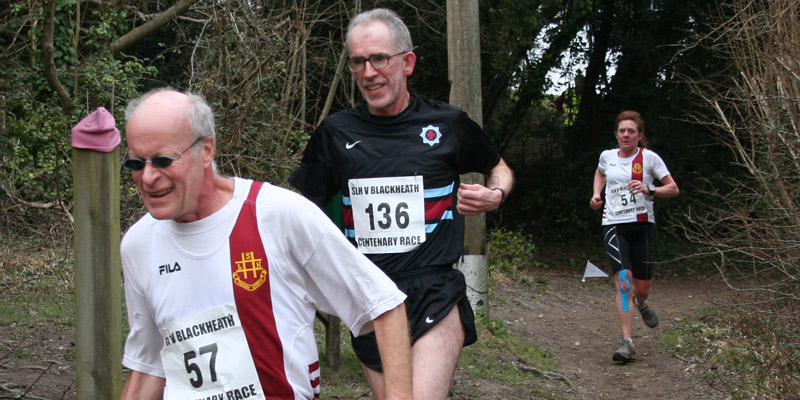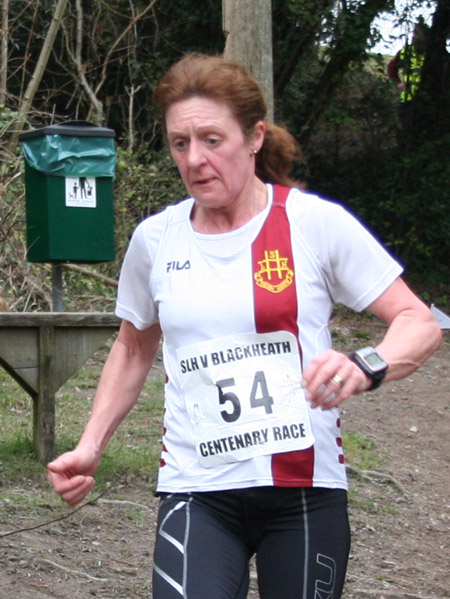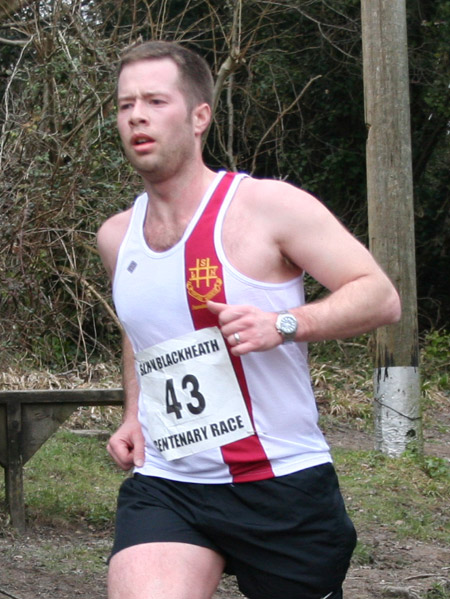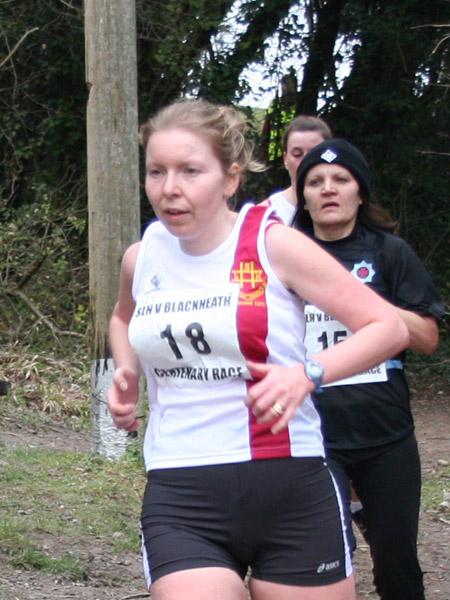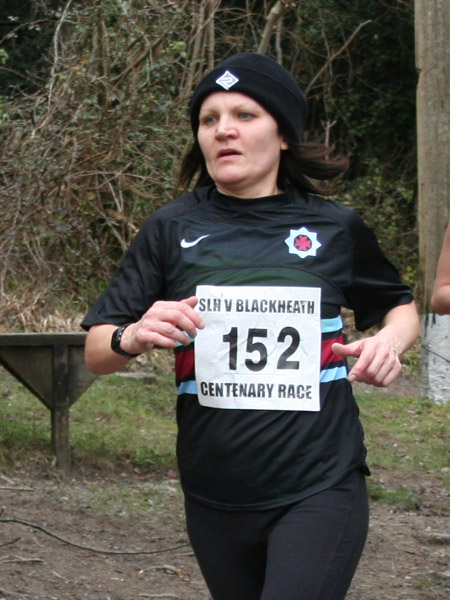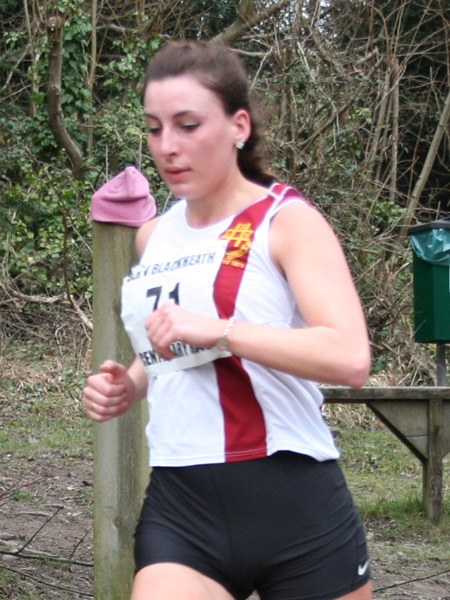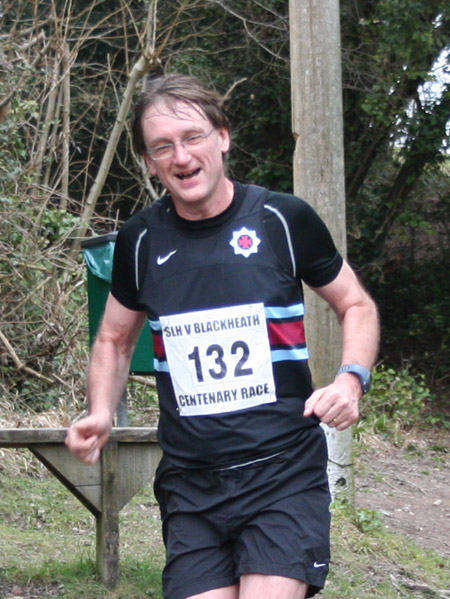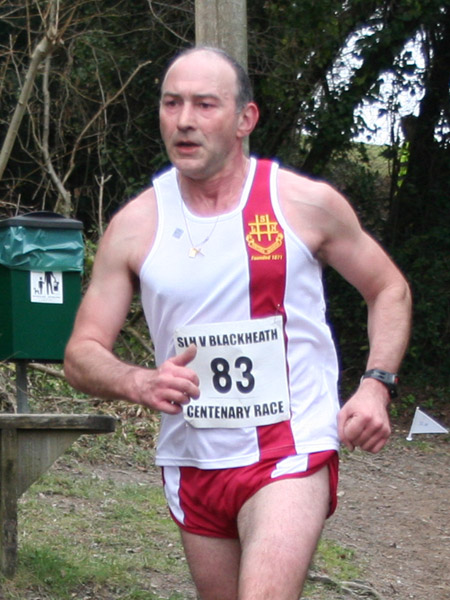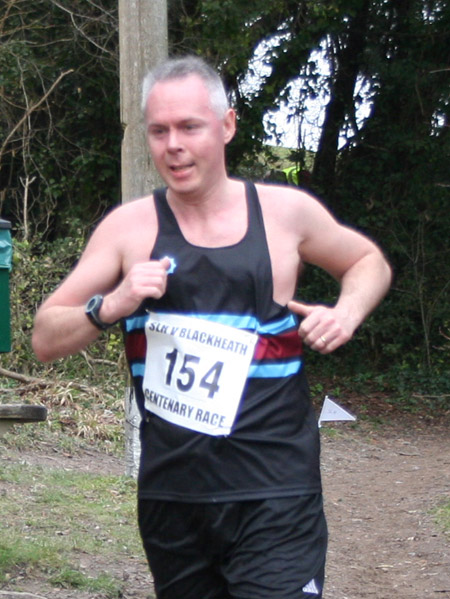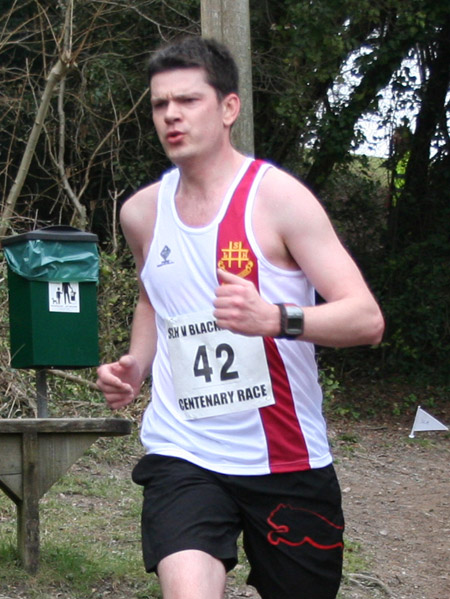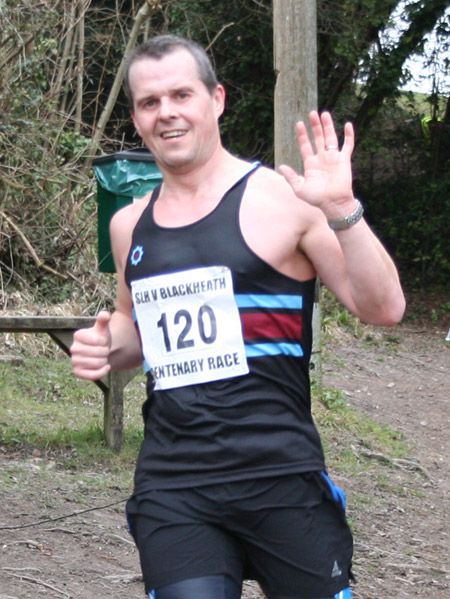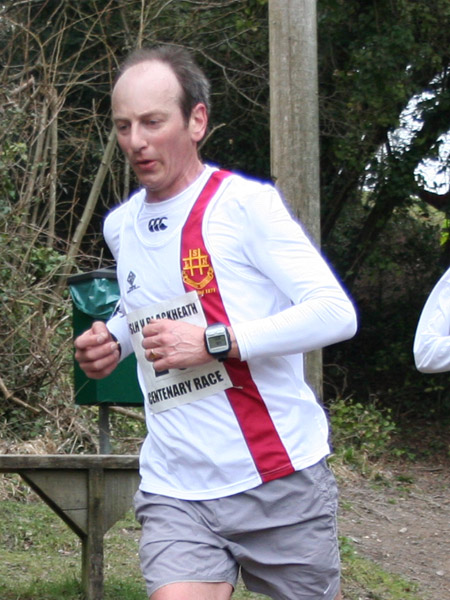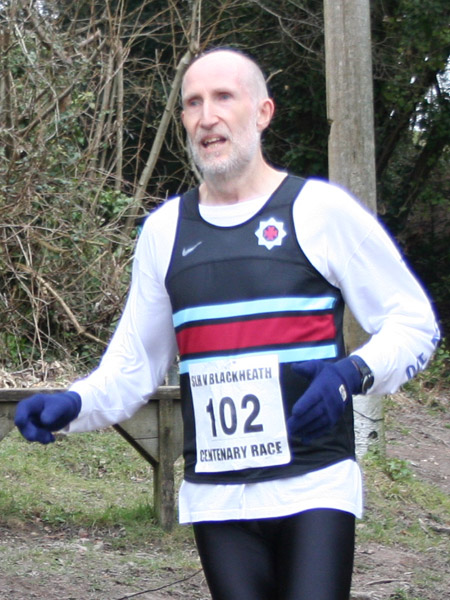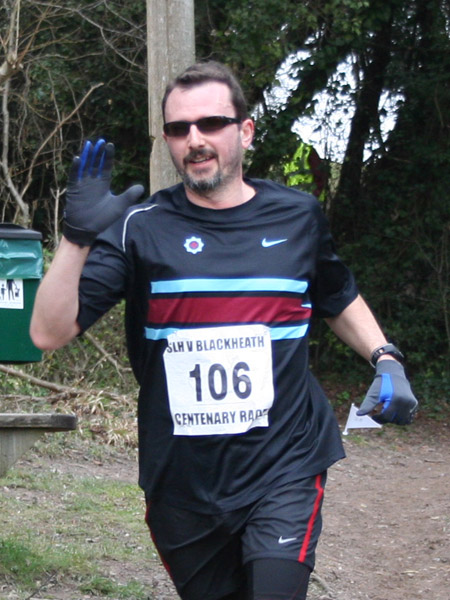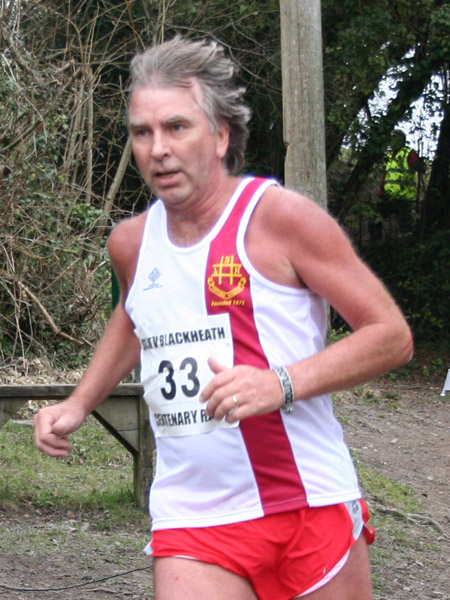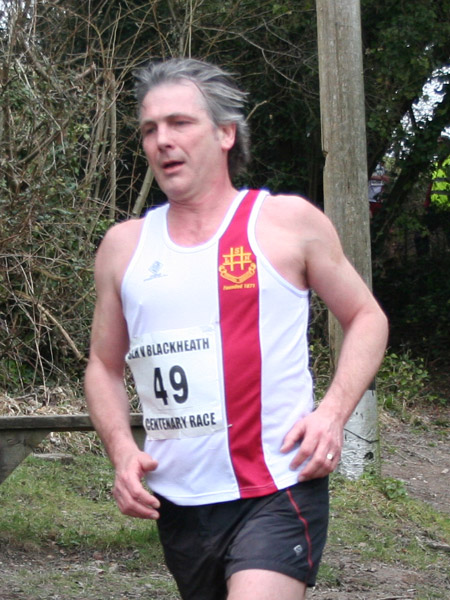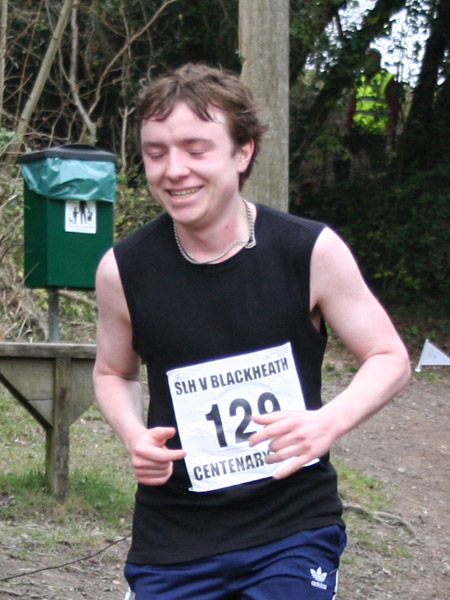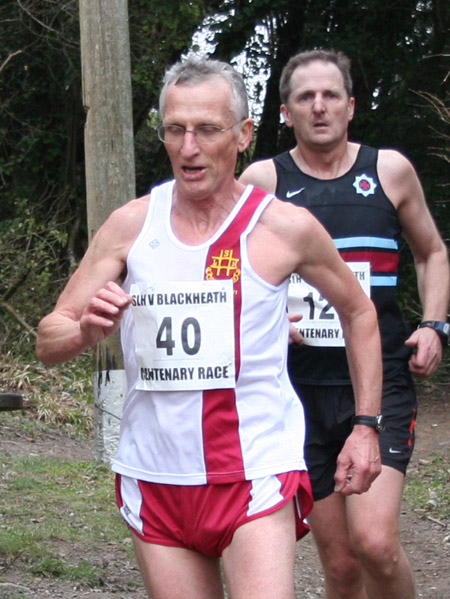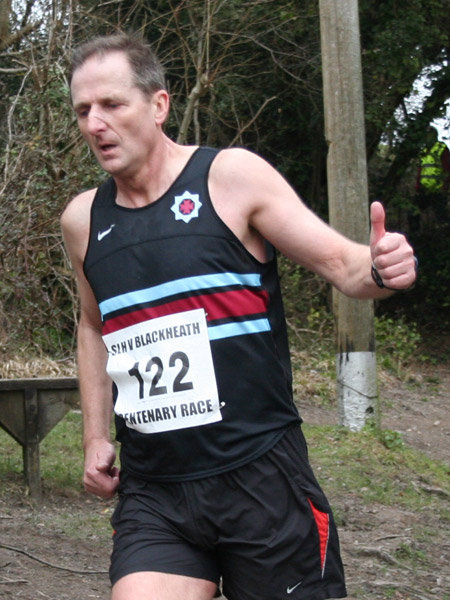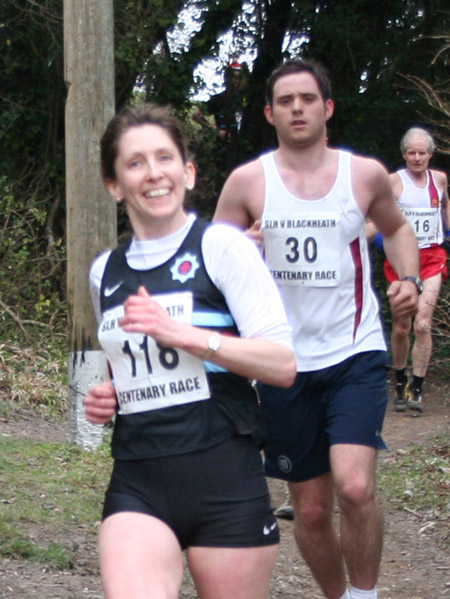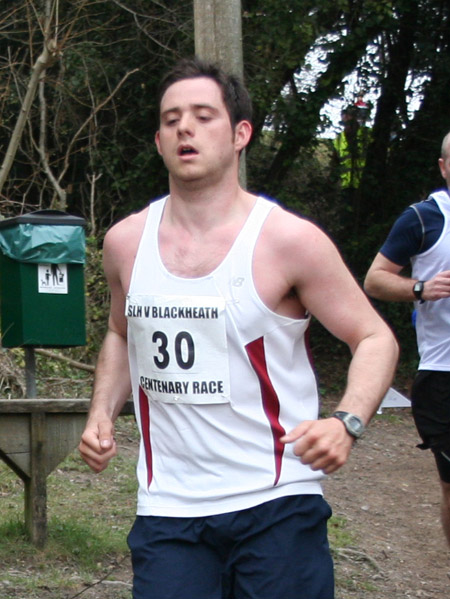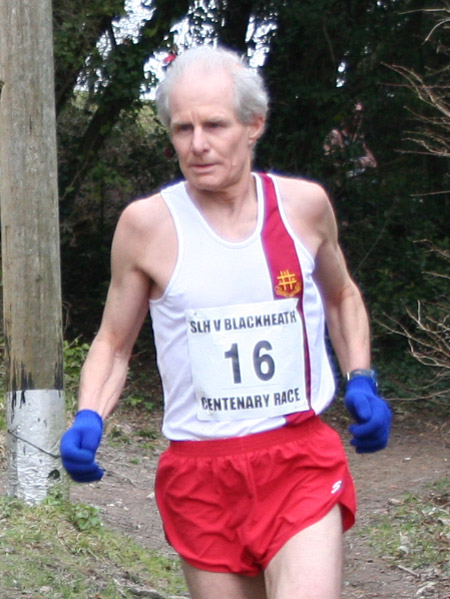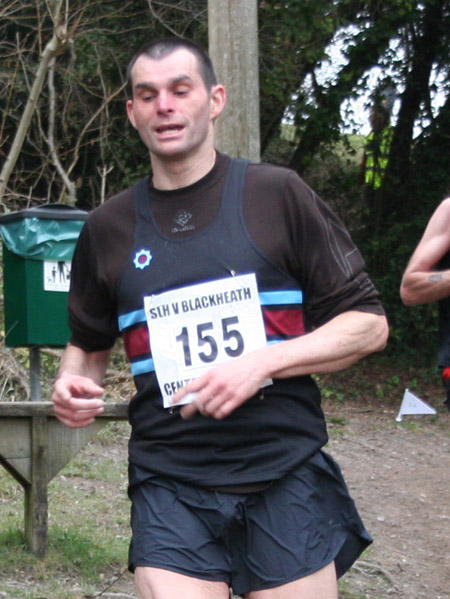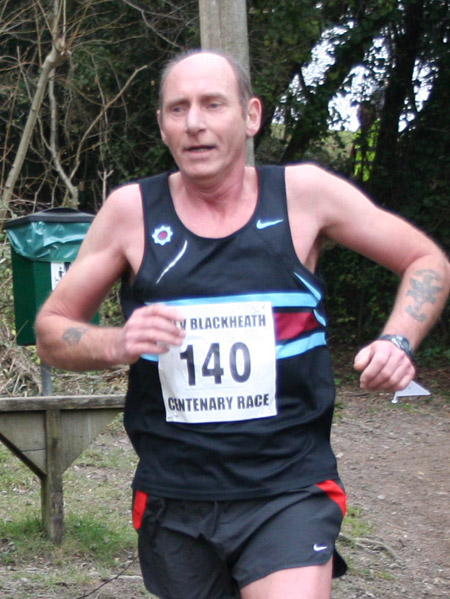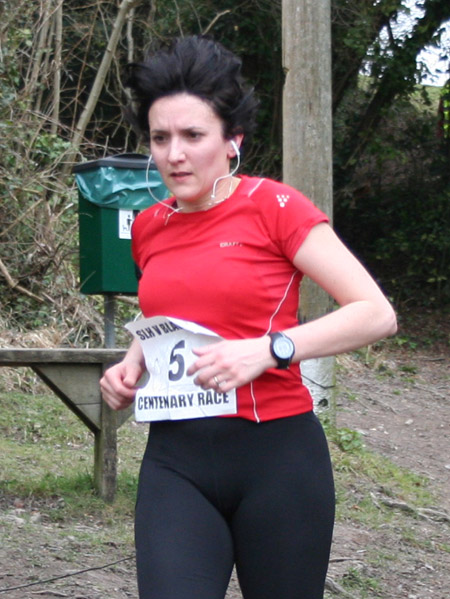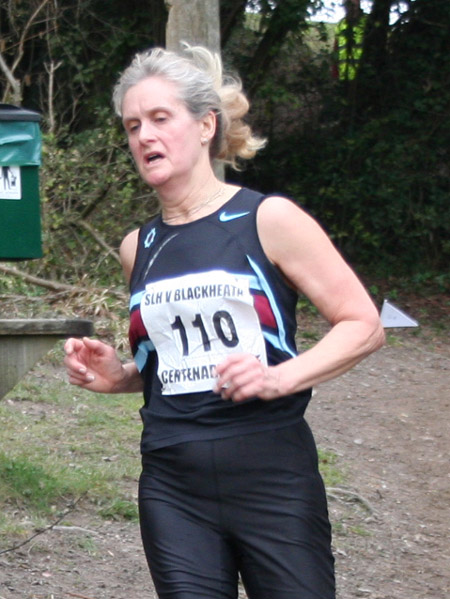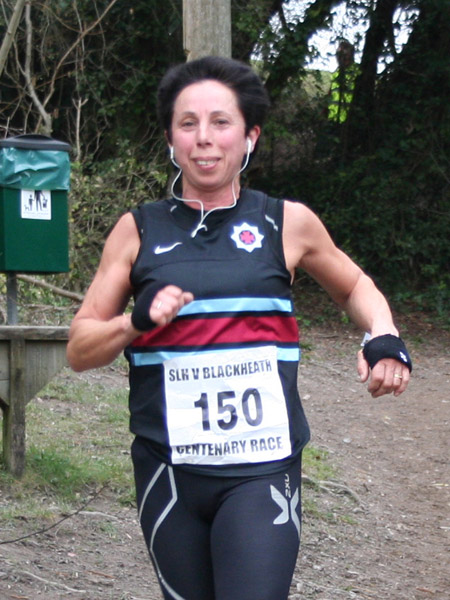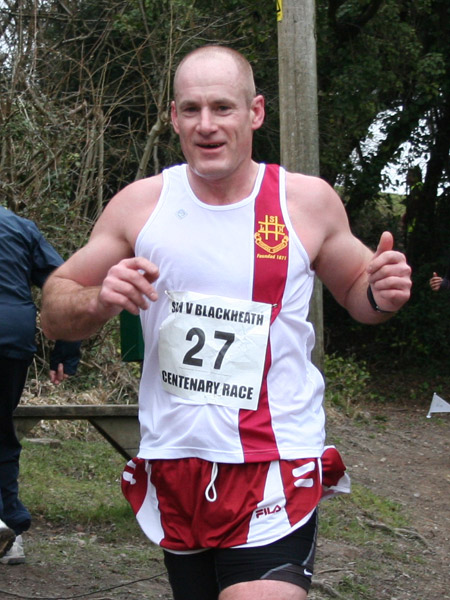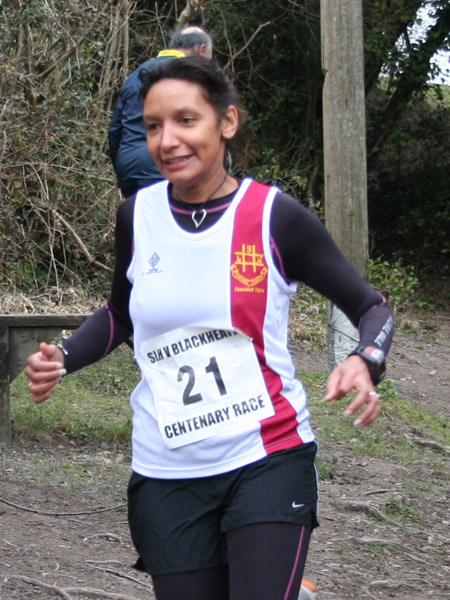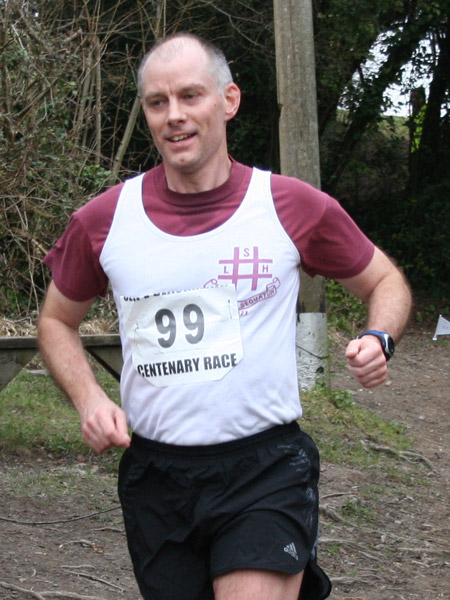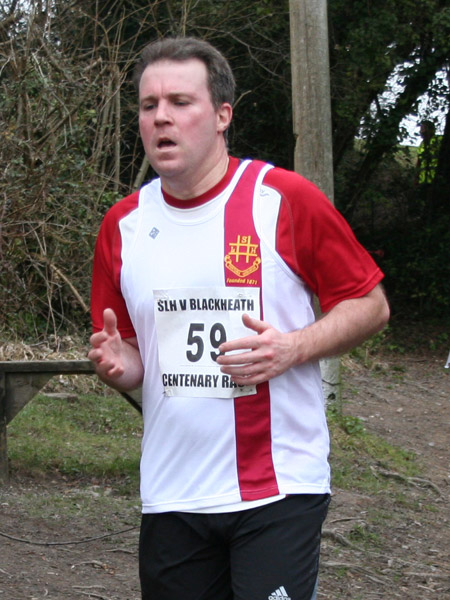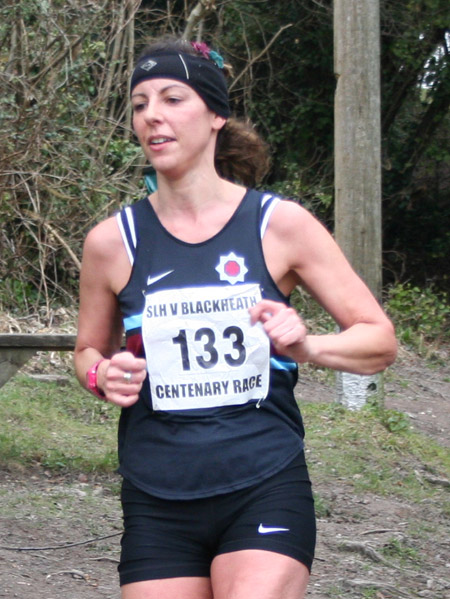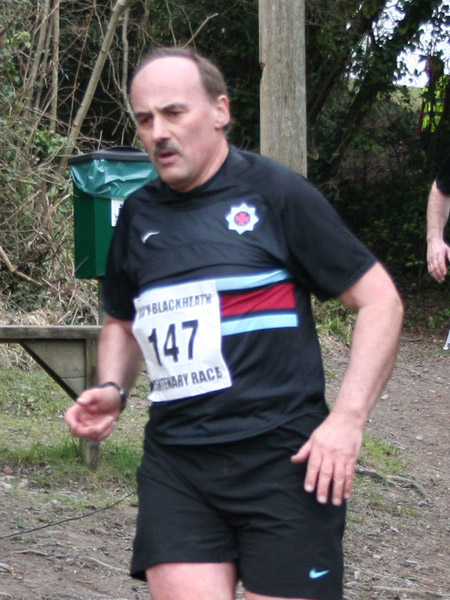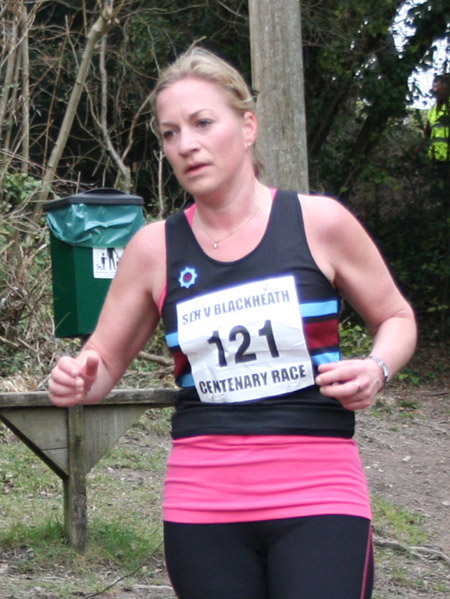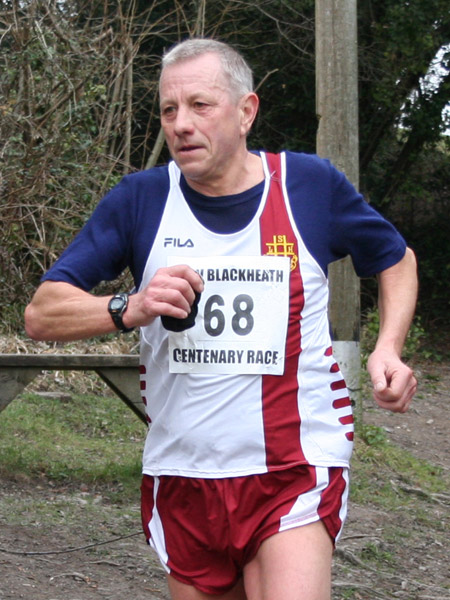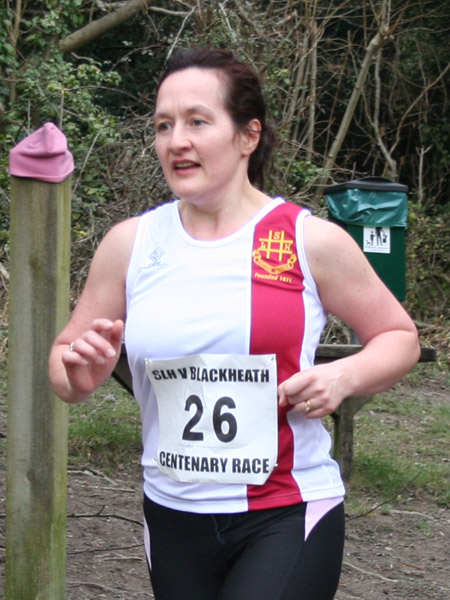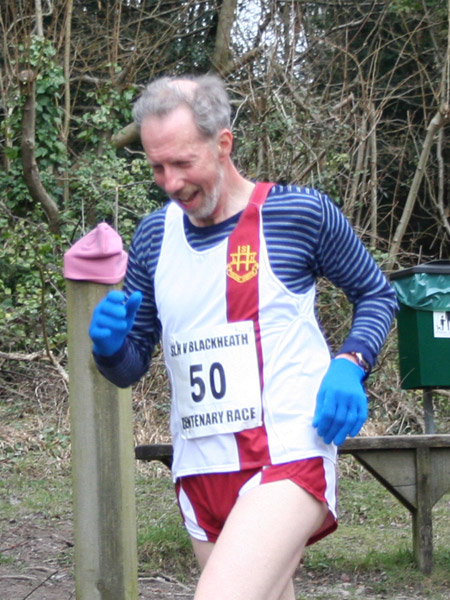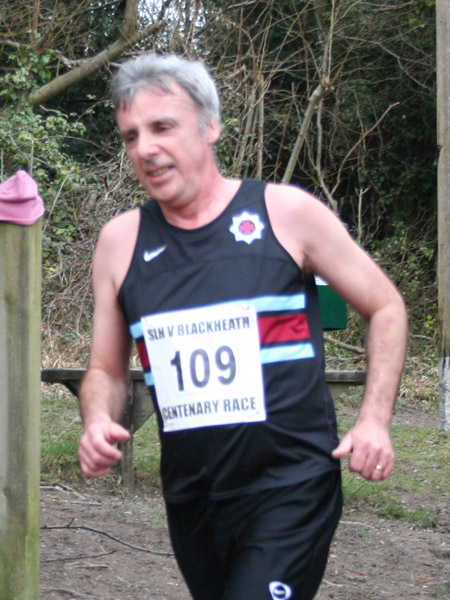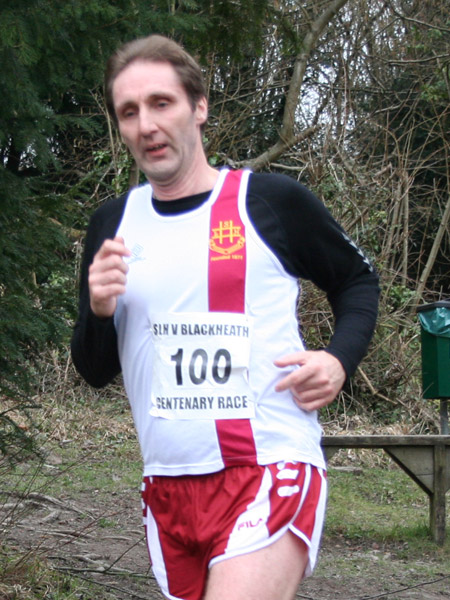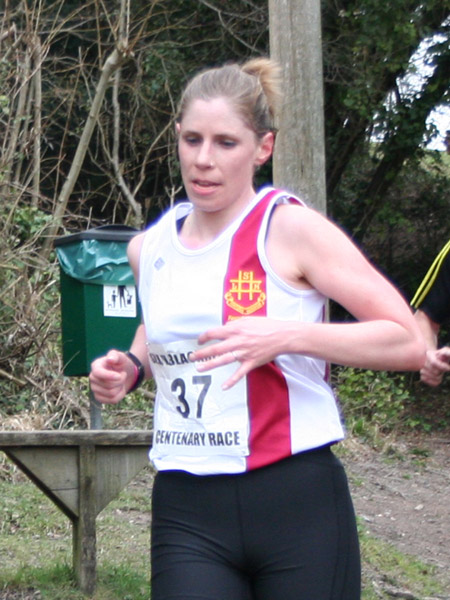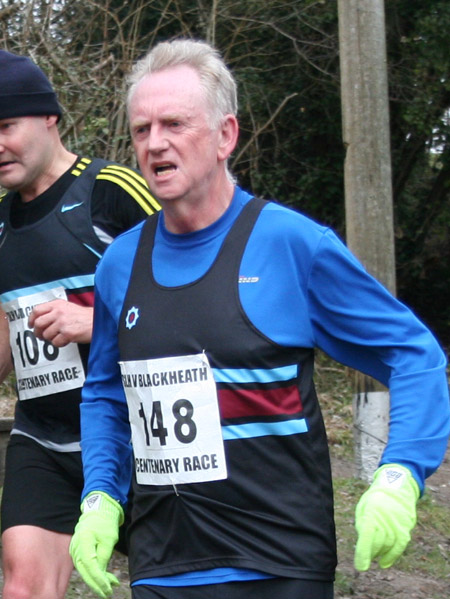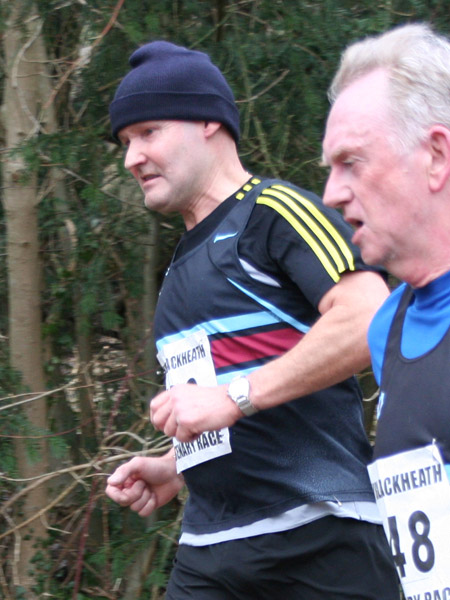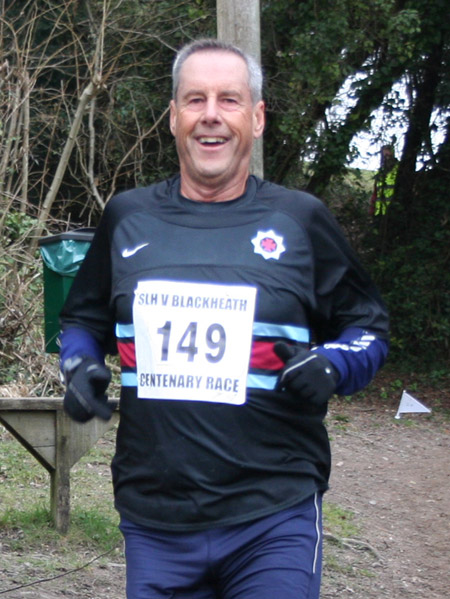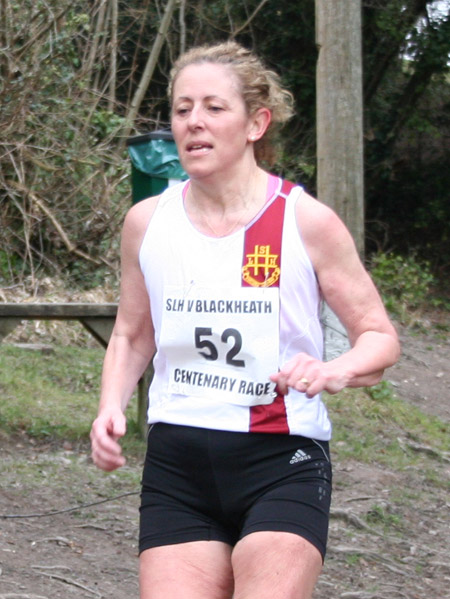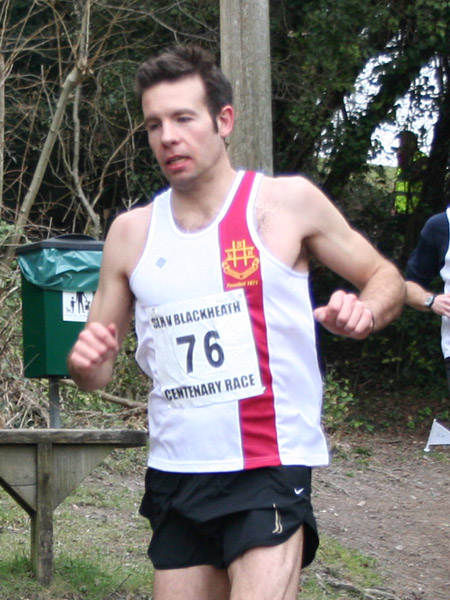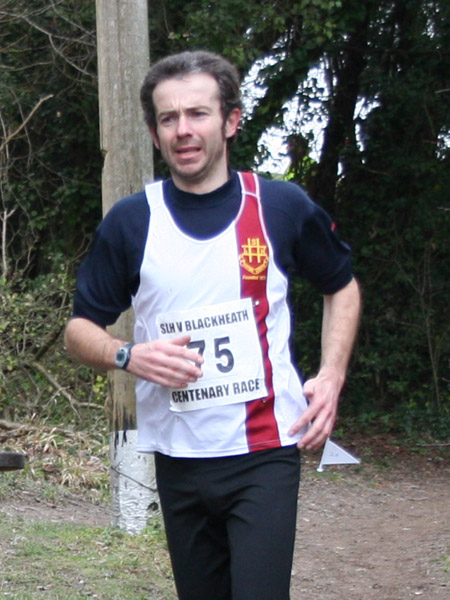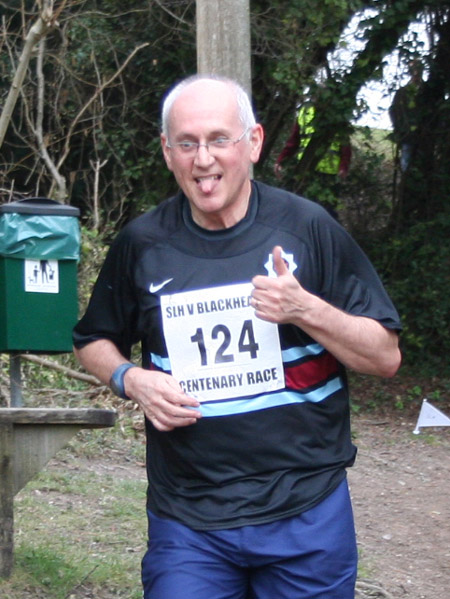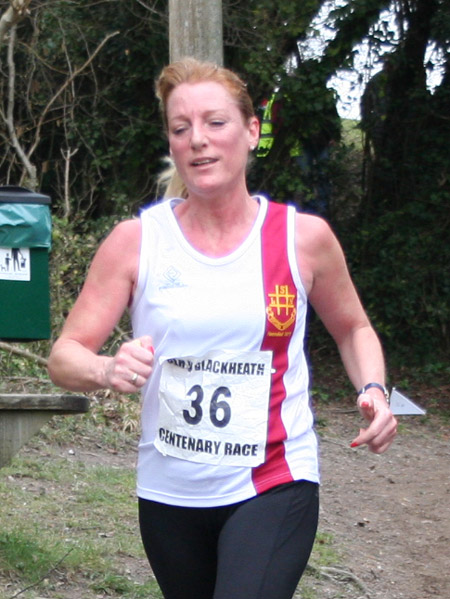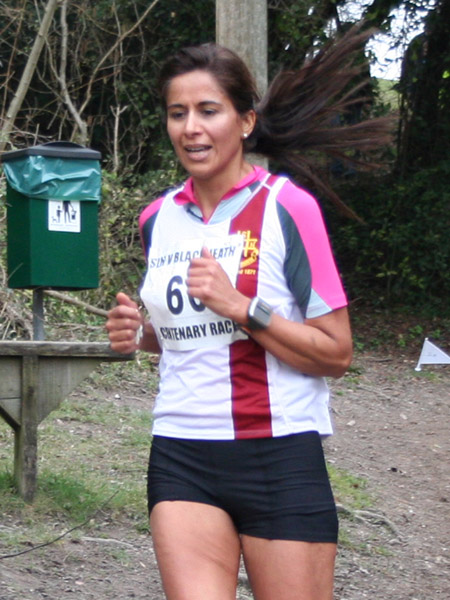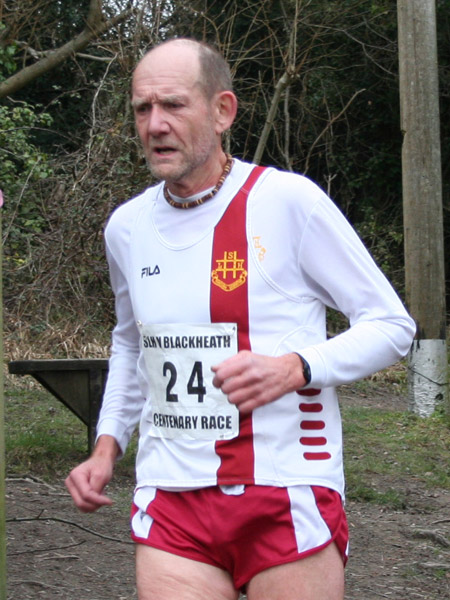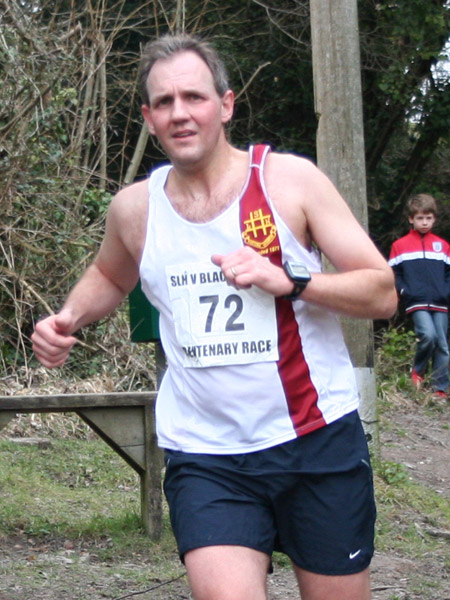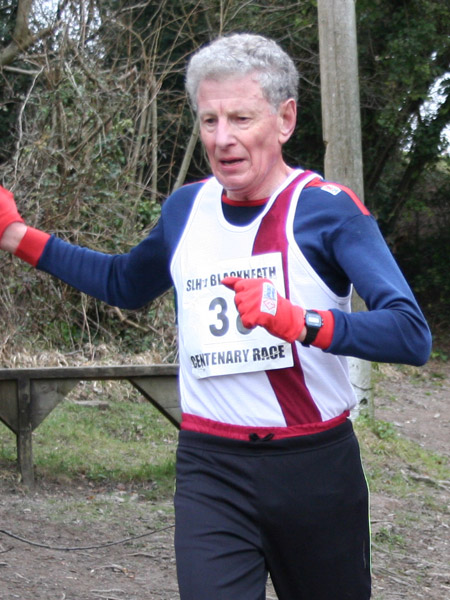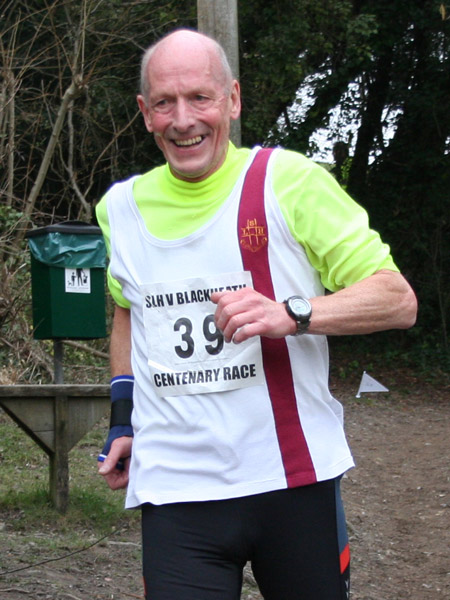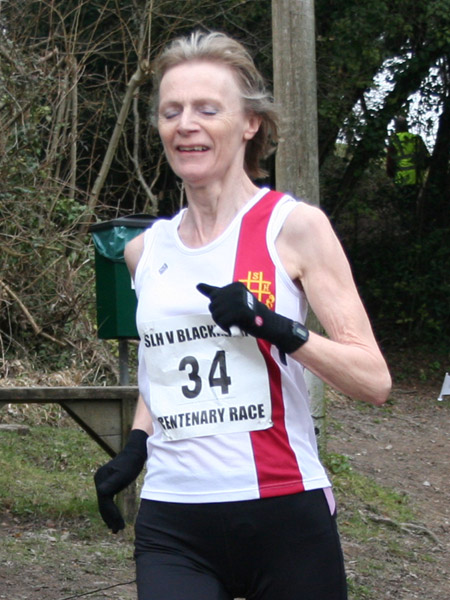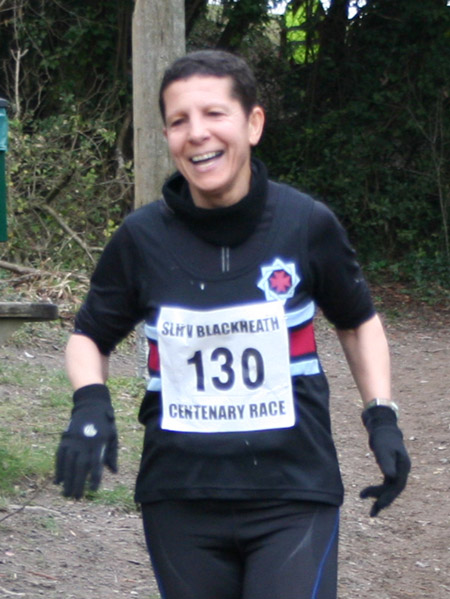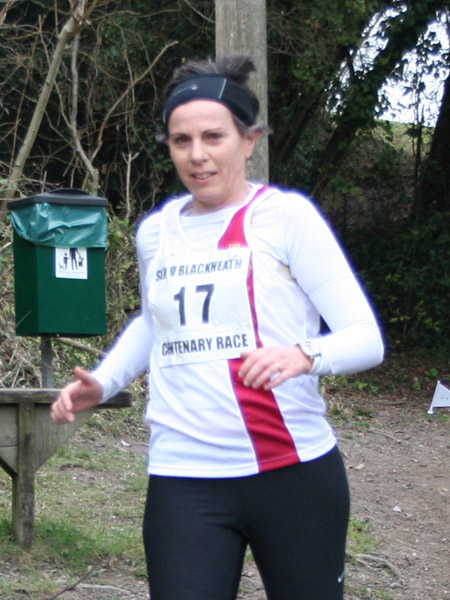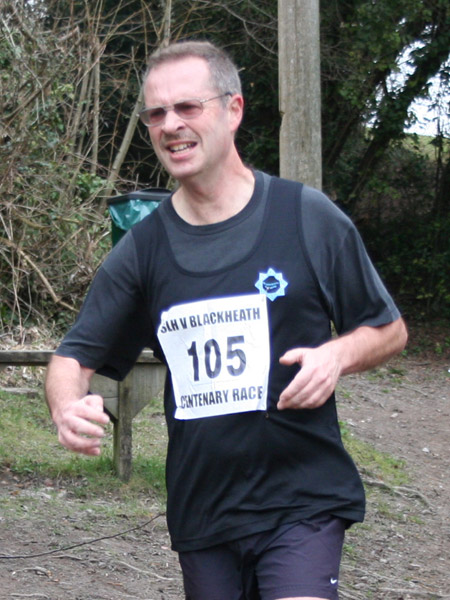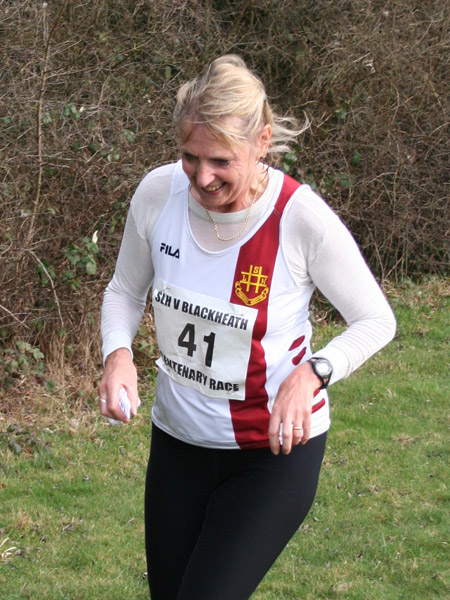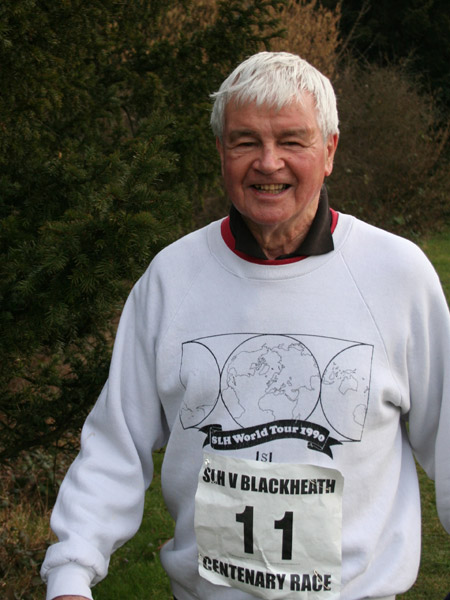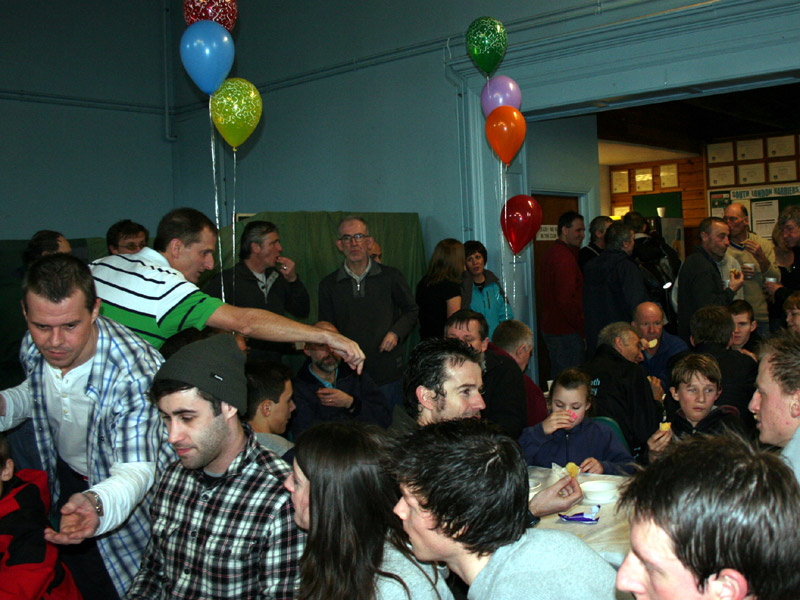 Some photos from Mick Jones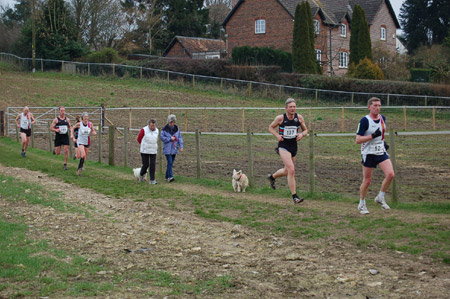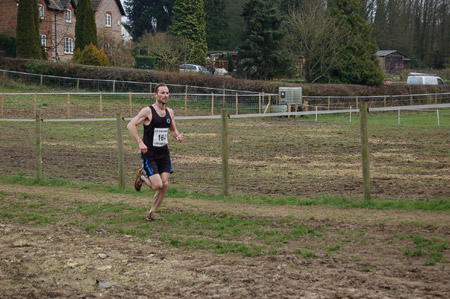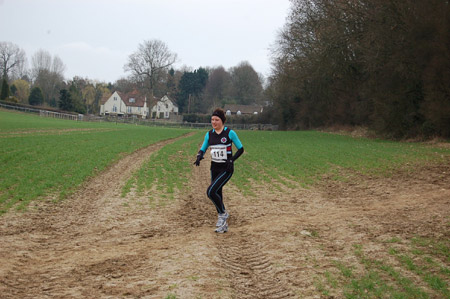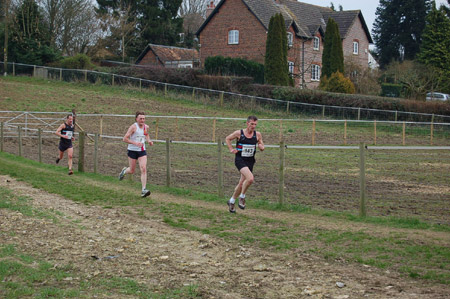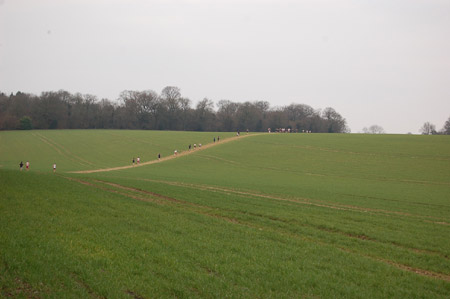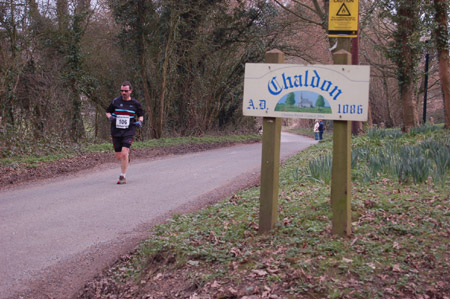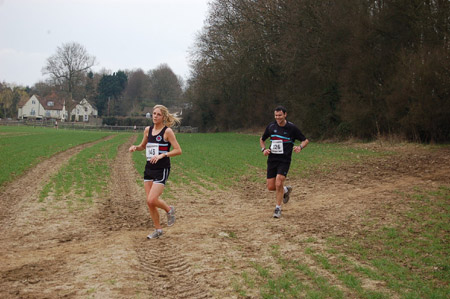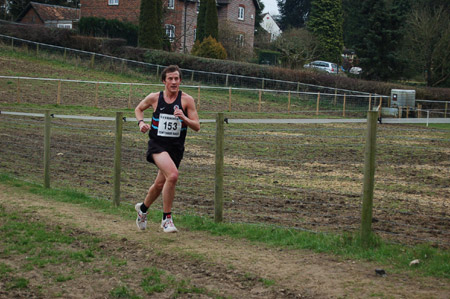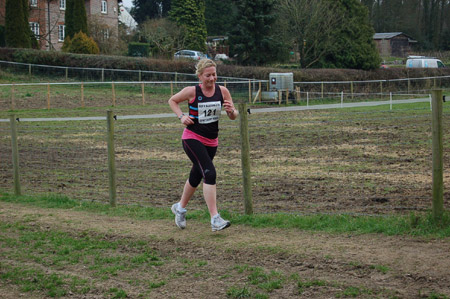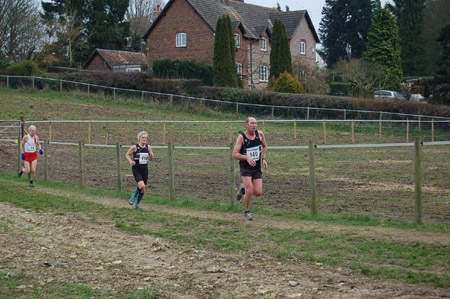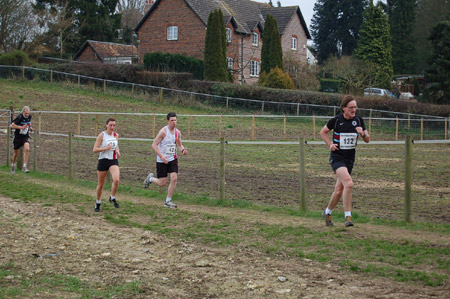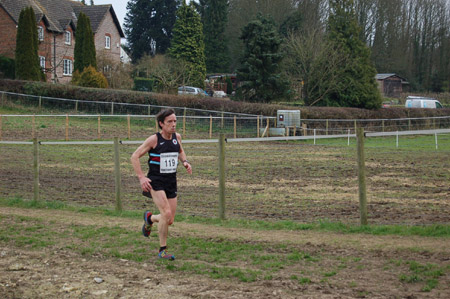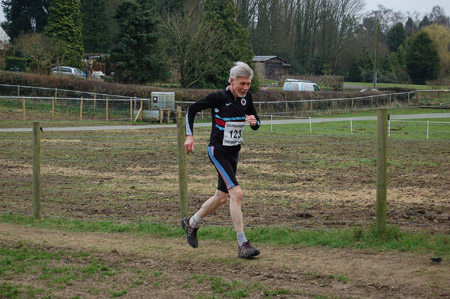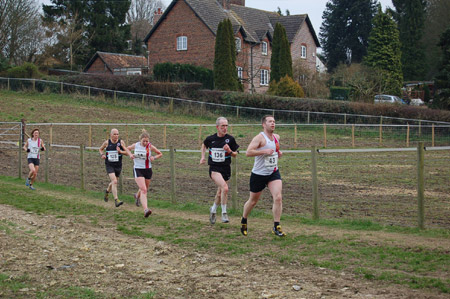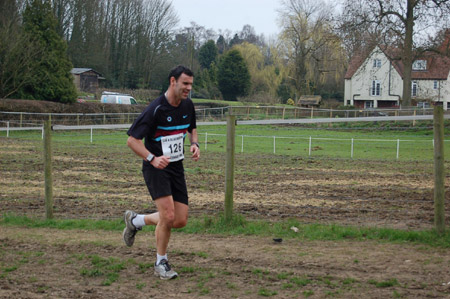 From Richard Coles

Les Roberts & Richard Coles lead Tim Soutar, Bob Gevers (SLH) & Bob Richardson in the 1981 Mob Match
End result
1st Bob Gevers, 2nd Les Roberts, 3rd Richard Coles