5 July 2009 Austria Ironman
Report from News Shopper Online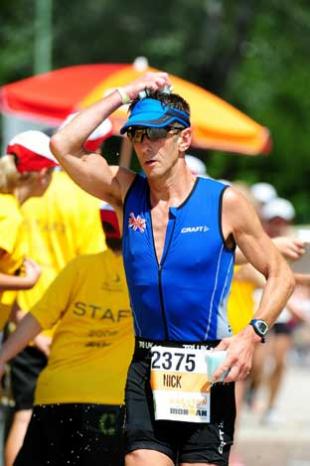 Kinsey sets new British record
10:40am Thursday 16th July 2009
BECKENHAM triathlete Nick Kinsey finished first in the over-50 category of the Austria Ironman championships at Klagenfurt in Austria.
It was an emphatic success for Kinsey, who not only finished 12 minutes clear of his long-time German rival Tim Rolf, but also set a new British record time for a 50-year-old British Ironman.
He swam 2.4 miles in 60 minutes, biked 112 miles in 4hr55s, and ran a 3hr23s minute marathon to give him an overall time of 9hr26m.
As a result, Kinsey was the only UK athlete to qualify in this race for October's world championships in Hawaii.
The challenge will be tougher still as the Australians and Americans have a few useful older triathletes, including the six-time Hawaii winner, Dave Scott.
However, Kinsey is still confident of making a podium finish.
He said: "If I can swim and bike like I did in Austria and then do a better run, perhaps nearer to three hours, then I have a good chance.
"Normally the run is my strongest discipline but in Austria I had some problems with my digestive system shutting down, possibly due to the extreme 30 degree heat and consuming too many sugary drinks.
"The German man was catching me at the half marathon stage.
"But I stopped briefly drank just water, ate a few pretzel's and suddenly I came back from the brink and sprang into life again.
"In the last five kilometres I was running faster than at any point in the whole marathon. It was very satisfying.
"I sent a postcard to my running club Blackheath Harriers to let them know the good news as they have recently formed a Blackheath Triathlon Club, so I knew they were all following the race on the internet."
To watch Kinsey take part in the world championships in Hawaii on October 10, visit www.ironmanlive.com

---
5 July 2009 Steelman Olympic distance Triathlon Dorney Lake Windsor (London & SE Championships) 1500m/40k/10k
1. Thomas Sturdy Loughborough 2.03.09 (22.29/1.01.03/37.44)
81. Paul Delicata BH&B 2.18.14 (33.25/1.11.40/40.43) 21st 30-34
118. Roy Priestley BH&B 2.31.31 (36.18/1.12.44/39.04) 23rd 35-39
289. Neil Ayrton BH&B 2.43.49 (43.01/1.13.05/43.54) 25th 45-49
320. Jim Phelan BH&B 2.45.35 (34.44/1.19.20/47.38) 2nd V60
357. Kate Pratten BH&B 2.48.22 (36.25/1.23.47/44.34) 9F 30-34
598 Finished

---
14 June 2009 - UK Ironman 70.3
Photos from Steve Hough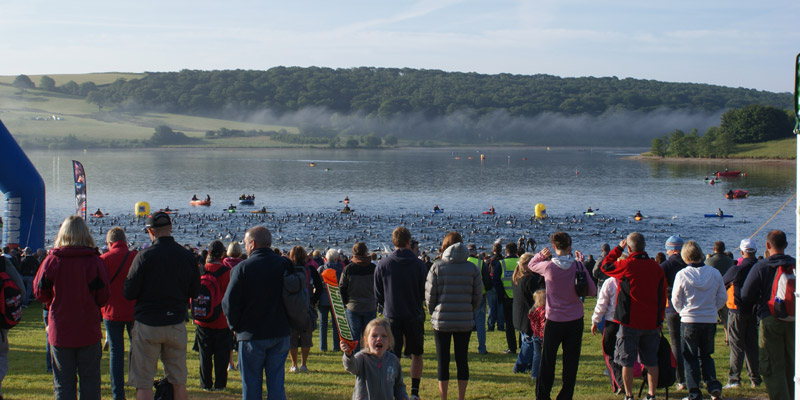 ---
Blackheath & Bromley Tri Club Update
The Tri Club has had quite a busy summer. Members have been competing in various races, including Ironman, 70.3 Ironman and Olympic distance events, more of which later.
The training routine has largely centred on Leybourne Lake with Sunday mornings seeing a mixture of all three disciplines. Mike Russell, who runs the facility, has been his usual helpful self and we now feel we are really part of his "inner circle" by him making us cups of tea!
Swimming, on Thursday evenings, has continued at Trinity
school, with the Tri members of Striders of Croydon AC.
Lanzarote Ironman 23rd May.
Nick Kinsey, John McConville and Trevor Simmons flew out to take part in, what is arguably, the toughest official Ironman in the calendar.
The event is known for its combination of heat, humidity, high wind and huge climbs.
Unfortunately Nick came down with Salmonella on the Friday before the race so was unable to compete.
When you consider that John has dipped under 11 hours for an Ironman, his time of 12:11:45 underlines just how tough a course Lanzarote is. Trevor came home in a very commendable 13:57:14. Nick would have his day.
UK Ironman 70.3 14th June
Five Blackheath & Bromley Tri Club members headed west in mid June to compete in the UK Ironman 70.3. Steve Hough, Peter Burford, Rob Drake, Kev May and Deniz Mehmed wanted to see for themselves the course that reduced the mighty Kev to a walk the previous year. They weren't disappointed. With 53 hills in 56 miles on the bike course, with the run no flatter, this one was going to be tough!
The day started with a 3am breakfast due to a 6am start time. But as the start time got nearer it was clear, unlike the reservoir, that heavy overnight mist would make the swim dangerous with over 1000 competitors going off in a mass start without being able to see where they were going.
The race start was eventually put back to 7am with much grumbling about being able to have a "lay in" until 4am if we'd have known. In reality, it was so cold at 6am that even if the conditions were clear we would have frozen on the bikes after getting out of the water.
The swim was fairly uneventful for the B&B delegation apart from the usual bun fight which is the mark of a 1000+ competitor mass start swim. I'm sure boxing lessons wouldn't go amiss as part of the training!
The bike lived up to its reputation as officially the hardest bike section of any Ironman 70.3 race globally.
The idea was floated, the day before the race, to recee the bike course but after realising that trying to remember 53 hills was next to impossible, we agreed that we should just take it for granted that around the next bend would be another hill, and there was!
The run was a mixed affair of on and off road with plenty of gradient thrown in for good measure. As a 3 lapper, the run would bring you tantalizingly close to the finish, only to send you round again, twice.
The finish finally came into view and although you felt sorry for the people who were heading out for another lap instead of the finishing funnel, secretly you didn't feel too sorry. Ha!
So that was it, a good time was had by all and Kev managed to exorcise the ghost of UK 70.3 2008 with a cracking time that, if he had hung around after to accept and pay for it, would have earned him a place at the 70.3 World Championships in Clearwater USA!
Results:
Kev May. 5:24:50
Steve Hough. 5:54:54
Rob Drake. 5:57:01
Deniz Mehmed. 5:58:19
Pete Burford. 6:38:20
Ironman Austria 5th July
Nick Kinsey's day came at Ironman Austria. After having to pull out of Ironman Lanzarote, with food poisoning, he stormed to a 9:26:13 time to finish 74th overall out of a field of over 2000 finishers.
In the process, he bagged a qualifying place at the Ironman World Championships in Hawaii later in the year.
Germany Ironman 70.3 16th August
Seven Tri Club members, Kev May, Rob Drake, Deniz Mehmed, Lisa Page, Pete Burford, Roy Priestley and Kate Pratten, signed up for the German round of Ironman 70.3.
Three weeks before the event, Pete came down with a cold which then developed into a chest infection. Time was not on his side with the infection taking longer than anticipated to clear. To make matters worse Pete managed to virtually sever the top of his thumb a week before the event. These two problems combined meant "Nine Fingers" was, unfortunately, well and truly out of the game.
Unseasonably hot weather greeted the athletes on the day of the race with temperatures hitting 30 degrees midday.
The swim was a classic "out and back" affair with water temperatures just below the level where wetsuits would be deemed illegal. This is due to the real possibility of athletes overheating in the water.
The bike course was very picturesque, looking, in places, like a backdrop for the Sound Of Music. Instead of the UK's 53 hills in 56 miles, the German course had 3 major climbs, which never the less, nearly added up to the same amount ascent as the UK course.
The run was a 4 lapper through mostly parkland. The heat was taking its toll with all of the competitors feeling the strain and unfortunately Roy was forced to pull out with only about a mile to go to the finish. Kate, on seeing Roy in trouble, pulled out also to accompany Roy in the ambulance to hospital. A really selfless act which shouldn't go without being applauded.
Kev had another good race with Rob, Deniz and Lisa completing the quartet of B&B finishers.
Results:
Kev May. 5:20:49
Rob Drake. 5:50:01
Deniz Mehmed. 5:58:28
Lisa Page. 6:34:05