Page 2 - Summer2014Gazette
P. 2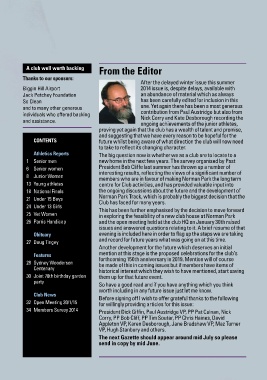 2

    A club well worth backing        From the Editor

   Thanks to our sponsors:                                 After the delayed winter issue this summer
   Biggin Hill Airport                                     2014 issue is, despite delays, available with
   Jack Petchey Foundation                                 an abundance of material which as always
   So Clean                                                has been carefully edited for inclusion in this
   and to many other generous                              one. Yet again there has been a most generous
   individuals who offered backing                         contribution from Paul Austridge but also from
   and assistance.                                         Nick Corry and Kate Desborough recording the
                                                           ongoing achievements of the junior athletes,
     	CONTENTS                       proving yet again that the club has a wealth of talent and promise,
                                     and suggesting that we have every reason to be hopeful for the
     	 Athletics Reports             future whilst being aware of what direction the club will now need
     1	 Senior men                   to take to reflect its changing character.
     6	 Senior women                 The big question now is whether we as a club are to locate to a
     8	 Junior Women                 new home in the next few years. The survey organised by Past
     13	 Young athletes              President Bob Cliffe last summer has thrown up a number of
     18	 National Finals             interesting results, reflecting the views of a significant number of
     21	 Under 15 Boys               members who are in favour of making Norman Park the long term
     24	 Under 13 Girls              centre for Club activities, and has provided valuable input into
     25	 Vet Women                   the ongoing discussions about the future and the development of
     26	 Parris Handicap             Norman Park Track, which is probably the biggest decision that the
                                     Club has faced for many years.
     	Obituary                       This has been further emphasised by the decision to move forward
     27	 Doug Tingey                 in exploring the feasibility of a new club house at Norman Park
                                     and the open meeting held at the club HQ on January 30th raised
     	Features                       issues and answered questions relating to it. A brief resume of that
     28	Sydney Wooderson            evening is included here in order to flag up the steps we are taking
                                     and record for future years what was going on at this time.
         Centenary                   Another development for the future which deserves an initial
     30	Joint 70th birthday garden  mention at this stage is the proposed celebrations for the club's
                                     forthcoming 150th anniversary in 2019. Mention will of course
         party                       be made of this in coming issues but if members have items of
                                     historical interest which they wish to have mentioned, start saving
     	 Club News                     them up for that future event.
     32	 Open Meeting 30/1/15        So have a good read and if you have anything which you think
     34	 Members Survey 2014         worth including in any future issue just let me know.
                                     Before signing off I wish to offer grateful thanks to the following
                                     for willingly providing articles for this issue:
                                     President Dick Giffin, Paul Austridge VP, PP Pat Calnan, Nick
                                     Corry, PP Bob Cliff, PP Tim Soutar, PP Chris Haines, David
                                     Appleton VP, Karen Desborough, Jane Bradshaw VP, Maz Turner
                                     VP, Hugh Stanbury and others.
                                     The next Gazette should appear around mid July so please
                                     send in copy by mid June.