Page 4 - Summer2014Gazette
P. 4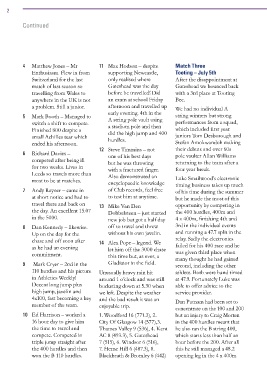 2

       Continued

4	 Matthew Jones – Mr            11	 Max Hodson – despite        Match Three
    Enthusiasm. Flew in from         supporting Newcastle,       Tooting – July 5th
    Switzerland for the last         only realised where         After the disappointment at
    match of last season so          Gateshead was the day       Gateshead we bounced back
    travelling from Wales to         before he travelled! Did    with a 3rd place at Tooting
    anywhere in the UK is not        an exam at school Friday    Bec.
    a problem. Still a junior.       afternoon and travelled up
                                     early evening. 4th in the   We had no individual A
5	 Mark Booth – Managed to           A string pole vault using   string winners but strong
    switch a shift to compete.       a stadium pole and then     performances from a squad,
    Finished 800 despite a           did the high jump and 400   which included first year
    small Achilles tear which        hurdles.                    juniors Tom Desborough and
    ended his afternoon.                                         Stefan Amokwandoh making
                                 12	 Steve Timmins – not         their debuts and over 60s
6	 Richard Davies –                  one of his best days        pole vaulter Allan Williams
    competed after being ill         but he was throwing         returning to the team after a
    for two weeks. Lives in          with a fractured finger.    four year break.
    Leeds so travels more than       Also demonstrated an
    most to be at matches.           encyclopaedic knowledge     Luke Smallwood's electronic
                                     of Club records, feel free  timing business takes up much
7	 Andy Rayner – came in             to test him at anytime.     of his time during the summer
    at short notice and had to                                   but he made the most of this
    travel there and back on     13	 Mike Van Den                opportunity by competing in
    the day. An excellent 15.07      Dobbelsteen – just started  the 400 hurdles, 400m and
    in the 5000.                     new job but got a half day  4 x 400m, finishing 4th and
                                     off to travel and threw     3rd in the individual events
8	 Dan Kennedy – likewise.           without his own javelin.    and running a 47.7 split in the
    Up on the day for the                                        relay. Sadly the electronics
    chase and off soon after     14	 Alex Pope – legend. We      failed for his 400 race and he
    as he had an evening             let him off the 3000 chase  was given third place when
    commitment.                      this time but, as ever, a   many thought he had gained
                                     Gladiator in the field.     second, including the other
9	 Mark Cryer – 2nd in the                                       athlete. Both were hand timed
    110 hurdles and his picture  Unusually heavy rain hit        at 47.9. Fortunately Luke was
    in Athletics Weekly!         around 1 o'clock and was still  able to offer advice to the
    Decent long jump plus        bucketing down at 5.30 when     service provider.
    high jump, javelin and       we left. Despite the weather
    4x100, fast becoming a key   and the bad result it was an    Dan Putnam had been set to
    member of the team.          enjoyable trip.                 concentrate on the 100 and 200
                                 1. Woodford 16 (771.3), 2.      but an injury to Craig Morten
10	 Ed Harrison – worked a       City Of Glasgow 14 (577),3.     in the 400 hurdles meant that
    16 hour day to give him      Thames Valley 9 (536), 4. Kent  he also ran the B string 400,
    the time to travel and       AC 8 (493.3), 5. Gateshead      which starts less than half an
    compete. Competed in         7 (515), 6. Windsor 6 (516),    hour before the 200. After all
    triple jump straight after   7. Herne Hill 6 (487.3), 8.     this he still managed a 48.2
    the 400 hurdles and then     Blackheath & Bromley 6 (442)    opening leg in the 4 x 400m.
    won the B 110 hurdles.