Page 3 - Summer2014Gazette
P. 3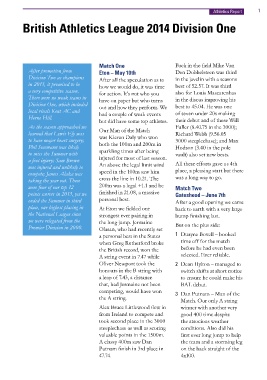 Athletics Report                   1

British Athletics League 2014 Division One

After promotion from            Match One                         Back in the field Mike Van
Division Two as champions       Eton – May 10th                   Den Dobbelsteen was third
in 2013, it promised to be      After all the speculation as to   in the javelin with a seasons
a very competitive season.      how we would do, it was time      best of 52.57. It was third
There were no weak teams in     for action. It's not who you      also for Louis Mascarenhas
Division One, which included    have on paper but who turns       in the discus improving his
local rivals Kent AC and        out and how they perform. We      best to 45.04. He was one
Herne Hill.                     had a couple of weak events       of seven under 20s making
As the season approached we     but did have some top athletes.   their debut and of these Will
learned that Lewis Ely was                                        Fuller (8.40.75 in the 3000);
to have major heart surgery;    Our Man of the Match              Richard Webb (9.56.05
Phil Sesemann was likely        was Kieran Daly who won           3000 steeplechase); and Max
to miss the Summer with         both the 100m and 200m in         Hodson (3.40 in the pole
a foot injury; Sam Brown        sparkling times after being       vault) also set new bests.
was injured and unlikely to     injured for most of last season.
compete; James Alaka was        An above the legal limit wind     All these efforts gave us 4th
taking the year out. These      speed in the 100m saw him         place, a pleasing start but there
were four of our top 12         cross the line in 10.21. The      was a long way to go.
points scorers in 2013, yet we  200m was a legal +1.1 and he
ended the Summer in third       finished in 21.08, a massive      Match Two
place, our highest placing in   personal best.                    Gateshead – June 7th
the National League since                                         After a good opening we came
we were relegated from the      At Eton we fielded our            back to earth with a very large
Premier Division in 2000.       strongest ever pairing in         bump finishing last.
                                the long jump. Jermaine
                                Olasan, who had recently set      But on the plus side:
                                a personal best in the States
                                when Greg Rutherford broke        1	 Duayne Bovell – booked
                                the British record, won the         time off for the match
                                A string event in 7.47 while        before he had even been
                                Oliver Newport took the             selected. Ever reliable.
                                honours in the B string with
                                a leap of 7.43, a distance        2	 Dean Hylton – managed to
                                that, had Jermaine not been         switch shifts at short notice
                                competing, would have won           to ensure he could make his
                                the A string.                       BAL debut.

                                Alex Bruce Littlewood flew in     3	 Dan Putnam – Man of the
                                from Ireland to compete and         Match. Our only A string
                                took second place in the 3000       winner with another very
                                steeplechase as well as scoring     good 400 time despite
                                valuable points in the 1500m.       the atrocious weather
                                A classy 400m saw Dan               conditions. Also did his
                                Putnam finish in 3rd place in       first ever long jump to help
                                47.74.                              the team and a storming leg
                                                                    on the back straight of the
                                                                    4x100.