Page 16 - BBHAC Winter 2015-16 Gazette
P. 16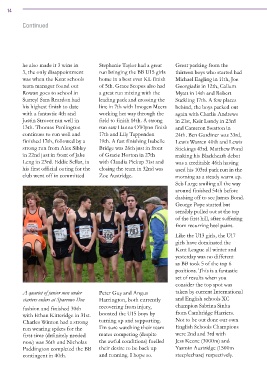 14

       Continued

he also made it 3 wins in          Stephanie Taylor had a great     Great packing from the
3, the only disappointment         run bringing the BB U15 girls    thirteen boys who started had
was when the Kent schools          home in a best ever KL finish    Michael Eagling in 11th, Joe
team manager found out             of 5th. Grace Scopes also had    Georgiadis in 12th, Callum
Rowan goes to school in            a great run mixing with the      Myatt in 14th and Robert
Surrey! Sam Reardon had            leading pack and crossing the    Suckling 17th. A few places
his highest finish to date         line in 7th with Imogen Meers    behind, the boys packed out
with a fantastic 4th and           working her way through the      again with Charlie Andrews
Justin Strover ran well in         field to finish 14th. A strong   in 21st, Keir Lundy in 23rd
13th. Thomas Penlington            run saw Hanna O'Flynn finish     and Cameron Swatton in
continues to run well and          17th and Lily Tappenden          24th. Ben Gardiner was 33rd,
finished 17th, followed by a       19th. A fast finishing Isabelle  Lewis Warren 40th and Lewis
strong run from Alex Sibley        Bridge was 26th just in front    Stickings 43rd. Matthew Pond
in 22nd just in front of Jake      of Gracie Horton in 27th         making his Blackheath debut
Leng in 23rd. Eddie Sellar, in     with Claudia Pickup 31st and     was a creditable 46th having
his first official outing for the  closing the team in 32nd was     used his 103rd park run in the
club went off in committed         Zoe Austridge.                   morning as a steady warm up.
                                                                    Seb Large smiling all the way
A quartet of junior men under      Peter Guy and Angus              around finished 54th before
starters orders at Sparrows Den    Harrington, both currently       dashing off to see James Bond.
fashion and finished 30th          recovering from injury,          George Pope started but
with Ethan Kitteridge in 31st.     boosted the U15 boys by          sensibly pulled out at the top
Charles Winton had a strong        turning up and supporting.       of the first hill, after suffering
run wearing spikes for the         I'm sure watching their team     from recurring heel pains.
first time (definitely needed      mates competing (despite
now) was 36th and Nicholas         the awful conditions) fuelled    Like the U13 girls, the U17
Paddington completed the BB        their desire to be back up       girls have dominated the
contingent in 40th.                and running. I hope so.          Kent League all winter and
                                                                    yesterday was no different
                                                                    as BB took 5 of the top 6
                                                                    positions. This is a fantastic
                                                                    set of results when you
                                                                    consider the top spot was
                                                                    taken by current International
                                                                    and English schools XC
                                                                    champion Sabrina Sinha
                                                                    from Cambridge Harriers.
                                                                    Not to be out done our own
                                                                    English Schools Champions
                                                                    were 2nd and 3rd with
                                                                    Jess Keene (3000m) and
                                                                    Yasmin Austridge (1500m
                                                                    steeplechase) respectively.