Page 21 - BBHAC Winter 2015-16 Gazette
P. 21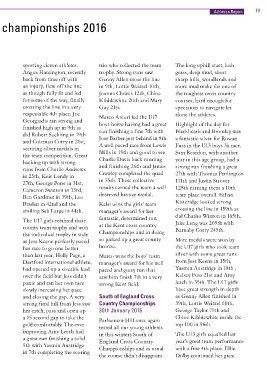 Athletics Report               19

championships 2016

sporting eleven athletes.        trio who collected the team      The long uphill start, lush
Angus Harrington, recently       trophy. Strong runs saw          grass, deep mud, short
back from time off with          Genny Allen cross the line       sharp hills, woodlands and
an injury, flew off the line     in 9th, Lottie Weitzel 10th,     more mud make for one of
as though fully fit and led      Joanna Clowes 12th, Chloe        the toughest cross country
for some of the way, finally     Kibblewhite 20th and Mary        courses, hard enough for
crossing the line in a very      Guy 21st.                        spectators to navigate let
respectable 4th place. Joe                                        alone the athletes.
Georgiadis ran strong and        Marco Arcuri led the U17
finished high up in 9th as       boys home having had a great     Highlight of the day for
did Robert Suckling in 19th      run finishing a fine 7th with    Blackheath and Bromley was
and Coleman Corry in 21st,       Joss Barber just behind in 8th.  a fantastic silver for Rowan
securing silver medals in        A well paced race from Lewis     Fuss in the U13 boys 3k race.
the team competition. Great      Mills in 19th and good to see    Sam Reardon, with another
backing up with strong           Charlie Davis back running       year in this age group, had a
runs from Charlie Andrews        and finishing 26th and James     strong run finishing a great
in 25th, Keir Lundy in           Crawley completed the quad       27th with Thomas Penlington
27th, George Pope in 31st,       in 35th. These collective        111th and Justin Strover
Cameron Swatton in 33rd,         results earned the team a well   128th earning them a 10th
Ben Gardiner in 39th, Leo        deserved bronze medal.           team place overall. Ethan
Braden in 42nd and the                                            Kitteridge looked strong
smiling Seb Large in 44th.       Kelsi wins the girls' team       crossing the line in 159th as
                                 manager's award for her          did Charles Winton in 165th.
The U17 girls retained their     fantastic, determined run        Jake Leng was 209th with
county team trophy and won       at the Kent cross country        Barnaby Corry 245th.
the individual trophy in style   Championships and in doing
as Jess Keene perfectly paced    so picked up a great county      More medals were won by
her race to go one better        bronze.                          the U17 girls who took team
than last year. Holly Page, a                                     silver with some great runs
Dartford international athlete,  Marco wins the boys' team        from Jess Keene in 15th,
had opened up a sizeable lead    manager's award for his well     Yasmin Austridge in 18th ,
over the field but Jess didn't   paced and gutsy run that         Kelsey Fuss 21st and Amy
panic and ran her own race       saw him finish 7th in a very     leach in 35th. The U17 girls
slowly increasing her pace       strong Kent field.               have great strength in depth
and closing the gap. A very                                       as Genny Allen finished in
strong final hill from Jess saw  South of England Cross           39th, Lottie Weitzel 60th,
her catch, pass and open up      Country Championships            George Taylor 75th and
a 15 second gap to take the      30th January 2016                Chloe Kibblewhite inside the
gold comfortably. The ever                                        top 100 in 98th.
improving Amy Leech had          Parliament Hill once again
a great run finishing a solid    tested all our young athletes    The U13 girls equalled last
5th with Yasmin Austridge        in this winters South of         year's great team performance
in 7th completing the scoring    England Cross Country            with a fine 4th place. Ellie
                                 Championships and as usual       Dolby continued her great
                                 the course didn't disappoint.