Page 17 - BBHAC Winter 2015-16 Gazette
P. 17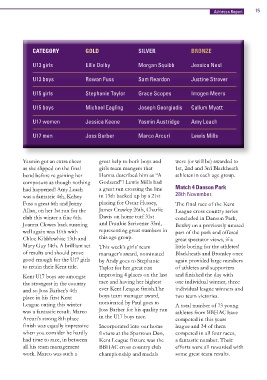 Athletics Report         15

CATEGORY   GOLD                 SILVER                           BRONZE
U13 girls  Ellie Dolby
U13 boys   Rowan Fuss           Morgan Squibb                    Jessica Neal
U15 girls  Stephanie Taylor
U15 boys   Michael Eagling      Sam Reardon                      Justine Strover
U17 women  Jessica Keene
U17 men    Joss Barber          Grace Scopes                     Imogen Meers

                                Joseph Georgiadis Callum Myatt

                                Yasmin Austridge Amy Leach

                                Marco Arcuri                     Lewis Mills

Yasmin got an extra cheer       great help to both boys and      were (or will be) awarded to
as she slipped on the final     girls team mangers that          1st, 2nd and 3rd Blackheath
bend before re gaining her      Hanna described him as "A        athletes in each age group.
composure as though nothing     Godsend"! Lewis Mills had
had happened! Amy Leach         a great run crossing the line    Match 4 Danson Park
was a fantastic 4th, Kelsey     in 13th backed up by a 21st      28th November.
Fuss a great 6th and Jenny      placing for Oscar Hussey,
Allan, on her 1st run for the   James Crawley 26th, Charlie      The final race of the Kent
club this winter a fine 6th.    Davis on home turf 31st          League cross country series
Joanna Clowes back running      and Frankie Scrivener 33rd,      concluded in Danson Park,
well again was 10th with        representing great numbers in    Bexley on a previously unused
Chloe Kibblewhite 13th and      this age group.                  part of the park and offered
Mary Guy 14th. A brilliant set                                   great spectator views, if a
of results and should prove     This week's girls' team          little boring for the athletes!
good enough for the U17 girls   manager's award, nominated       Blackheath and Bromley once
to retain their Kent title.     by Andy goes to Stephanie        again provided large numbers
                                Taylor for her great run         of athletes and supporters
Kent U17 boys are amongst       improving 4 places on the last   and finished the day with
the strongest in the country    race and having her highest      one individual winner, three
and so Joss Barber's 4th        ever Kent League finish.The      individual league winners and
place in his first Kent         boys team manager award,         two team victories.
League outing this winter       nominated by Paul goes to
was a fantastic result. Marco   Joss Barber for his quality run  A total number of 73 young
Arcuri's strong 8th place       in the U17 boys race.            athletes from BBHAC have
finish was equally impressive                                    competed in this years
when you consider he hardly     Incorporated into our home       league and 34 of them
had time to race, in between    fixture at the Sparrows Den,     competed in all four races,
all his team management         Kent League fixture was the      a fantastic number. Their
work. Marco was such a          BBHAC cross country club         efforts were all rewarded with
                                championship and medals          some great team results.