Page 7 - BBHAC Winter 2015-16 Gazette
P. 7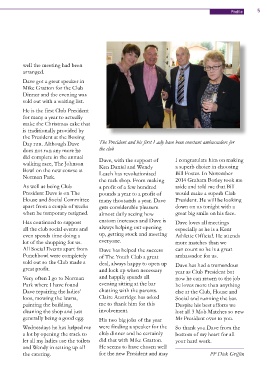 Profile                              5

well the meeting had been          The President and his first Lady have been constant ambassadors for
arranged.                          the club
Dave got a great speaker in
Mike Gratton for the Club          Dave, with the support of       I congratulate him on making
Dinner and the evening was         Ken Daniel and Wendy            a superb choice in choosing
sold out with a waiting list.      Leach has revolutionised        Bill Foster. In November
He is the first Club President     the tuck shop. From making      2014 Graham Botley took me
for many a year to actually        a profit of a few hundred       aside and told me that Bill
make the Christmas cake that       pounds a year to a profit of    would make a superb Club
is traditionally provided by       many thousands a year. Dave     President. He will be looking
the President at the Boxing        gets considerable pleasure      down on us tonight with a
Day run. Although Dave             almost daily seeing how         great big smile on his face.
does not run any more he           custom increases and Dave is    Dave loves all meetings
did complete in the annual         always helping out opening      especially as he is a Kent
walking race, The Johnson          up, getting stock and meeting   Athletic Official. He attends
Bowl on the new course at          everyone.                       more matches than we
Norman Park.                       Dave has helped the success     can count so he is a great
As well as being Club              of The Youth Club a great       ambassador for us.
President Dave is on The           deal, always happy to open up   Dave has had a tremendous
House and Social Committee         and lock up when necessary      year as Club President but
apart from a couple of weeks       and happily spends all          now he can return to the job
when he temporary resigned.        evening sitting at the bar      he loves more than anything
Has continued to support           chatting with the parents.      else at the Club, House and
all the club social events and     Claire Austridge has asked      Social and running the bar.
even spends time doing a           me to thank him for this        Despite his best efforts we
lot of the shopping for us.        involvement.                    lost all 3 Mob Matches so new
All Social Events apart from       His two big jobs of the year    Mr President over to you.
Punchbowl were completely          were finding a speaker for the  So thank you Dave from the
sold out so the Club made a        club dinner and he certainly    bottom of my heart for all
great profit.                      did that with Mike Gratton.     your hard work.
Very often I go to Norman          He seems to have chosen well
Park where I have found            for the new President and may                     PP Dick Griffin
Dave repairing the ladies'
loos, mowing the lawns,
painting the building,
cleaning the shop and just
generally being a good egg.
Wednesdays he has helped me
a lot by opening the track to
let all my ladies use the toilets
and Wendy in setting up all
the catering.