---
15 December 2018 - South of Thames Champs - Beckenham Place Park

Results from Saturday's South of Thames 7.5 miles(ish) @ Beckenham:

Team was 11th - of those clubs with 6 runners or more

Full BBHAC competitors: 366 finishers

| | | | | |
| --- | --- | --- | --- | --- |
| Overall | M/W race | Name | Club | Time |
| 49 | M47 | Tony Desborough | B&B | 42:44 |
| 57 | M54 | Gareth Evans M40 | B&B | 43:27 |
| 65 | M61 | Dan Kennedy | B&B | 44:06 |
| 77 | M72 | Luca Ercolani M45 | B&B | 44:44 |
| 120 | M104 | Len Crowder M50 | B&B | 47:49 |
| 138 | M120 | Nigel Haffenden M50 | B&B | 48:53 |
| 145 | M126 | Steve Hough M45 | B&B | 49:22 |
| 173 | M149 | Steve Pairman M55 | B&B | 50:54 |
| 222 | W42 | Sally Haffenden W45 | B&B | 54:37 |
| 244 | M182 | Rod Harrington M50 | B&B | 56:10 |
Steve Pairman
So on Saturday a hardcore group of Heathens made the short trip to Beckenham Place Park for the South of the Thames 7.5 miles race.
In what was a bitterly wet and cold afternoon and with the first lap being a chaotic affair due to marshalling errors. Well done to everyone that toughed it out and turned out a Blackheath team of 10 senior men and 1 lady.
Leading the team home was the ever improving Tom Desborough who seems to be showing that stopping the university party lifestyle is beneficial to your running.
Next home making his way through the pack as the race went on was Gareth Evans. If he had known where the finish was might have finished further forward. Next came Luca Ercolani and team Manager Dan Kennedy.
The packing continued as Len Crowder, Nigel Haffenden, Steve Hough and Steve Pairman all came home in what for the manager trying to write the results down with freezing hands felt like a mad rush.
Rod Harrington was next in and due to the conditions would have been wise to not stop at the finish line and just keep running back to his front door.
Leading the charge for the V45s was Luigi Arcuri being watched on by Marco in a reversal of their more usual dynamic.
A shout out also to Sally Haffenden for being the sole reprsentitive for the senior lady team.
Well done everyone. Sorry I can't confirm results yet but will do my best to get them out as soon as possible.
Well done everyone and Happy Christmas. See you at the Kent Champs.
Ross, Dan and Chris.

---
1 December 2018 - Kent Masters - Central Park Dartford
Alex Gibbins was the winner.
Another great set of results at the Kent Vets.
Alex Gibbins won the M40 in impressive style, Jennie Butler won silver in W45, Carole won bronze in W35, Maz won bronze in W65 and M60s (Con, Luigi and Rob) won bronze in M60!
Well done all!!
Photos from Steve Pairman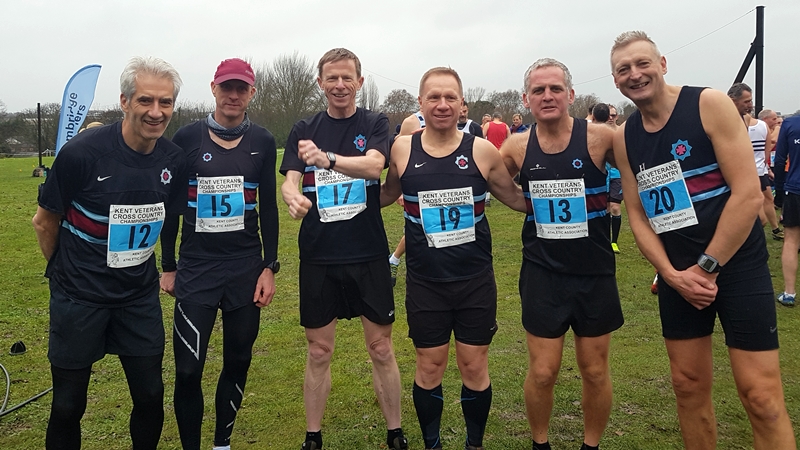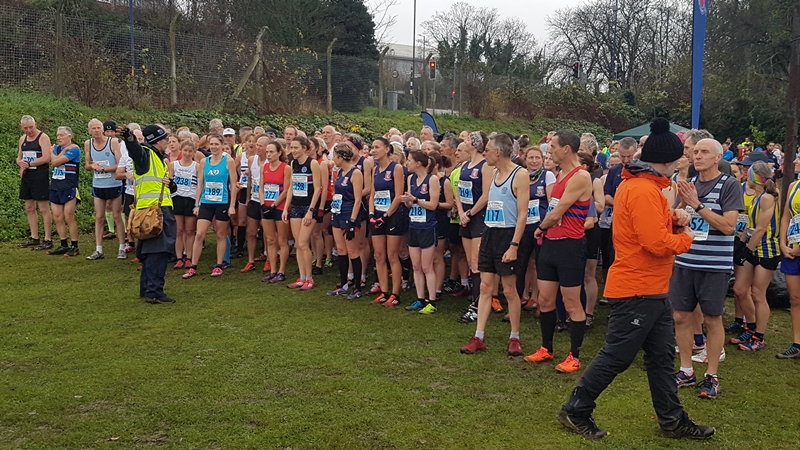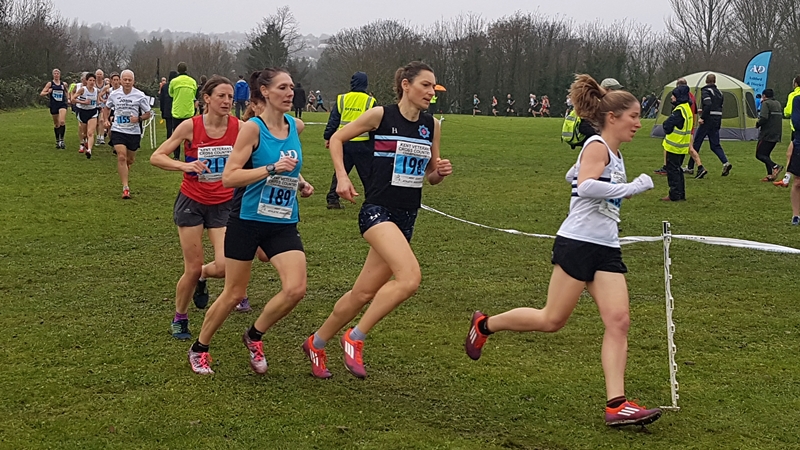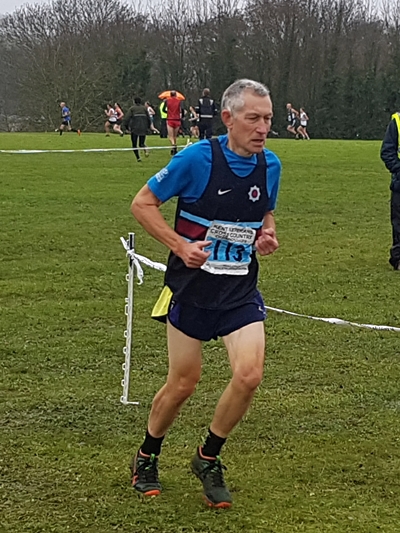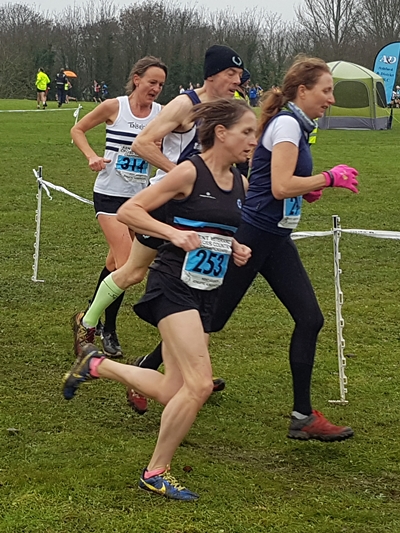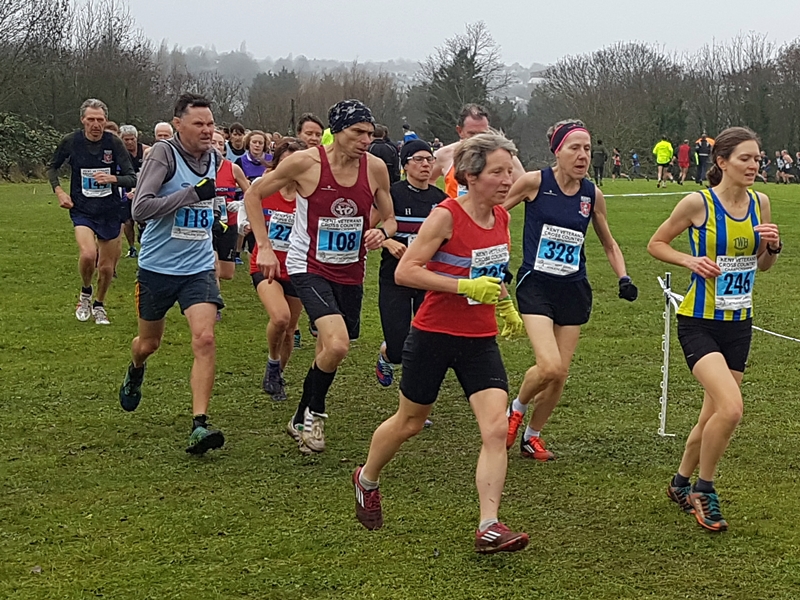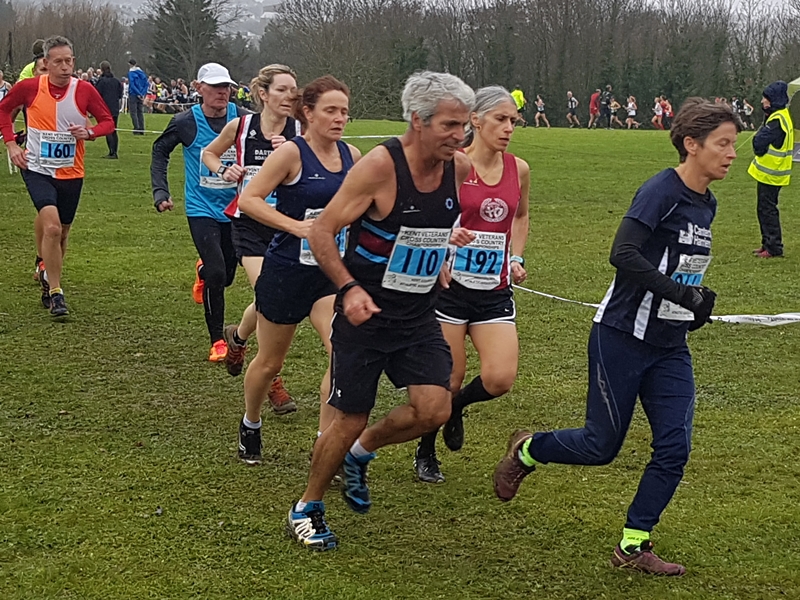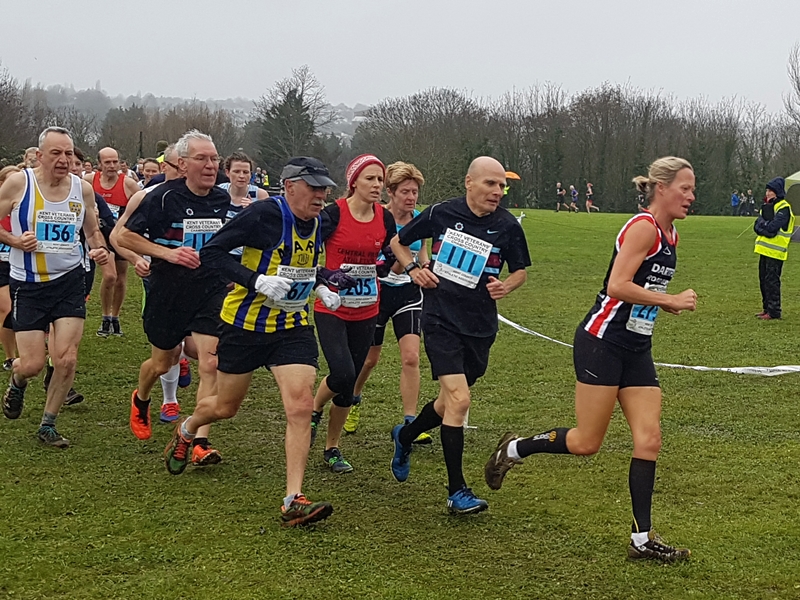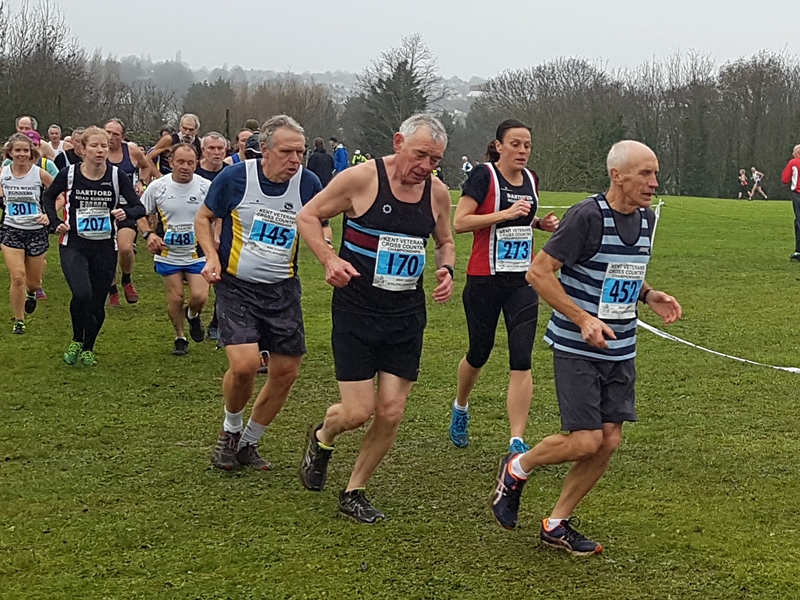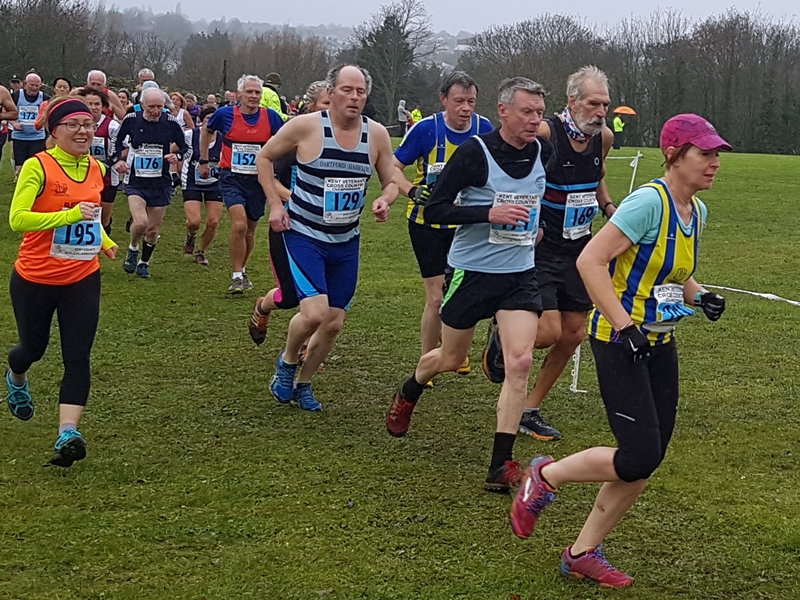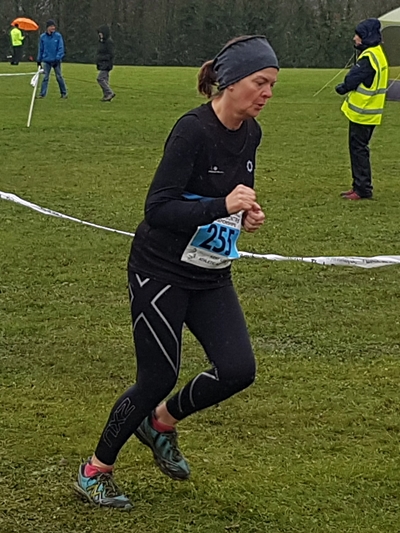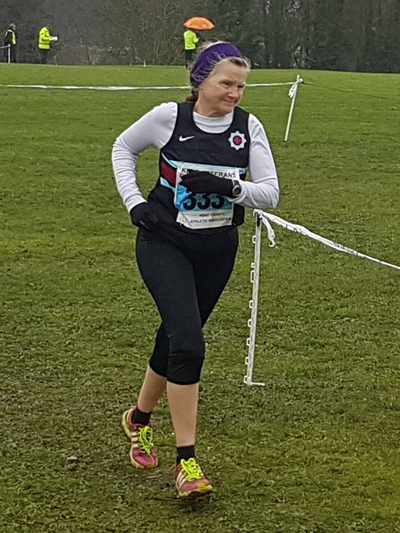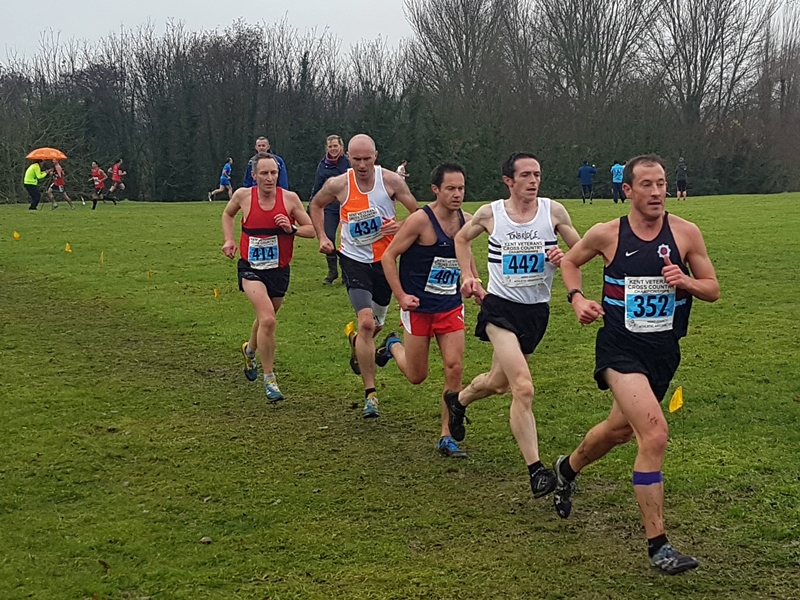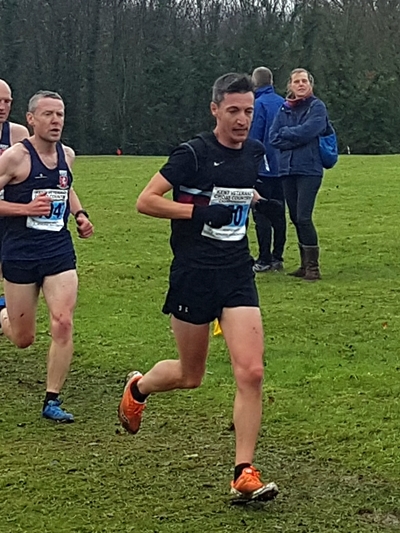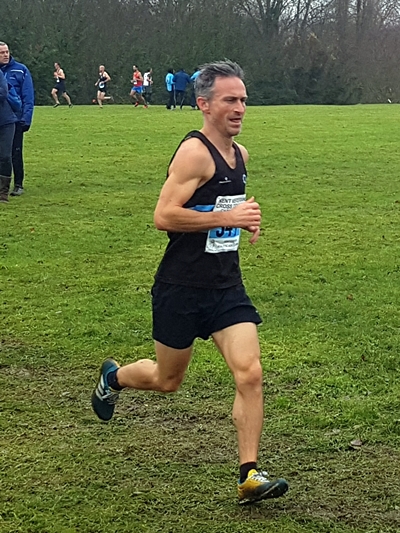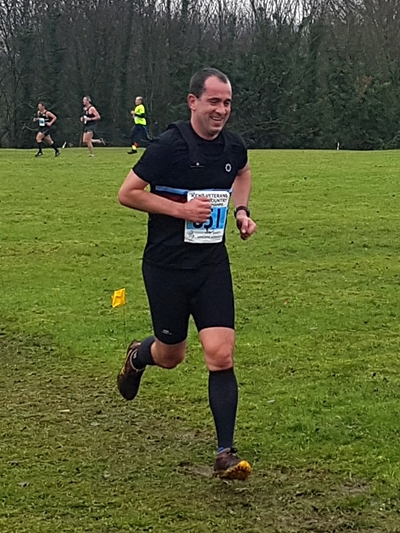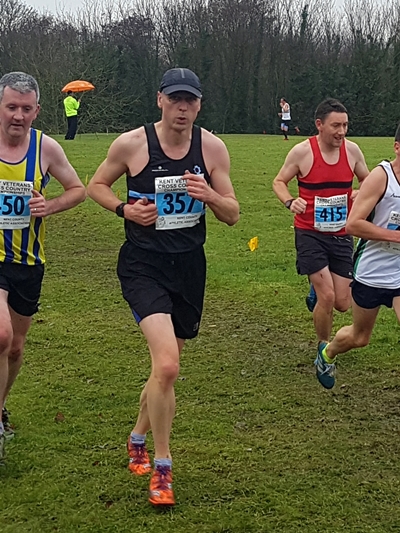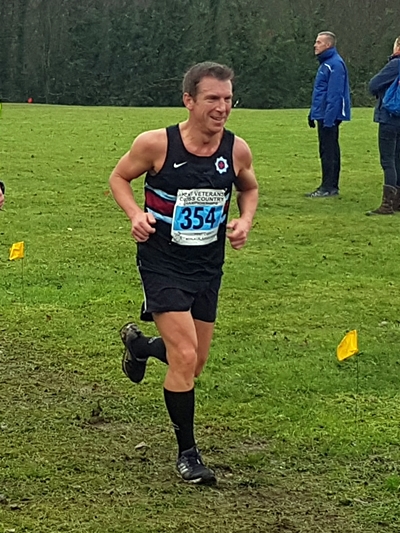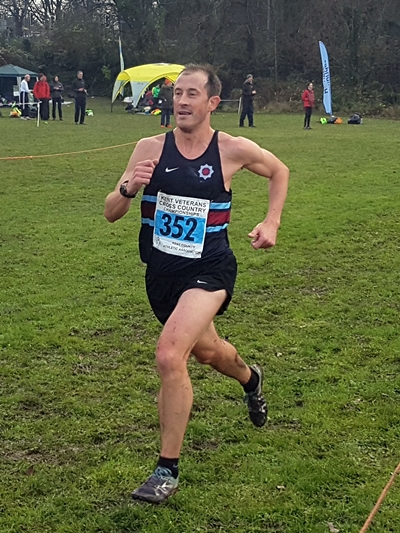 ---
11 November 2018 - Beckenham Charity 10k Trail event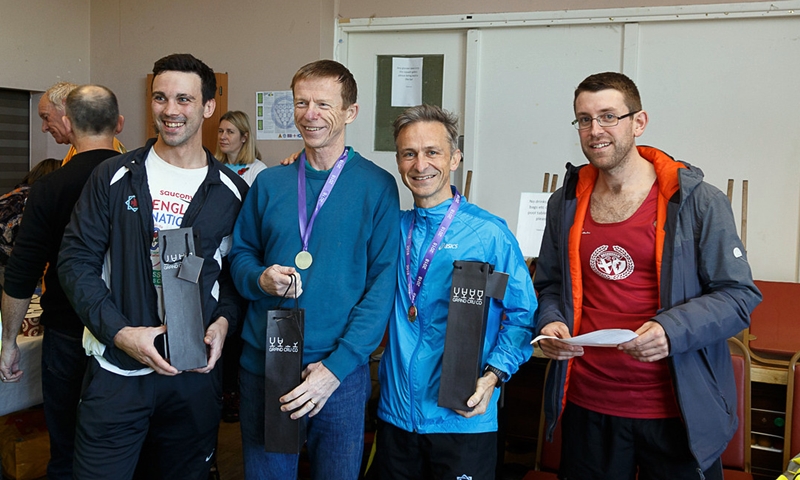 Somewhat lower standard than Dina...…….but BBHAC retained the team prize on Sundays Charity 10k in Beckenham.
Team
3rd place Luca Ercolani Blackheath & Bromley Harriers AC 59 MV40 00:39:14
4th place Chris Tuck Blackheath & Bromley Harriers AC 192 MS 00:40:17
18th place Steve Pairman Blackheath & Bromley Harriers AC 144 MV50 00:45:25
Luca was 3rd and Luigi won the M60! More info here...

---
3 November 2018 - National Cross Country Relays at Mansfield
Berry Hill Park, Mansfield was once again the perfect setting for 2018 National Cross Country Relays and having won many age group titles over the last few years year, BB's hopes were high. These relays offer a great opportunity for clubs to compete in a team format, in an otherwise individual sport. Clubs are restricted to a maximum of three teams per age group and in some age groups we could easily field up to five teams if allowed, so competition is fierce, however in others age groups we fail to have one team on the starting line!
Our U15 girls is the largest and most competitive squad and have dominated the age group winning gold and silver in 2016 and 2017 and so it was no surprise to see all three of our teams feature high up the field. Unfortunately no medals this year but the A team of Annie Thomas, Naomi Toft and Zakia Mossi were a high 5, the B team of Lara Mannes, Hannah Clark and Kate Price 10th and impressively the C team of Ellie Dolby, Daniella Harper and Olivia Berry were 19th in front of all the other B teams. To put that into perspective 96 teams were competing. A very large and talented age group indeed.
The U15 boys made a great team effort with Sam Reardon powering off on leg 1, passing to the in-form Tom Brash knocking 30 seconds off last years time, giving Freddy Georgiou the job of bringing the team home in a very solid 7th place. The B team of Will Andrews running 50 seconds quicker than 2017, George Shaw and Matt Smith placed 47th and Jake Anthony had a great leg in the incomplete C team. 93 teams finished.
The U13 girls trio of India Blakey, Biancamaria Polloni and Gabby Martin were a good 14th. The B team three of Carys Firth and sisters Cara and Amie Gould were 40th and making up an incomplete C team were Alexia Araujo and Olivia Magee-Brown.
The U13 boys have been unlucky with a few injury problems lately and were unable to field a team.
The U17 girls made up for last year's disappointment of not recording a time, by storming around the 2.5K route and crossing the line in second place winning a fabulous silver medal. Newly crowned World Biathle relay champion Morgan Squibb on 1, Sophie Hoare on 2 and Ava White on 3 made up the A team while the B team featured Jess Neal on 1, Amy Miller on 2 and Lucrezia Polloni on 3 combined fantastically finishing an impressive 8th The C team of Ellie Osmond, Emily Davis and Zoe White were 35th.
The U17 boys had three great teams and the A team of former National XC relay champion Peter Guy on the first leg, Matthew Francis on two and Oliver Bright on three combining well to finish 11th. The B team of Ben Gardiner on 1, Cameron Swatton running 25 seconds quicker than last year on 2 and another former Nation XC relay champion Joe Georgiadis on 3 ran well finishing 32nd. The C team were 54th and saw Harry Fisher lead them off with Robert Suckling taking leg 2 and Bailey Marks bringing the team home on the glory leg. Harvey Blanden made up an incomplete team but ran hard at his second Nation XC champs.
The U20 women won silver at last year's champs and this year's team kept up the high standard finishing a very strong 6th. Yasmin Austridge led off on 1, passing to Millie Smith on 2 handing to Lucy Elms on 3 finishing well in a field full of strong clubs.
The U20 men were one short of the three to make up a complete team but that didn't stop Callum Myatt flying around the undulating, well marked out course handing to the well travelled Marco Arcuri, who had automatically stepped in to team manage some of the younger age groups before his race.
The senior men were impressive fielding two teams and placing high up in 13th and great to see our very own Dr Phil Sesemann crossing the line in first place in the senior mens race, running for his new but now local club Leeds AC, as he is working and living in Leeds.
Also good to see our local rivals Tonbridge not only win their first National medal but a gold one at that as they comfortably won the senior woman's race.
Many thanks must go to all the parents who travelled many miles to get to Mansfield and especially to Paul Brash who drove a minibus full of teenage boys listening to teenage music, a real joy! Great efforts from Marco, Yasmin and Lucy who all travelled from their University by train, in fact many trains, as the journey from Durham and Birmingham to Mansfield is not direct. Thanks also go to Nick Swatton, Nigel Stickings, Paul Brash, Andy Frankish, Richard White, Tony Dolby and Marco for team managing on the day, ensuring correct numbers and timing chips were issued and that athletes arrived at the start on time.
Our president, Paul Byfield is having a great presidential year and spent another long day on club duty arriving on site before 9am putting up the tent along with ever present Dave Cordell and Ken Daniel. All three were then last to leave at the end of the day once both club tents were dismantled and packed away. Dave and Ken are used the cold and mud coming from an endurance background but track and field based President Paul must be having a culture shock but has thrown himself into the deep end, getting full stuck in. Well done Mr President.
Paul Austridge
---
Two strong Blackheath teams made their way into the mysterious territory north of the river and carried on going to the northern heartland of Mansfield for the final national competition of the calendar year in the form of yet another relay.
After a smooth drive up and the reassurance that everyone who needed to be there was available, it was straight down to business. Will Ruiz got the A team off to a flying start with an assured run on his debut for the seniors at this fixture to place 54th, underlying his return to form after a delayed start to the season. This set up his namesake Will Fuller to deliver one of the runs of the day to make up an astonishing 35 places to bring the team up to 19th in scorching 15:15.30. In previous years that might have been the high point for the team because no one would have been able to build on the work of the team's best runner, but this time it was different as team manager Ross Braden promptly gained 6 places in a big performance to clock just under 16 minutes. This was then solidified by an even quicker leg from Josh Schofield, in only his second run as a first claim Heathen, to keep the team in 13th despite the attentions of a fast finishing Mo Aadan.
Meanwhile, running parallel with the A Team (at least to start with) Tom Desborough, having heroically made his way to Norman Park for the drive up at the ungodly hour of 9 am, took advantage of the company on the first leg to run the B Team's fastest time of 17:47 to leave them in 85th. Heath Anthony strode on from there in a measured and assured performance to keep the team in a useful 90th at halfway. Chris Tuck then put recent injury troubles behind him to make up an impressive 14 places to drag the team into the top half in 76th. Finally, Dan Kennedy closed things out in his first race for over a month to make up 4 more places to leave the team 72nd out of the 153 complete teams.
The final positions and times were as follows:
13th Blackheath & Bromley Harriers A
54th W. Ruiz 16:34.30
19th W. Fuller 15:15.30
13th R. Braden 15:59.70
13th J. Schofield 15:50.65
72nd Blackheath & Bromley Harriers B
85th T. Desborough 17:46.75
90th H. Anthony 19:07.70
76th C. Tuck 18:09.90
72nd D. Kennedy 18:20.60
Full results can be found here: http://www.englishcrosscountry.co.uk/wp-content/uploads/2018/11/Senior-Men.pdf
Up the Heath!
Ross, Dan & Chris