Page 17 - Summer2016Gazette
P. 17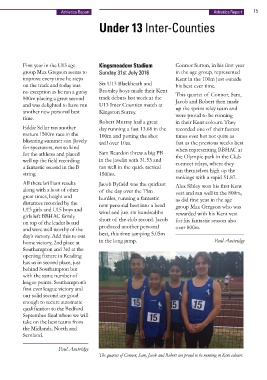 Athletics Report                                Athletics Report  15
                                Under 13 Inter-Counties






        First year in the U13 age   Kingsmeadow Stadium   Connor Sutton, in his first year
        group Max Gregson seems to   Sunday 31st July 2016  in the age group, represented
        improve every time he steps                     Kent in the 100m just outside
        on the track and today was   Six U13 Blackheath and   his best ever time.
        no exception as he ran a gutsy   Bromley boys made their Kent   This quartet of Connor, Sam,
        800m placing a great second   track debuts last week at the   Jacob and Robert then made
        and was delighted to have run   U13 Inter Counties match at   up the sprint relay team and
        another new personal best   Kingston Surrey.
        time.                                           were proud to be running
                                Robert Murray had a great   in their Kent colours. They
        Eddie Sellar ran another   day running a fast 13.68 in the   recorded one of their fastest
        mature 1500m race in the   100m and putting the shot   times ever but not quite as
        blistering summer sun (lovely   well over 10m.  fast as the previous weeks best
        for spectators, not so kind                     when representing BBHAC at
        for the athletes and placed   Sam Reardon threw a big PB   the Olympic park in the Club
        well up the field recording   in the javelin with 31.53 and   connect relays, where they
        a fantastic second in the B   ran well in the quick tactical   ran themselves high up the
        string.                 1500m.                  rankings with a rapid 51.87.
        All these brilliant results   Jacob Byfield was the quickest   Alex Sibley won his first Kent
        along with a host of other   of the day over the 75m   vest and ran well in the 800m,
        great times, height and   hurdles, running a fantastic   as did first year in the age
        distances recorded by the   new personal best into a head
        U13 girls and U15 boys and   wind and just six hundredths   group Max Gregson who was
        girls left BBHAC firmly   short of the club record. Jacob   rewarded with his Kent vest
        on top of the leader board                      for his fantastic season also
        and were well worthy of the   produced another personal   over 800m.
        day's victory. Add this to our   best, this time jumping 5.05m
        home victory, 2nd place at   in the long jump.              Paul Austridge
        Southampton and 3rd at the
        opening fixture in Reading
        has us in second place, just
        behind Southampton but
        with the same number of
        league points. Southampton's
        first ever league victory and
        our solid second are good
        enough to secure automatic
        qualification to the Bedford
        September final where we will
        take on the best teams from
        the Midlands, North and
        Scotland.

                   Paul Austridge
                                The quartet of Connor, Sam, Jacob and Robert are proud to be running in Kent colours.