Page 22 - Summer2016Gazette
P. 22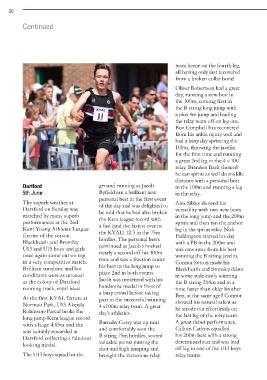 20
        Continued






                                                        team home on the fourth leg,
                                                        all having only just recovered
                                                        from a broken collar bone!
                                                        Oliver Robertson had a great
                                                        day, running a new best in
                                                        the 100m, coming first in
                                                        the B string long jump with
                                                        a plus 4m jump and leading
                                                        the relay team off on leg one.
                                                        Ben Campbell has recovered
                                                        from his ankle injury well and
                                                        had a busy day sprinting the
                                                        100m, throwing the javelin
                                                        for the first time and running
                                                        a great 2nd leg in the 4 x 100
                                                        relay. Brandon Back showed
                                                        he can sprint as well do middle
                                                        distance with a personal best
        Dartford                ground running as Jacob   in the 100m and running a leg
        5th June                Byfield ran a brilliant new   in the relay.
                                personal best in the first event
        The superb weather at   of the day and was delighted to   Alex Sibley showed his
        Dartford on Sunday was   be told that he had also broken   versatility with two new bests
        matched by many superb                          in the long jump and the 200m
        performances at the 2nd   the Kent league record with   sprint and then ran the anchor
                                a fast (and the fastest ever in
        Kent Young Athletes League                      leg in the sprint relay. Nick
        fixture of the season.   the KYAL) 12.3 in the 75m   Paddington started his day
        Blackheath and Bromley   hurdles. The personal bests   with a PB in the 200m and
        U13 and U15 boys and girls   continued as Jacob knocked   was cms away from his best
        once again came out on top   nearly a second off his 100m   winning the B string javelin.
        in a very competitive match.   time and was a fraction under   Connor Sutton made his
        Brilliant sunshine and hot   his best in the long jump to   Blackheath and Bromley debut
        conditions were as unusual   place 2nd in both events.   in some style easily winning
        as the colour of Dartford   Jacob was presented with his   the B string 200m and in a
        running track, royal blue!  handsome medal in front of   time faster than older brother
                                a busy crowd before taking
        At the first KYAL fixture at   part in the successful winning   Ben, at the same age!! Connor
        Norman Park, U13 Akeiyla   4 x100m relay team. A great   showed his natural talent as
        Robinson-Pascal broke the   day's athletics.    he strode out effortlessly on
        long jump Kent league record                    the last leg of the relay team.
        with a huge 4.65m and she   Barnaby Corry was up next   A great debut performance.
        was suitably rewarded at   and comfortably won the   Callum Carlton equalled
                                                        his 200m best with a strong
        Dartford collecting a fabulous   B string 75m hurdles, scored
        looking medal.          valuable points putting the   determined run and was lead
                                shot and high jumping and   off leg in one of the U13 boys
        The U13 boys squad hit the   brought the victorious relay   relay teams.