Page 48 - Summer2016Gazette
P. 48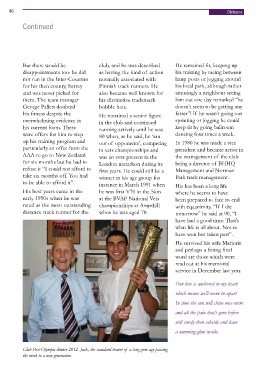 46                                                                  Obituary
        Continued






        But there would be      club, and he was described   He remained fit, keeping up
        disappointments too: he did   as having the kind of action   his training by racing between
        not run in the Inter-Counties   normally associated with   lamp posts or jogging around
        for his then county, Surrey   Finnish track runners. He   his local park, although rather
        and was never picked for   also became well known for   amusingly a neighbour seeing
        them. The team manager   his distinctive trademark   him out one day remarked "he
        George Pallett doubted   bobble hats.           doesn't seem to be getting any
        his fitness despite the   He remained a senior figure   faster"! If he wasn't going out
        overwhelming evidence in   in the club and continued   sprinting or jogging he could
        his current form. There   running actively until he was   keep fit by going ballroom
        were offers for him to step   80 when, as he said, he 'ran   dancing four times a week.
        up his training program and   out of opponents', competing   In 1980 he was made a vice
        particularly an offer from the   in vets championships and   president and became active in
        AAA to go to New Zealand   was an ever present in the   the management of the club
        for six months but he had to   London marathon during its   being a director of BHHQ
        refuse it "I could not afford to   first years. He could still be a   Management and Norman
        take six months off. You had   winner in his age group for   Park track management.
        to be able to afford it".   instance in March 1991 when   His has been a long life
        His best years came in the   he was first V70 in the 5km   where he seems to have
        early 1950s when he was   at the BVAF National Vets   been prepared to face its end
        rated as the most outstanding   championships at Ampthill   with equanimity. "If I die
        distance track runner for the   when he was aged 70.  tomorrow" he said at 90, "I
                                                        have had a good time. That's
                                                        what life is all about. Not to
                                                        have won but taken part".
                                                        He survived his wife Marjorie
                                                        and perhaps a fitting final
                                                        word are those which were
                                                        read out at his memorial
                                                        service in December last year.

                                                        Our love is anchored in my heart
                                                        which means we'll never be apart
                                                        In time the sun will shine once more
                                                        and all the pain that's gone before
                                                        will surely then subside and leave
                                                        a warming glow inside.


        Club Post-Olympic dinner 2012. Jack, the standard bearer of  a long gone age passing
        the torch to a new generation.