Page 27 - BBHAC Winter 2014-15 Gazette web
P. 27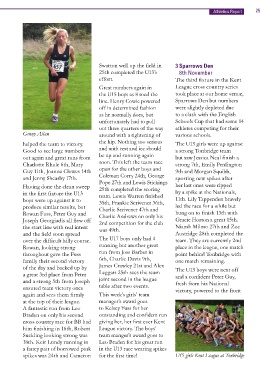 Athletics Report                    25

Genny Allan                       Swatton well up the field in     3 Sparrows Den
                                  25th completed the U13's           8th November
helped the team to victory.       effort.
Good to see large numbers                                          The third fixture in the Kent
out again and great runs from     Great numbers again in           League cross country series
Charlotte Rhule 6th, Mary         the U15 boys as 8 toed the       took place at our home venue,
Guy 11th, Joanna Clowes 14th      line. Henry Cowie powered        Sparrows Den but numbers
and Jenny Sheasby 17th.           off in determined fashion        were slightly depleted due
                                  as he normally does, but         to a clash with the English
Having done the clean sweep       unfortunately had to pull        Schools Cup that had some 14
in the first fixture the U13      out three quarters of the way    athletes competing for their
boys were up against it to        around with a tightening of      various schools.
produce similar results, but      the hip. Nothing too serious     The U13 girls were up against
Rowan Fuss, Peter Guy and         and with rest and ice should     a strong Tonbridge team
Joseph Georgiadis all flew off    be up and running again          but saw Jessica Neal finish a
the start line with real intent   soon. This left the team race    strong 7th, Emily Penlington
and the field soon spread         open for the other boys and      9th and Morgan Squibb,
over the difficult hilly course.  Coleman Corry 24th, George       sporting new spikes after
Rowan, looking strong             Pope 27th and Lewis Stickings    her last ones were ripped
throughout gave the Fuss          29th completed the scoring       by a spike at the Nationals,
family their second victory       team. Lewis Warren finished      11th. Lily Tappenden bravely
of the day and backed up by       35th, Frankie Scrivener 36th,    led the race for a while but
a great 3rd place from Peter      Charlie Scrivener 47th and       hung on to finish 13th with
and a strong 5th from Joseph      Charlie Andrews on only his      Gracie Horton a great 15th.
ensured team victory once         2nd competition for the club     Niamh Milmo 27th and Zoe
again and sees them firmly        was 49th.                        Austridge 28th completed the
at the top of their league.                                        team. They are currently 2nd
A fantastic run from Leo          The U17 boys only had 4          place in the league, one match
Braden on only his second         running but another great        point behind Tonbridge with
cross country race for BB had     run from Joss Barber in          one match remaining.
him finishing in 16th, Robert     6th, Charlie Davis 9th,          The U13 boys were next off
Suckling looking strong was       James Crawley 21st and Alex      and a confident Peter Guy,
18th. Keir Lundy running in       Leggatt 25th sees the team       fresh from his National
a fancy pair of borrowed pink     joint second in the league       victory, powered to the front
spikes was 24th and Cameron       table after two events.
                                                                   U15 girls Kent League at Tonbridge
                                  This week's girls' team
                                  manager's award goes
                                  to Kelsey Fuss for her
                                  outstanding and confident run
                                  giving her, her first ever Kent
                                  League victory. The boys'
                                  team manger's award goes to
                                  Leo Braden for his great run
                                  in the U13 race wearing spikes
                                  for the first time!