Page 29 - BBHAC Winter 2014-15 Gazette web
P. 29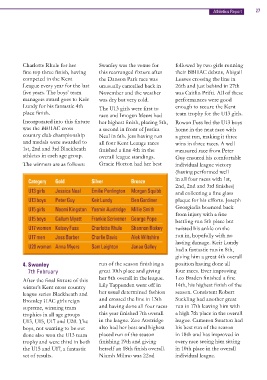 Athletics Report                  27

Charlotte Rhule for her          Swanley was the venue for         followed by two girls running
fine top three finish, having    this rearranged fixture after     their BBHAC debuts, Abigail
competed in the Kent             the Danson Park race was          Leaves crossing the line in
League every year for the last   unusually cancelled back in       26th and just behind in 27th
five years. The boys' team       November and the weather          was Caitlin Prifti. All of these
managers award goes to Keir      was dry but very cold.            performances were good
Lundy for his fantastic 4th                                        enough to secure the Kent
place finish.                    The U13 girls were first to       team trophy for the U13 girls.
                                 race and Imogen Meers had
Incorporated into this fixture   her highest finish, placing 5th,  Rowan Fuss led the U13 boys
was the BBHAC cross              a second in front of Jessica      home in the next race with
country club championship        Neal in 6th. Jess having run      a great run, making it three
and medals were awarded to       all four Kent Leauge races        wins in three races. A well
1st, 2nd and 3rd Blackheath      finished a fine 4th in the        measured race from Peter
athletes in each age group.      overall league standings.         Guy ensured his comfortable
                                 Gracie Horton had her best        individual league victory
The winners are as follows:                                        (having performed well
                                                                   in all four races with 1st,
Category	Gold	                   Silver	      Bronze               2nd, 2nd and 3rd finishes)
                                                                   and collecting a fine glass
U13 girls	 Jessica Neal	 Emilie Penlington	 Morgan Squibb          plaque for his efforts. Joseph
                                                                   Georgiadis bounced back
U13 boys	 Peter Guy	             Keir Lundy	  Ben Gardiner         from injury with a fine
                                                                   battling run 5th place but
U15 girls	 Naomi Kingston	 Yasmin Austridge	 Millie Smith          twisted his ankle on the
                                                                   run in, hopefully with no
U15 boys	 Callum Myatt	 Frankie Scrivener	 George Pope             lasting damage. Keir Lundy
                                                                   had a fantastic run in 8th,
U17 women	 Kelsey Fuss	 Charlotte Rhule	 Shannon Riskey            giving him a great 4th overall
                                                                   position having done all
U17 men	 Joss Barber	 Charlie Davis	 Alek Wiltshire                four races. Ever improving
                                                                   Leo Braden finished a fine
U20 women	 Anna Myers	 Sam Leighton	 Janae Galley                  14th, his highest finish of the
                                                                   season. Consistent Robert
4. Swanley                      run of the season finishing a     Suckling had another great
  7th February                   great 10th place and giving       run in 17th leaving him with
                                 her 8th overall in the league.    a high 7th place in the overall
After the final fixture of this  Lily Tappenden went off in        league. Cameron Swatton had
winter's Kent cross country      her usual determined fashion      his best run of the season
league series Blackheath and     and crossed the line in 13th      in 18th and has improved in
Bromley HAC girls reign          and having done all four races    every race seeing him sitting
supreme, winning team            this year finished 7th overall    in 10th place in the overall
trophies in all age groups       in the league. Zoe Austridge      individual league.
U13, U15, U17 and U20. The       also had her best and highest
boys, not wanting to be out      placed run of the season
done also won the U13 team       finishing 19th and giving
trophy and were third in both    herself an 18th finish overall.
the U15 and U17, a fantastic     Niamh Milmo was 22nd
set of results.