Page 25 - BBHAC Winter 2015-16 Gazette
P. 25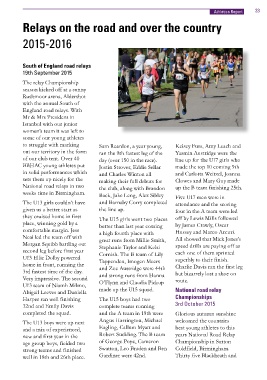 Athletics Report  23

Relays on the road and over the country
2015-2016

South of England road relays   Sam Reardon, a year young,      Kelsey Fuss, Amy Leach and
19th September 2015            ran the 9th fastest leg of the  Yasmin Austridge were the
                               day (over 150 in the race).     line up for the U17 girls who
The relay Championship         Justin Strover, Eddie Sellar    made the top 10 coming 9th
season kicked off at a sunny   and Charles Winton all          and Carlotta Weitzel, Joanna
Rushmoor arena, Aldershot      making their full debuts for    Clowes and Mary Guy made
with the annual South of       the club, along with Brandon    up the B team finishing 25th.
England road relays. With      Back, Jake Leng, Alex Sibley
Mr & Mrs President in          and Barnaby Corry completed     Five U17 men were in
Istanbul with our junior       the line up.                    attendance and the scoring
women's team it was left to                                    four in the A team were led
some of our young athletes     The U15 girls went two places   off by Lewis Mills followed
to struggle with marking       better than last year coming    by James Crawly, Oscar
out our territory in the form  a high fourth place with        Hussey and Marco Arcuri.
of our club tent. Over 40      great runs from Millie Smith,   All showed that Mick Jones's
BBHAC young athletes put       Stephanie Taylor and Kelsi      speed drills are paying off as
in solid performances which    Cornish. The B team of Lily     each one of them sprinted
sets them up nicely for the    Tappenden, Imogen Meers         superbly to their finish.
National road relays in two    and Zoe Austridge were 44th     Charlie Davis ran the first leg
weeks time in Birmingham.      and strong runs from Hanna      but bizarrely lost a shoe on
                               O'Flynn and Claudia Pickup      route.
The U13 girls couldn't have    made up the U15 squad.
given us a better start as                                     National road relay
they cruised home in first     The U15 boys had two            Championships
place, winning gold by a       complete teams running          3rd October 2015
comfortable margin. Jess       and the A team in 19th were
Neal led the team off with     Angus Harrington, Michael       Glorious autumn sunshine
Morgan Squibb battling out     Eagling, Callum Myatt and       welcomed the countries
second leg before first year   Robert Suckling. The B team     best young athletes to this
U13 Ellie Dolby powered        of George Pope, Cameron         years National Road Relay
home in front, running the     Swatton, Leo Braden and Ben     Championship in Sutton
3rd fastest time of the day.   Gardiner were 42nd.             Coldfield, Birmingham.
Very impressive. The second                                    Thirty five Blackheath and
U13 team of Niamh Milmo,
Abigail Leeves and Daniella
Harper ran well finishing
32nd and Emily Davis
completed the squad.

The U13 boys were up next
and a mix of experienced,
new and first year in the
age group boys, fielded two
strong teams and finished
well in 18th and 26th place.