Page 36 - Summer2016Gazette
P. 36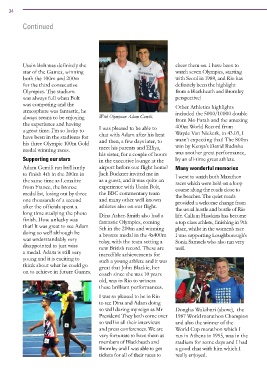 34
        Continued






        Usain Bolt was definitely the                   cheer them on. I have been to
        star of the Games, winning                      watch seven Olympics, starting
        both the 100m and 200m                          with Seoul in 1988, and Rio has
        for the third consecutive                       definitely been the highlight
        Olympics. The stadium                           from a Blackheath and Bromley
        was always full when Bolt                       perspective!
        was competing and the                           Other Athletics highlights
        atmosphere was fantastic, he                    included the 5000/10000 double
        always seems to be enjoying   With Olympian Adam Gemili.  from Mo Farah and the amazing
        the experience and having                       400m World Record from
        a great time. I'm so lucky to   I was pleased to be able to   Wayde Van Niekerk, in 43.03, I
        have been in the stadiums for   chat with Adam after his heat   wasn't expecting that! The 800m
        his three Olympic 100m Gold   and then, a few days later, to   win by Kenya's David Rudisha
        medal winning races.    meet his parents and Elliya,   was another great performance,
                                his sister, for a couple of hours
        Supporting our stars    in the executive lounge at the   by an all-time great athlete.
        Adam Gemili ran brilliantly   airport before our flight home!   Many wonderful memories
        to finish 4th in the 200m in   Jack Buckner invited me in   I went to watch both Marathon
        the same time as Lemaitre   as a guest, and it was quite an   races which were held on a loop
        from France, the bronze   experience with Usain Bolt,   course along the roads close to
        medallist, losing out by three   the BBC commentary team   the beaches. The quiet roads
        one thousands of a second   and many other well known   provided a welcome change from
        after the officials spent a   athletes also on our flight.  the usual hustle and bustle of Rio
        long time studying the photo   Dina Asher-Smith also had a   life. Callum Hawkins has become
        finish. How unlucky was   fantastic Olympics, coming   a top class athlete, finishing in 9th
        that! It was great to see Adam   5th in the 200m and winning   place, whilst in the women's race
        doing so well although he   a bronze medal in the 4x400m   I was supporting Loughborough's
        was understandably very   relay, with the team setting a   Sonia Samuels who also ran very
        disappointed to just miss   new British record. These are   well.
        a medal. Adam is still very   incredible achievements for
        young and it is exciting to   such a young athlete and it was
        think about what he could go   great that John Blackie, her
        on to achieve in future Games.   coach since she was 10 years
                                old, was in Rio to witness
                                these brilliant performances.
                                I was so pleased to be in Rio
                                to see Dina and Adam doing
                                so well during my reign as Mr   Douglas Wakihuri (above),  the
                                President! They both come over   1987 World marathon Champion
                                so well in all their interviews   and also the winner of the
                                and press conferences. We are   World Cup marathon which I
                                very fortunate to have them as   ran in Athens in 1995, was in the
                                members of Blackheath and   stadium for some days and I had
                                Bromley and I was able to get   a good chat with him which I
                                tickets for all of their races to   really enjoyed.