Page 32 - Summer2016Gazette
P. 32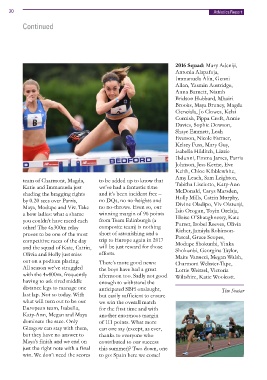 30                                                              Athletics Report
        Continued






                                                        2016 Squad: Mary Adeniji,
                                                        Antonia Alapafuja,
                                                        Immanuela Aliu, Genni
                                                        Allan, Yasmin Austridge,
                                                        Anna Barnett, Niamh
                                                        Bridson Hubbard, Mhairi
                                                        Brooks, Maya Bruney, Magda
                                                        Cienciala, Jo Clowes, Kelsi
                                                        Cornish, Pippa Croft, Annie
                                                        Davies, Sophie Dowson,
                                                        Shaye Emmett, Leah
                                                        Everson, Nicole Farmer,
                                                        Kelsey Fuss, Mary Guy,
                                                        Isabella Hilditch, Lizzie
                                                        Ibdunni, Emma James, Parris
                                                        Johnson, Jess Keene, Eve
                                                        Keith, Chloe Kibblewhite,
        team of Charmont, Magda,   to be added up to know that   Amy Leach, Sam Leighton,
        Katie and Immanuela just   we've had a fantastic time   Tabitha Lisciotto, Katy-Ann
        shading the bragging rights   and it's been incident free –   McDonald, Carys Marsden,
        by 0.20 secs over Parris,   no DQs, no no-heights and   Holly Mills, Catrin Murphy,
                                                        Divine Oladipo, Viv Olatunji,
        Maya, Modupe and Viv. Take   no no-throws. Even so, our
        a bow ladies: what a shame   winning margin of 96 points   Isio Orogun, Toyin Orelaja,
                                                        Eloise O'Shaughnessy, Kate
        you couldn't have raced each   from Team Edinburgh (a   Purser, Isobel Reeves, Olivia
        other! The 4x300m relay   composite team) is nothing   Richer, Jamiyla Robinson-
        proves to be one of the most   short of astonishing and a   Pascal, Grace Scopes,
        competitive races of the day   trip to Europe again in 2017   Modupe Shokunbi, Yinka
        and the squad of Kate, Catrin,   will be just reward for those   Shokunbi, Georgina Taylor,
        Olivia and Holly just miss   efforts.           Maite Vanucci, Megan Walsh,
        out on a podium placing.   There's more good news:   Charmont Webster-Tape,
        All season we've struggled   the boys have had a great   Lottie Weitzel, Victoria
        with the 4x400m, frequently   afternoon too. Sadly not good   Wiltshire, Katie Woolcott.
        having to ask tired middle   enough to withstand the
        distance legs to manage one   anticipated SBH onslaught,       Tim Soutar
        last lap. Not so today. With   but easily sufficient to ensure
        what will turn out to be our   we win the overall match
        European team, Isabella,   for the first time and with
        Katy-Ann, Megan and Maya   another enormous margin
        dominate the race. Only   of 111 points. What more
        Glasgow can stay with them,   can one say (except, as ever,
        but they have no answer to   thanks to everyone who
        Maya's finish and we end on   contributed to our success
        just the right note with a final   this summer)? Two down, one
        win. We don't need the scores   to go: Spain here we come!