Page 26 - Summer2016Gazette
P. 26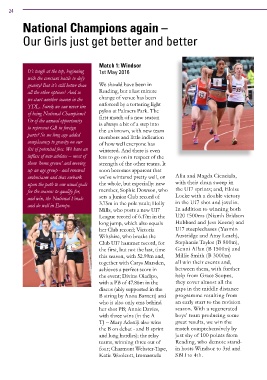 24
        National Champions again –
        Our Girls just get better and better




                                Match 1: Windsor
          It's tough at the top, beginning   1st May 2016
          with the constant battle to defy
          gravity! But it's still better than   We should have been in
          all the other options! And so   Reading, but a last minute
          we start another season in the   change of venue has been
          YDL. Surely we can never tire   enforced by a tottering light
          of being National Champions?   pylon at Palmers Park. The
          Or of the annual opportunity   first match of a new season
          to represent GB in foreign   is always a bit of a step into
                                the unknown, with new team
          parts? So we long ago added   members and little indication
          complacency to gravity on our   of how well everyone has
          list of potential foes. We have an   wintered. And there is even
          influx of new athletes – most of   less to go on in respect of the
          them 'home grown' and moving   strength of the other teams. It
          up an age group - and renewed   soon becomes apparent that
          enthusiasm and thus embark   we've wintered pretty well, on   Aliu and Magda Cienciala,
          upon the path to our usual goals   the whole, but especially: new   with their clean sweep in
          for the season: to qualify for,   member, Sophie Dowson, who   the U17 sprints; and, Eloise
          and win, the National Finals   sets a Junior Club record of   Locke with a double victory
          and do well in Europe.  3.75m in the pole vault; Holly   in the U17 shot and javelin.
                                Mills, who posts a new U17   In addition to winning both
                                League record of 6.17m in the   U20 1500ms (Niamh Bridson
                                long jump, which also equals   Hubbard and Jess Keene) and
                                her Club record; Victoria   U17 steeplechases (Yasmin
                                Wiltshire, who breaks the   Austridge and Amy Leach),
                                Club U17 hammer record, for   Stephanie Taylor (B 800m),
                                the first, but not the last, time   Genni Allan (B 1500m) and
                                this season, with 52.99m and,   Millie Smith (B 3000m)
                                together with Carys Marsden,   all win their events and,
                                achieves a perfect score in   between them, with further
                                the event; Divine Oladipo,   help from Grace Scopes,
                                with a PB of 47.86m in the   they cover almost all the
                                discus (ably supported in the   gaps in the middle distance
                                B string by Anna Barnett) and   programme resulting from
                                who is also only cms behind   an early start to the revision
                                her shot PB; Annie Davies,   season. With a regenerated
                                with three wins (in the A   boys' team producing some
                                TJ – Mary Adeniji also wins   great results, we win the
                                the B on debut - and B sprint   match comprehensively by
                                and long hurdles); the relay   just shy of 100 points from
                                teams, winning three out of   Reading, who demote stand-
                                four; Charmont Webster-Tape,   in hosts Windsor to 3rd and
                                Katie Woolcott, Immanuela   SBH to 4th.