Page 27 - Summer2016Gazette
P. 27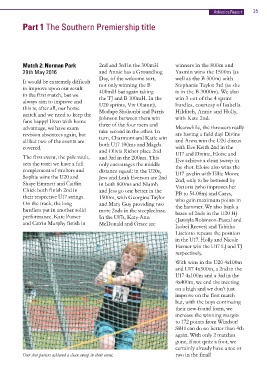 Athletics Report  25
        Part 1 The Southern Premiership title






        Match 2: Norman Park    2nd and 3rd in the 300mH   winners in the 800m and
        29th May 2016           and Annie has a Groundhog   Yasmin wins the 1500m (as
                                Day, of the welcome sort,   well as the B 300m) with
        It would be extremely difficult
        to improve upon our result   not only winning the B   Stephanie Taylor 3rd (as she
                                                        is in the B 3000m). We also
                                400mH but again taking
        in the first match, but we   the TJ and B 100mH. In the   win 3 out of the 4 sprint
        always aim to improve and
        this is, after all, our home   U20 sprints, Viv Olatunji,   hurdles, courtesy of Isabella
                                                        Hilditch, Annie and Holly,
                                Modupe Shokunbi and Parris
        match and we need to keep the   Johnson between them win   with Kate 2nd.
        fans happy! Even with home   three of the four races and
        advantage, we have exam   take second in the other. In   Meanwhile, the throwers really
        revision absentees again, but   turn, Charmont and Katie win   are having a field day! Divine
        all but two of the events are   both U17 100ms and Magda   and Anna win the U20 discus
        covered.                                        with Eve Keith 2nd in the
                                and Olivia Richer place 2nd   U17 and Divine, Eloise and
        The first event, the pole vault,   and 3rd in the 200ms. This   Eve achieve a clean sweep in
        sets the tone: we have a full   only encourages the middle   the shot. Eloise also wins the
        complement of vaulters and   distance squad: in the U20s,   U17 javelin with Ellie Moore
        Sophie wins the U20 and   Jess and Leah Everson are 2nd   2nd, only to be bettered by
        Shaye Emmett and Caitlin   in both 800ms and Niamh   Victoria (who improves her
        Chick both finish 2nd in   and Jess go one better in the
        their respective U17 strings.   1500m, with Georgina Taylor   PB to 54.08m) and Carys,
                                                        who gain maximum points in
        On the track, the long   and Mary Guy providing two   the hammer. We also bank a
        hurdlers put in another solid   more 2nds in the steeplechase.
        performance. Kate Purser   In the U17s, Katy-Ann   brace of 2nds in the U20 HJ
                                                        (Jamiyla Robinson-Pascal and
        and Catrin Murphy finish in   McDonald and Grace are   Isobel Reeves) and Tabitha
                                                        Lisciotto repeats the position
                                                        in the U17. Holly and Nicole
                                                        Farmer win the U17 LJ and TJ
                                                        respectively.
                                                        With wins in the U20 4x100m
                                                        and U17 4x300m, a 2nd in the
                                                        U17 4x100m and a 3rd in the
                                                        4x400m, we end the meeting
                                                        on a high and we don't just
                                                        improve on the first match
                                                        but, with the boys continuing
                                                        their new-found form, we
                                                        increase the winning margin
                                                        to 172 points from Windsor!
                                                        SBH can do no better than 4th
                                                        again. With only 2 matches
                                                        gone, if not quite a foot, we
                                                        certainly already have a toe or
        Our shot putters achieved a clean sweep in their event.  two in the final!